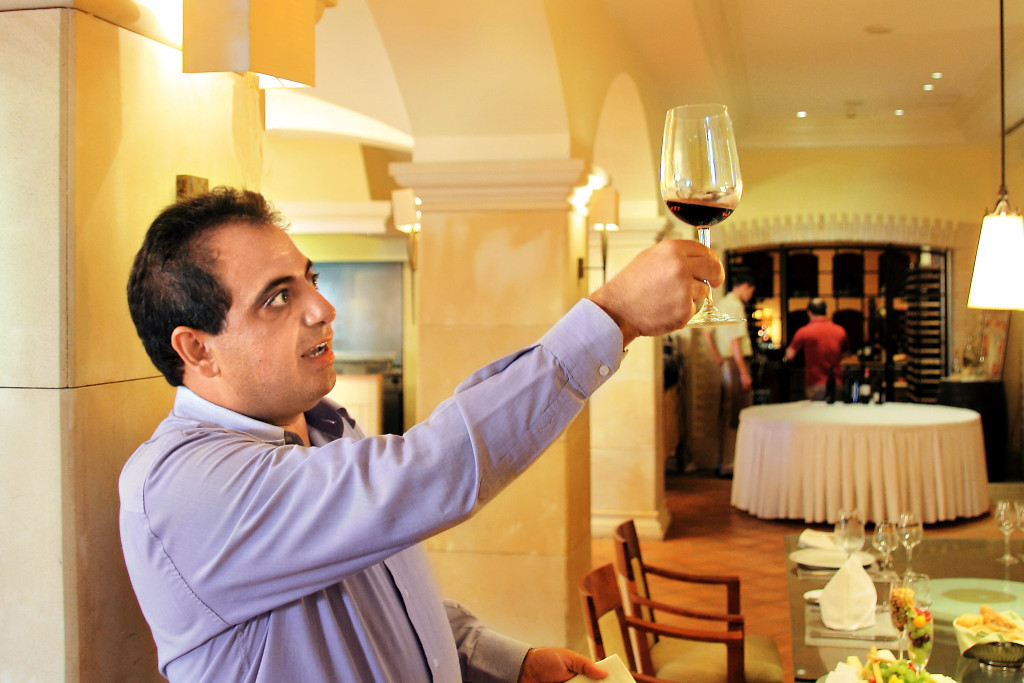 Wine is God's gift to man, medicine, and is an essential part of a festive meal; a mystical substance used in Communion. Since days of old, wine and winemaking have been an integral part of human life and have become part of popular culture. Visiting a new country with a developed wine culture, it's impossible to experience the flavour of that place without tasting the wines produced by its people. Cyprus' wine tradition dates back to antiquity – with more than 4,000 years of experience in wine making so it's definitely worth getting acquainted with it.
Klitos Demetriou is a Sommelier who is in love with Cypriot wines. I rarely meet people in Cyprus who respect the local wines, but Klitos is personally acquainted with all the well-known winemakers, and you can talk with him about wine for hours.
Good wine needs respect and the wine at the Leander restaurant is chilled and served with snacks.
"The Cypriot wine traditionally has a slightly higher alcohol content" says Klitos. "This is because of more sugar in the grapes due to the hot climate".
Petritis Xynisteri White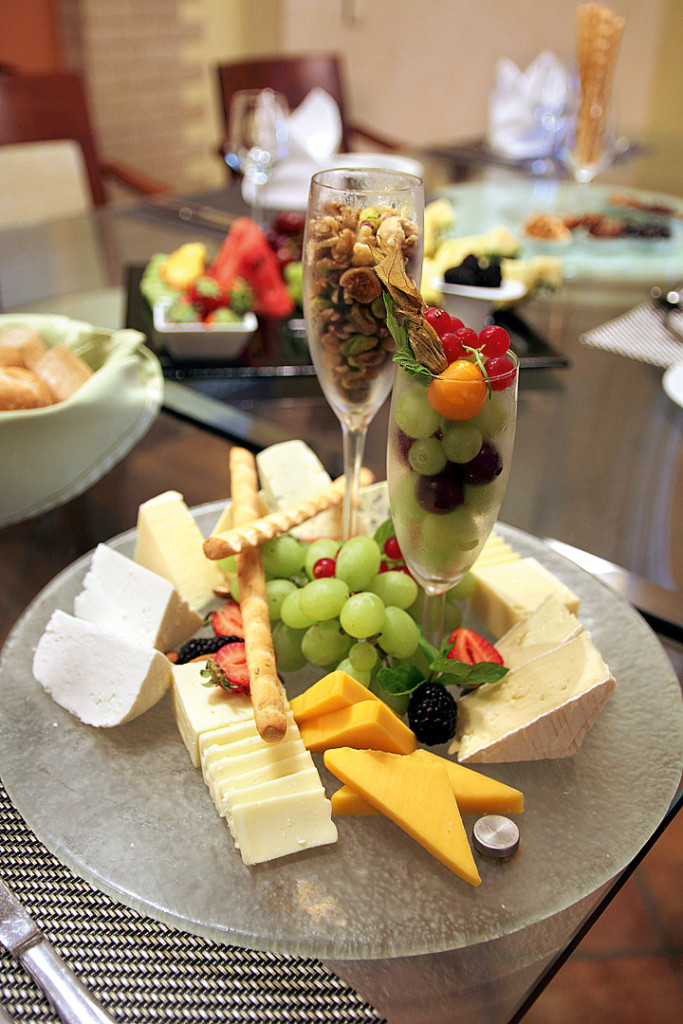 First we try a white wine from the Xynisteri grape, produced at the Petritis (Petrides) Winery. The name is derived from the Greek word 'stone': Kyperounta Village, where the winery is located, is in a mountainous area (point D on our "wine list"). Here grow the exclusive grapes with their strong root system that draws precious nutrients from the solid stone. Besides the special grapes, the winemakers from Petritis were the first in Cyprus to age Xynisteri wine in oak barrels. Six months of aging magically alters the taste and gives it the appearance of a Sauvignon Blanc!
This light wine, with a beautiful sunny hue, has a woody aroma and a distinct note of pineapple, with shades of citrus, vanilla, pear and peach. The wine is good as an aperitif and with seafood. Petritis Xynisteri will be a great accompaniment to sea bass in white sauce.
Shiraz Tsangarides Rose
Another attractive Cypriot wine is the Rose Shiraz from Tsangarides (point A on our "wine list").
"Rose Shiraz is the best that Tsangarides produces" says Klitos. The wine has a beautiful cherry-red colour and 13% strength. Bring the glass to your mouth and take a deep breath – it's worth it! You will notice a light but fruity aroma, with notes of cherries, raspberries and roses. The first sip … slightly higher acidity, creates a sense of sparkling wine on the tongue, with a pronounced flavour of cherry.
The wine is ideal with salads, such as Caesar with chicken or shrimp, good as an aperitif, and a great addition to a Chinese meal of spring rolls with sweet chilli.
Kolios Maratheftiko
This wine is rarely sold in supermarkets as the annual production does not exceed 2,000 bottles. (Kolios Winery – point C on the wine list). Maratheftiko is Cyprus' royal grape, like Shiraz; a rich, full-bodied wine, dense purple colour, and 14% strength. The aroma is impressive: pepper, oak, cherry, berries, truffles, as well as light shades of cinnamon and cloves create an elegant flavour.
You primarily feel notes of wood and forest berries on your tongue – cranberries and strawberries, then the noble truffle. The wine is perfect for steak with mushroom sauce, lamb with rosemary, and halloumi: traditional wine of Cyprus with traditional Cypriot cheese!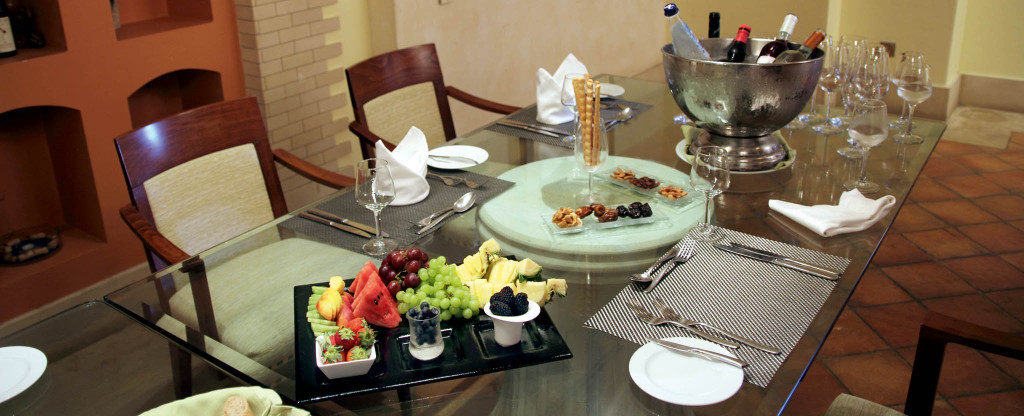 Commandaria. Dessert wine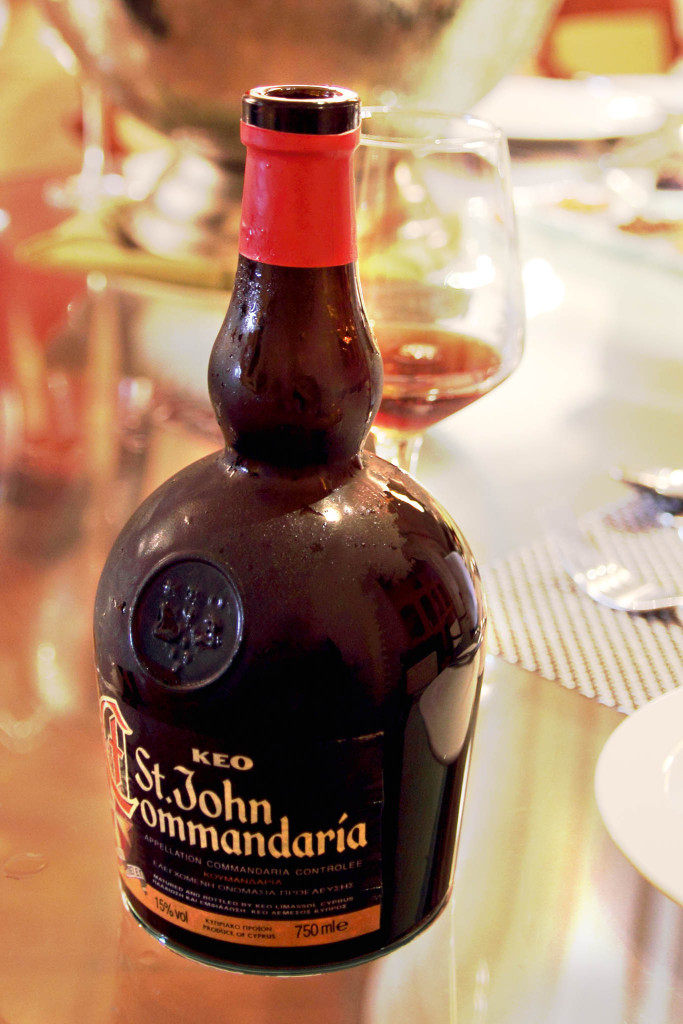 To finish we will try the Cypriot dessert wine Commandaria. This is the oldest in the world of wine. If you want to fully appreciate Commandaria, you have to drink it cooled to a temperature of 6-8 C, like champagne.
It's not surprising that Commandaria is thought of as a 'holiday wine' – this is a sacramental wine and also used at weddings. There is an ancient tradition in Cyprus – when a girl is born, the father buries a barrel of Commandaria, which is dug up just before the wedding – the age of the wine is the age of the bride!
We try Commandaria by St. John of KEO. The wine is a rich dark brown, with a golden tinge. Even chilled, this wine has a strong aroma of honey, raisins, caramel, cinnamon and dried figs.
Commandaria is a wonderful accompaniment to the Cypriot cheese, Anari, the hint of raisins is perfect. Equally remarkable is the combination with brie.
This was just an introduction. Cypriot wines are too diverse to describe in one article, so in conclusion we confine ourselves to listing those that we think you might enjoy.
Other notable names
Vlasidis
White Xynisteri and red Shiraz wine.
Agios Ilias Red
Chrysorrogiatissa Monastery: in the convent of Our Lady of Sorrows Chrysorrogiatissa produce the great wine, Agios Ilias. It's a mixture of Grenache, Cabernet and Maratheftiko varieties and is perfect with pork.
Nicolettino
White Xynisteri; red Mavro and Maratheftiko.
Kolios
In addition to the Maratheftiko above, please note Persefoni – it's a dry and medium dry white wine from the Xynisteri grapes.
Alina Winery
Red wine, Plakota.
Fikardos
Good Rose and Shiraz. Xilogefiro is a medium dry white wine, aged in oak barrels. It's excellent as a 'bridge' between courses, but is also refreshing on a hot day even without food.
Drinking Cypriot wine is a pleasure, but a separate adventure is to visit the Cypriot wineries. Winemakers are hospitable people, so do not deny yourself this pleasure! We have a description of the wonderful wineries:
We will keep you informed of other notable wineries in Cyprus as we find them.
*The truth is in the wine (Lat.)