The residents of some countries don't need a work visa
As an EU member, Cyprus is subject to EU legislation. According to EU law, citizens of the European Union have the right to visa-free travel and to live and work in any country of the Union, including Cyprus.
European law on freedom of movement enables EU citizens to freely live and work in any EU country. The same rights apply to family members of EU citizens.
EU citizens have the right to reside without registration in Cyprus for 3 months, after which they must complete the registration process. Registration of work is only possible if there is an employment contract.
Work permit in Cyprus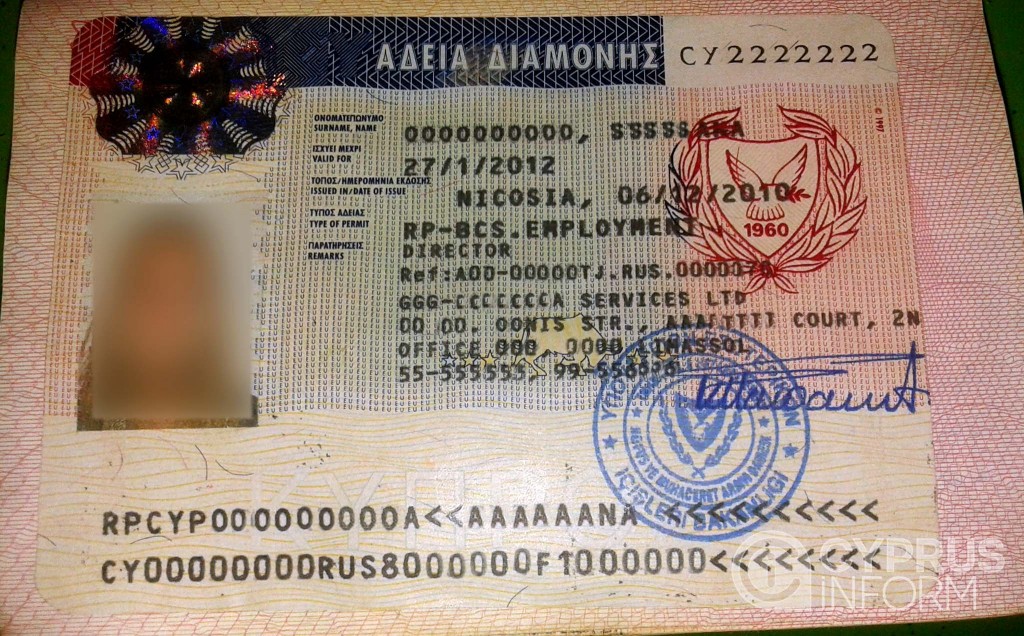 In Cyprus the employer issues a work visa. The employer is obliged to make a contract of employment with which the employee must take to the Embassy of Cyprus to obtain an entry visa.
Any company with the registration of a third-country nationality must provide evidence of work and declare the position of workers who are not Greek or EU citizen's.
The company places a job advertisement with their registration number in the database of the Ministry of Labour and Cyprus newspapers. The application is registered with the Ministry of Labour in Cyprus.
After 40 business days of the application being received from the eligible candidates, the Ministry of Labour receives a business statement and begins to process the consideration of the company. The company's accounts are checked to ensure they have sufficient funds to cover the annual salary of each employee.
If the company does not have sufficient working capital and / or the company doesn't employ a sufficient number of Greeks and/or the officials decide that the request is irrelevant, the company may be refused authorization.
In Cyprus there are two types of companies: Cyprus companies and companies with foreign investments. It's much easier for foreign companies to bring in workers than local ones. Let's discuss a few options to obtain visas for employees of foreign companies in Cyprus.
Categories of employees of foreign companies in Cyprus
Executive Director
The maximum number is 5 people if the registration and migration service of the Republic of Cyprus is not convinced about the justification of the presence of a larger number.
The minimum acceptable total annual salary (annual salary + any additional premiums / additional payments) for a newly recruited executive director is €41,000. This amount may be adjusted in accordance with changes in the wages index.
Middle management personnel, management personnel and other mid-level qualified personnel
Among the above-mentioned employees, including directors but not the executive directors, as well as other members of the executive bodies of management / middle management or other technical or clerical personnel, with an annual salary of €21,000 to €40,000.
Supporting staff
All third-country nationals employed by other technical, managerial, professional, clerical and other positions in Cyprus, and not falling into the previous two categories, are classified as support staff.
It is expected that the company will employ Cypriots or Europeans for this category. The procedure for registration of the employee complies with the general provisions of the employment procedures of employees of companies in Cyprus.
What documents are required for registration?
To obtain a visa the employee of the company must submit the following documents:
Registration certificate;
Certificate of legal address;
Certificate of directors;
Certificate of shareholders;
Memorandum and Articles of Association;
Form describing the nature of business of the company and details of its operations
A list with names, full addresses, passport numbers and nationalities of the original shareholders of the nominating company. This requirement does not apply to companies listed on any recognized stock exchange and international companies in effect prior to the regime change, and for which the Central Bank of Cyprus has all the necessary information;
A list of employees (applicants and employees);
A bank account in the amount of €41,000
A written document confirming the legal address, or a lease or a contract of sale of offices in Cyprus;
Deposit amount of €170,000 – €860,000. Banking and other documents should be confirmed that the foreign direct investment is not less than €170,000 – €860,000 and was lawfully made to Cyprus from abroad.
Citizens are required to submit the following documents for obtaining a work visa in Cyprus:
A valid passport plus a copy;
Completed visa application form;
A police certificate of no criminal record;
A medical certificate of good health;
A bank statement confirming sufficient funds for stay in Cyprus;
Contract of employment with the seal of the Ministry of Labour;
Receipt for submission of application.
How much should you pay for the registration of a work visa?
| | | |
| --- | --- | --- |
| Declarations Category | 1 year | 2 years |
| A visa for entry, registration, temporary residence permit | €270 | €400 |
| A visa for entry, a temporary residence permit | €200 | €330 |
| Register, a temporary residence permit | €200 | €330 |
| Register, a temporary residence permit (temporary residence permit has already been paid) | €70 | €70 |
| Temporary residence permit | €130 | €260 |
| Extending the temporary residence permit | €130 | €260 |
| Extending a temporary residence permit due to changes in the work place | €130 | €260 |
| Additional statements | €10 | €10 |
How long does it take to approve your visa?
The average period of consideration of documents takes about 2-3 months, although delays occur up to six months. Extending a working visa is quicker. The company must confirm the payment of all taxes and social payments in advance to apply to the Ministry of Labour in Cyprus.
Official sources: