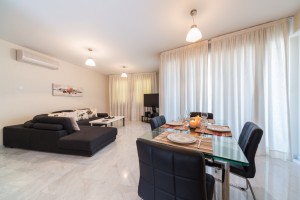 The level of development and quality of service in the Cyprus rental market competes with that of hotels. Individual tourism from Russia is fully developed thanks to the work of leading air carriers and tour operators. Tickets for scheduled flights can be purchased for a very reasonable price without any problems.
Year by year the rental market in Cyprus becomes increasingly popular with our countrymen. This is a holiday option selected by families with children, tourists visiting the island for an extended period of time (for the whole of the summer for example), and by those who don't want to be confined to a hotel room for the duration of their stay.
For any questions regarding buying, selling or renting properties in Cyprus, please contact our Real Estate department TheIslandProperty.com.
What are the benefits of renting a property in Cyprus?
Renting an apartment or villa saves a significant amount of money, which then allows you to spend more time on the island – undoubtedly the best way impact your health and mood;
Rental apartments are more convenient for those who are accustomed to home comforts.
You can find short and long-term rentals for apartments and villas in Cyprus.
Short-term rental in Cyprus
This is an option for those who plan to spend a week to 2-3 months in Cyprus.
The most economical option is to rent a studio: a single room combining a bedroom, living room and kitchen, with a separate bathroom. As a rule there is a covered terrace (large balcony). Studio rentals will cost you from €250-280 per week (in the tourist season). The price normally includes the cost of electricity and utilities, and in most cases internet as well. Sometimes though, the electric bill is paid for separately.
The cost of 2-3-bedroom apartments in the heart of the tourist area, in close proximity to entertainment, restaurants and supermarkets, in a residential complex with swimming pool, and walking distance from the sea, is about €700-€950 per week including utilities, cleaning products, internet, electricity and water. Renting for a period of 1 month will usually get you a discount of 10-20% from the stated daily rates.
If you come with a large family or company, and a high level of comfort is important, you can rent a luxury villa with private pool and garden. The cost of a 4-5-bedroom villa will be around €1,500 – €2,000 per week.
The above prices are valid for Limassol, but there are more modest options available. In Paphos, for example, the rental of property of a 3 bedroom house will cost under €1,000 per week.
As a rule, short-term rentals are equipped with all necessary appliances (dishwasher, washing machine, toaster, kettle, microwave and other appliances – a fully equipped kitchen).
On request, the owners of the apartments can arrange your airport pick up, stock the fridge with the basics, and be sure to prepare for your arrival with a bottle of local wine and fruit.
If you're renting an apartment for a short time be sure to ask whether electricity and water are included in the rental price, as the additional cost can be an unpleasant surprise.
Long-term rentals in Cyprus
If you plan to spend about six months or more on the island, then you will need to find a rental apartment or house. It should be noted that buying property abroad is a serious step, so it's advisable to rent somewhere while you look around and find your preferred area and type of property (more info in our review).
As a general rule, for a long-term lease you will pay the first month's rent plus a month's rent as deposit, which is refunded to you at the end of the lease term after the cost of any damages has been deducted. It's advisable to immediately fix any damage you find so you don't have problems (usually attached to the lease inventory of property).
Please note that estate agency costs are paid by the lessor (realtor), so you do not incur any additional costs.
Long-term rental in Cyprus has its own characteristics. At the conclusion of the contract you should pay attention to the following features:
The possibility of early termination of the contract in case of any unforeseen circumstances (for example, the beginning of noisy and protracted construction work etc.). In the case of early termination you will normally be charged a penalty in the amount of the deposit (one month's rent), but each is dependent on the landlord and can include, for example, the condition of mandatory payment of the months remaining until the end of the lease term. Just be careful.
In Cyprus, even in apartments, there is no concept of "district heating" as in Russia. As a general rule a detached house, flat or maisonette will have central heating, which means that there is an individual central heating system with diesel or a gas boiler. The cost of heating during the winter months (from December to February) is very noticeable: to heat a house you need a minimum of €400-€500 per month. Apartments usually use the air-conditioning (on heat mode), or electric heaters to warm the place. Electricity consumption in this case can reach €200-€400 per month.
It's necessary to specify which utilities are included in the rent. In addition to electricity and water, you may have to pay the cost of garbage disposal, street lighting, municipal fees and taxes, cleaning services for the pool and the gardener, etc.
ЭElectricity, water, and phone with internet are always paid separately. Typically, you sign a contract with the utilities with the necessary deposits (deposit for electricity is in the contract for an amount of €300).
Have a dedicated telephone line. This affects Internet connection speed. As a rule connection can take from one to three weeks, and the lack of a dedicated phone line can greatly increase the connection speed.
Having an electric and hot water system. In the warmer months there is no need to use additional water heating as the solar panels are very effective, but from November through March/April, when the sun is not as strong, you will need to use the immersion heater. A pump is also required to provide suitable water pressure.
КStone floors are ideal in the summer, providing coolness, but in the winter months they absorb a significant amount of heat, greatly increasing the cost of warming a room.
Pay attention to the windows and doors. Most in Cyprus are single glazed, which leads to higher heating costs and increased humidity.
House or hotel, rental or purchase – the decision is yours. We can only advise you try the experience. It's quite comfortable, safe and very exciting. You will come away with your own impressions of various cities and areas, and be able to try different types of accommodation, from apartments to villas or bungalows.
Cyprus Real Estate – buy, sell, rent