Of course, everyone who goes to a new place, not only to Cyprus, but other places as well, wants to bring a small gift or souvenir that will remind them of beautiful days of rest and delight with family and friends. Unpretentious magnets, notebooks, key chains have long bothered by travelers, and those to whom they are presented as a gift.
But there are many interesting and nice gifts, which are able to give a real pleasure to the recipient. In this review, we will consider those souvenirs that can be easily obtained in the souvenirs shop or in the vicinity of the hotel and in the resort areas.
Gastronomic souvenirs from Cyprus
A variety of food and beverages of the countries you visit, have long occupied the first place on the list of gifts. Perhaps everyone would like to get cheese from Italy, Spanish ham, Provencal herbs or Greek wine.
Olive oil
If we approach the selection of souvenirs from the gastronomic point of view, it is definitely a leader in the list of the most famous Cyprus souvenirs. Small, tightly packed bottles of olive oil can be found in any small shop.
There is the big variety for you choice and you should only  scope and pack. We can only advise not to get involved in different variants with spices and other ingredients that can be added to the oil. If you really want to bring the authentic product, traditional Cypriot oil – it is only the oil and nothing else. The cost of the packaging of olive oil in souvenir shops in Cyprus is 5-8 euros.
 Wine and zivania
Not less popular is wine from Cyprus. Good examples of Cypriot wines can be found in supermarkets and small shops. We recommend to pay attention to the production of local wineries as Vouni and Petritis.
Especially good varietal wines – white Xinisteri and red Maratheftiko (named after the relevant grape varieties), which are produced exclusively from local grapes. Their cost in the shops is 5-7 euros, and are of higher palatability, compared with cheaper counterparts from manufacturers such as KEO and LOEL.
As for the traditional zivania (strong local alcoholic drink) and Commandaria (local dessert wine), there are two possibilities:
If you plan to buy a drink for yourself, it is best to go to the supermarket: here the price of a standard bottle (0.75 liters) is 10-11 euros (Commandaria) and 5-6 euros (zivania).
If you want to bring drinks as nice souvenirs, you can buy them in a variety of gift packages – they cost from 5 to 12 euros in stores .
Another interesting "souvenir" product is vacuum-packed olives. At the local shops you can see a great variety of plastic packaging. Attention should be paid to the producer, which is listed on the packaging, due to the fact that Cyprus is also supplied with olives from Greece. Cost of Cypriot olives is 2-3 euros per pack.
Cheese
Very popular among visitors to the island are the local cheeses (Anari, halloumi, firm varieties). It is better to buy them in large supermarkets or in village markets (for those who are staying in Limassol and Paphos), as there they are the freshest, and their taste – more subtle.
For example, Anari – one of the most famous Cypriot cheese, is something reminiscent of the Italian ricotta. Use it as a dessert with a variety of kinds of jam, honey or nuts. Cyprus hard cheeses have not won such popularity as their Italian, French and Swiss counterparts, but try them, it is definitely worth it.
Sweets
When choosing souvenirs in Cyprus, of course, we should not overlook a variety of Cypriot sweets. First of all, jams and preserves. For example, the Cypriot company Nikis offers about 50 varieties of jams and preserves.
However, supermarkets and souvenir shops  present only the most popular types ( from watermelon crusts, apricots, peaches, walnuts and some others). The cost of a jar is about 3-8 euros depending on the type and volume.
In addition, you can buy different kinds of delights, sudzukos (similar to churchkhelas) and other sweet souvenirs. Their value is about 3-10 euros.
Cosmetic souvenirs from Cyprus
Very popular among visitors to the island, are the cosmetics based on olive oil – a variety of formulas for the hair, creams, etc. However, keep in mind that cosmetics based on olive oil are not produced in Cyprus.
As a rule, in the stalls and shops, options for cosmetics of Greek production are offered, which, however, are of good quality.
Different kinds of soap based on olive and almond oil (1-3 euros) for hair (the cost of a pack of shampoo-conditioner is 10-12 euros), creams and masks (20 euros), can be bought in any store or pharmacy.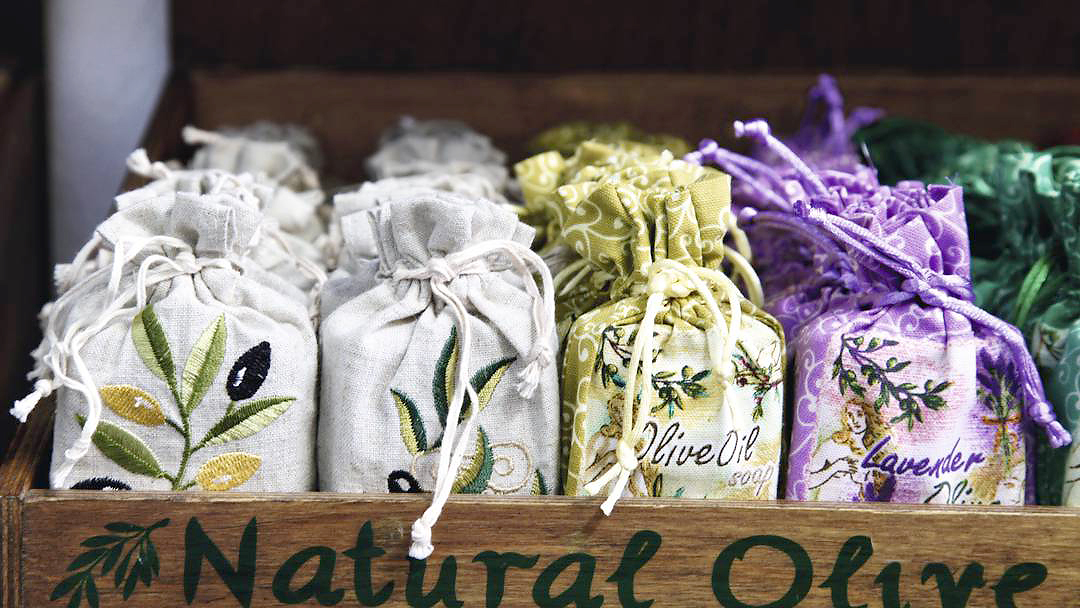 If you want to buy cosmetics, which are produced in Cyprus, it is worth paying attention to the various options with rose water.
In the village of Agros , two factories that manufacture pink roses water, which grow in Cyprus, and natural cosmetic products based on it, operate. The cost of a variety of creams in this case is about 20-30 euros. They can be purchased in drugstores and souvenir shops in Limassol and Paphos.
Finally,what is possible to bring from Cyprus for yourself?
The first thing you should pay attention to on the island – is the coffee pots for the traditional Cypriot coffee and the finely ground coffee (about 1-2 euros for a small pack). If you like coffee in Cyprus' coffee shops, it is these pots that will allow you to make coffee at home, to reproduce that same foam in the cup just like in Cyprus.
Lovers of expensive gifts can be satisfied with the original silver products, which are produced by the Cypriot artists in the village of Lefkara. Local jewelers mastered the technique of 'lacy filigree "and create a really interesting product (the value of silver jewellery, utensils, etc is about 25 euros).
Conclusion
So, when choosing products in Cyprus for yourselves or your loved ones, look for the traditional authentic products. By bringing back home the island's original products, you will bring pleasure to your family and the memories of this welcoming Mediterranean island will be permanently left in your hearts.