Adonis Meze Ouzo– an original Greek tavern in Larnaca
The Adonis Meze Ouzo tavern, located on Mackenzie Beach, is one of the oldest establishments in Larnaca.
This is a fish restaurant offering a wide choice of seafood, cooked using traditional Greek recipes.  The restaurant is conspicuous for its good service, the perfect quality of food and wonderful sea views. A large covered children's playground will keep the small guests happy.
Adonis Meze Ouzo is loved by Cypriots and here you can get the feel of a traditional local Cypriot restaurant.
Review from Cyprus Inform
Adonis Meze Ouzo has been sitting on Mckenzie Beach for more than 42 years.  Adonis is the owner of this family business, and at the same time he oversees the cooking and the service of the customers.
This is a classic version of a tavern, where you feel you're not in a restaurant, but in a cosy, hospitable home.
There used to be 14 taverns on Mackenzie Beach, now there are only 3 left.  All the others are now fashionable bars and clubs.
Adonis Meze Ouzo is located very conveniently – there are no noisy eateries nearby, and you can enjoy your meal here in peace and quiet, looking out at the azure stretch of water, with only the sound of the planes flying passed  to remind you of civilization nearby.
This is not a touristic place and has a loyal and regular clientele.
Design
The design of the eatery is classic for a Greek tavern – white and blue colours dominate, the furniture is simple but comfortable and the sea theme prevails in the design.
Тhe tavern is open all year 'round, daily from July to September and each day, except Monday, the rest of the year. Opening hours: from 10 in the morning until the last client. You can have both lunch and dinner.
Меnu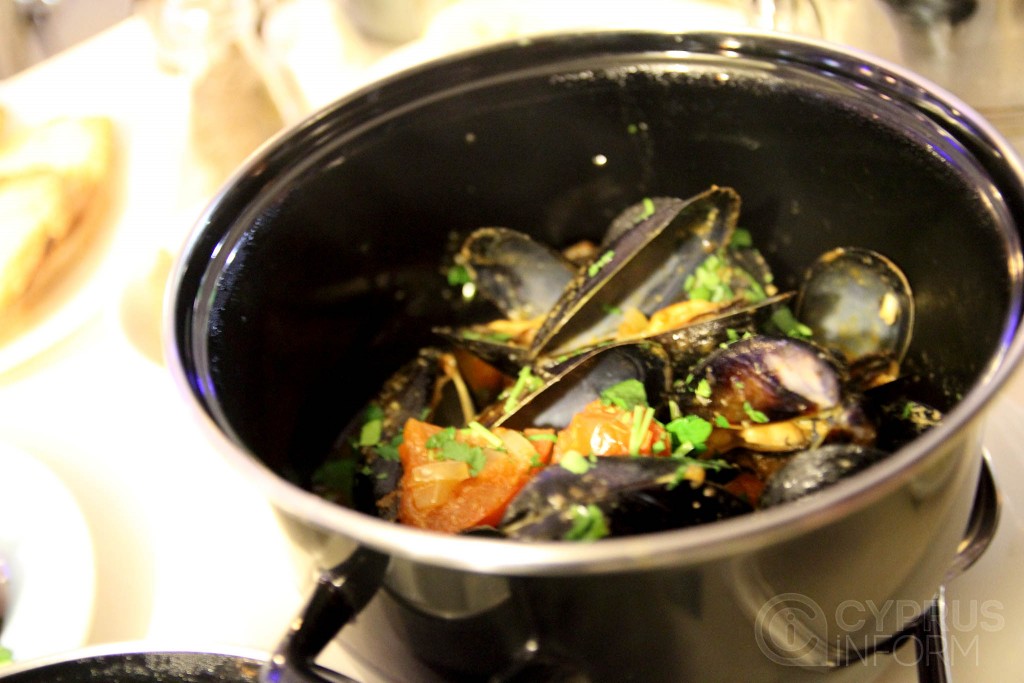 Adonis Meze Ouzo is, оf course, a fish restaurant, but it is a Greek tavern, not Cypriot, and the dishes are cooked in the accepted Greek way, which is very different.
Of course you may order a fish meze, which is traditional for Cyprus, but it will include dishes cooked to original recipes.
Apart from the meze, the menu includes a large variety of dishes. I managed to try a number that I've never come across before.
Please note the section of appetizers to accompany ouzo, they are small portions which can be combined as you wish and there is no obligation to have them with ouzo. Order a bottle of white wine and have a feast!
Appetizers
A set of dips is a traditional start of a Cypriot meal (€2 per portion).
Tirokafteri is a dip made with feta cheese and chilli pepper and is quite hot, with the distinct sharpness of lemon.  This goes very well with a nice glass of chilled white wine. Melitzanosalata is a dip made with aubergine and Scordalia, a dip made of potatoes and garlic – definitely new dishes for me, and, of course, the local village bread toasted with oregano.
The next dish is a surprise – small cutlets made from courgette – Kolokitho Keftedes – such a simple Greek name!  This is the vegetable variant of its classic meat fellow, keftedes (€4.50).  Delicate stuffing made with marrow and fresh herbs and spices with a fried crispy crust.  Very tasty!
Hot dishes
I recognised the traditional pot for serving mussels from afar. Yes, it is them! Fresh mussels in a Mediterranean sauce made with tomatoes, оreganо, lemon juice and wine (€12 – 0,5 kg and €20 – 1 kg).These are the small, tender mussels, with the flavour of the sea which I love so much.
The next dish is again very unusual for local taverns – mussel pilaf (€7). This is an ideal version for a hot day –a light, non-fatty dish with the aroma of garlic and dill. The dish resembles risotto a bit.
The saganaki shrimp – this is Cyprus classic as well – seafood baked with a sauce of tomatoes, feta cheese and oregano (€9). Usually the Cypriot saganaki is cooked with small shrimp. Adonis combines large and small and the dish is more tasty and beautiful.  Yes, this is a wonderful combination of sweet ripe tomatoes and salty feta cheese.
What else can we add to this meal? Try the traditional sweets, Cypriot coffee and a glass of zivania.
Events
From time to time, especially in winter, the tavern organises wine tasting – a set menu of 4 dishes with a different wine served with each new dish for tasting.
The tavern is ideal for a children's party – the local playground is very good.  This is the first time that I have seen such a playing ground in a tavern!
By way of conclusion
Adonis Meze Ouzo is a hospitable family restaurant with an extensive menu. Here you can try interesting Greek dishes.  A worthy establishment for lovers of fresh seafood. I can recommend it.
Маxim Оkulov
Photo Gallery