Fish tavern in Cyprus
Marcos fish tavern is an old family business, with over a quarter of a century of history behind it.  The restaurant is located only 10 metres from the sea and the new marina in the village of Zygi.
Marcos has an excellent reputation as a traditional Cypriot fish tavern, and guarantees to provide the best quality of food and service.
For over 25 years the customers here have been eating the freshest fish and seafood, straight from the sea and delivered by private boats.
The cosy atmosphere, amazing sea views, delicious food and great prices will certainly impress.
A family holiday on the beach
Picturesque sea views, fresh air and plenty of entertainment for the children is a great way to spend a day with your family at the beach.
Marcos fish tavern is equipped with a children's play and balloon area where they can have fun. The whole family will enjoy spending time at this wonderful place.
Enjoy some delicious holiday time at Marcos fish tavern!
Fish Meze

At Marcos fish tavern you can find a wide variety of perfectly cooked seafood.
All the fish and seafood has been delivered straight from the sea by private boats, so you can be assured of the food's quality and freshness.
Extra facilities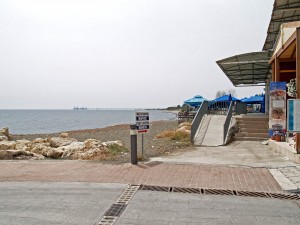 Marcos fish tavern offers:
Large and ample parking
Free Wi-Fi access
Phone reservations
English and Russian speaking staff
If you're planning to visit Marcos fish tavern don't worry about where to leave your car, Marcos' in Zygi has ample parking near the restaurant.  The restaurant also has free Wi-Fi for the convenience of its customers.
Marcos fish tavern also has English and Russian speaking staff.
You can reserve a table by calling 24 333404.
Photo Gallery