Beer restaurant in Limassol
A restaurant with a wide selection of beers: well known draft German brand, Hofbrau, bottled in Germany and Belgium.
The establishment has a warm interior, large outdoor patio, qualified staff and a menu with classic German dishes and snacks for beer. The restaurant is distinguished by its low prices for both food and drinks. In the BEER & BEER – Hofbräu you can watch broadcasts of football matches and other sporting events, as well as organize a banquet.
Cyprus Inform Review
For some time now I've stuck to the principle: if you drink beer, then you should drink the best! Restaurant BEER & BEER – Hofbräu has become one of my favourite places, where you can enjoy high-quality draft beer with traditional snacks, and feel that you are in the heart of Bavaria.
BEER & BEER – Hofbräu is located in the heart of the tourist area in front of the Royal Appolonia Hotel. It has everything you need to enjoy an unhurried conversation, in the company of good friends, over a glass of "foamy hops" – massive wooden tables, a warm interior and friendly staff.
Beer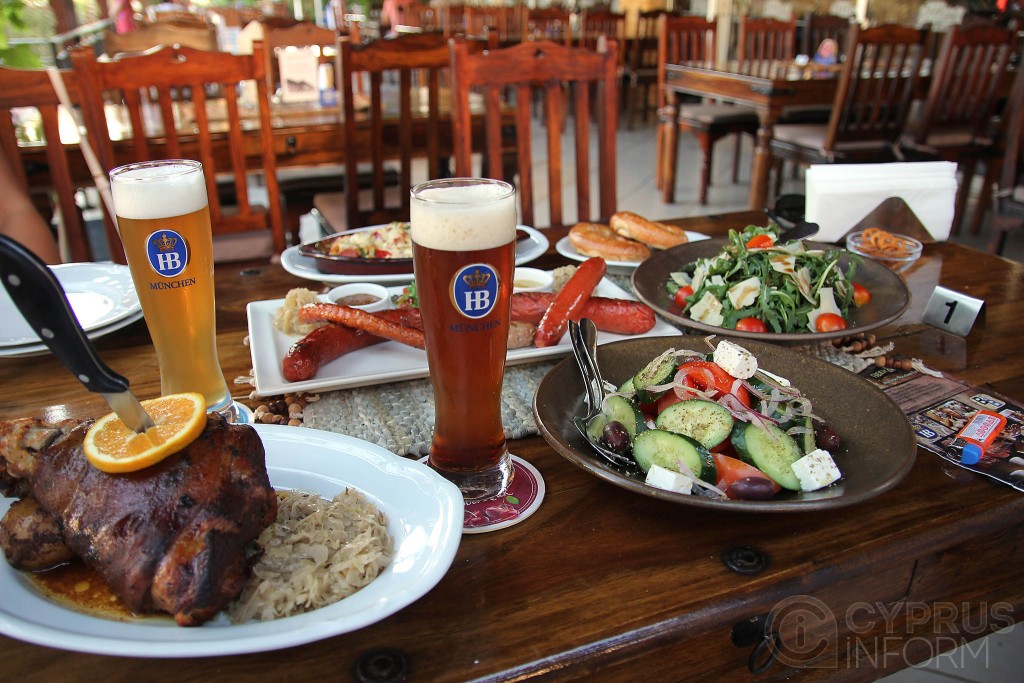 Of course, speaking of the Brasserie, it's necessary to begin with an overview of the beverages.
The menu offers four main types of draft Hofbrau beer for the price of €3 to €4.50 for a pint. Frankly, I've tried everything!
Original light – the lightest, with moderate bitterness and a mild malt flavour;
Unfiltered white – with a pronounced flavour of malt and hops which seems milder than the original;
Unfiltered dark has a rich taste;
Real dark "dunkel" is my favourite in the Hofbrau: distinctly bitter, dense, rich dark colour and with an amazing flavour.
Beer snacks
Pretzels (€1). A traditional German bagel, warm, with a shiny glaze and grains of sea salt; this is a great addition to the first mouthful of beer from a misted glass!
Beer meze (Beer & beer meze € 4.90). A small plate of snacks and hot meals served on a clay dish – sliced sausage, slices of cooked potato, bell peppers, fragrant tomato sauce baked with cheese. This is a wonderful meal! If you're not very hungry, then order one portion between two people and have as a snack with beer.
Hot dishes
Well of course I must begin with this dish!
German Pork Knuckle (€12) in BEER & BEER – Hofbräu, with the King of German beer on the table! I would not hesitate to say that the pork knuckle in BEER & BEER Hofbräu is, in my opinion, the best in Limassol. Tender meat that just falls off the bone, with the skin baked to perfection. Sweet and sour pickled cabbage perfectly complements this dish.
Assorted sausages on the grill (Oktoberfest Sausage Platter, € 12). It's a feast for lovers of sausage. Sausages are made from fresh ingredients at a small German family run factory. There are five kinds of sausages, with sauerkraut, pickles, two kinds of mustard and tomato sauce.
Order this dish for two, divide each sausage in half and enjoy the magical combination of aromas and flavours: original pork sausages (large and small) and spicy pork chiliare. Take a sip of cold beer, a piece of white sausage, and sausage with cheese with a more delicate texture and a distinct creamy taste.
Events
In BEER & BEER – Hofbräu you can comfortably watch football matches and other sporting events. Here you can also celebrate a birthday, anniversary or just a get together with a large group of friends.
In addition, you can order catering with food and draft beer online.
Instead of a conclusion
BEER & BEER – Hofbräu is my new discovery on the gastronomic map of Limassol, an institution for a peaceful evening over a glass of cold beer. There are restaurants that have special kitchens and menus, but in this case I would say this restaurant has a special taste … for life!
Maxim Okulov
Photo Gallery