The Italian Restaurant of the Londa Hotel in Limassol
Caprice Restaurant at Londa Boutique Hotel
is open from early morning until late.
In the morning, a rich breakfast is served here with a variety of dishes that can satisfy even the most refined taste: both gourmet and healthy lifestyle fans will find what they like here.
And last but not least – the day that starts with a glass of champagne is guaranteed to be wonderful!
High ceilings, light surfaces everywhere, airy furniture, white columns glowing from the inside, huge panoramic windows overlooking the azure sea, the branches of colourful bougainvillea looking through the windows – even a glance at the space offers aesthetic pleasure.
Stylish linen place mats, exquisite cutlery and dishes, sparkling glasses – every little thing here was selected with love and care for guests and their satisfaction.
Here you can arrange a business breakfast or lunch with friends or colleagues, or, alternatively, give yourself an evening of culinary pleasures by reserving a table for dinner.
You will immensely enjoy tasting Italian dishes, hearing the splash of waves and enjoying the magnificent view of the night sea.
In the evening, the tables are candle-lid, offering the restaurant an incredibly romantic atmosphere, thanks to the numerous candle lights.
Every Sunday you can enjoy traditional Cypriot lunch with a large selection of grilled meat dishes at Caprice.
Jazz evenings at Londa Boutique Hotel have become the hallmark of this place.
Live jazz performed by renowned musicians is a truly exciting experience. Indulge yourself by choosing wine according to your mood, and this evening will remain in your memory for a long time.
Dinner at Caprice: an unforgettable gastronomic experience
As the name implies, the Caprice restaurant offers its visitors the best delights of Italian cuisine. Authentic Italian dishes are prepared using the best local products, the quality is carefully monitored by the restaurant manager. Italian specialties: cheese, deli meats, mushrooms, herbs, spices, wines and much more are delivered directly from Italy.
Depending on the time of the year, you can choose a table indoors, in the cool air-conditioned restaurant or be seated at one of the tables on the veranda, enjoying the fresh breeze and the smell of the sea.
The waiters' knowledge of the menu is unprecedented. Feel free to follow their advice while choosing appetizers, main courses and wine.
The gastronomic experience that you get at Caprice combines "sophistication and fine taste". This place does not serve a buffet with mountains of food. The portions are medium sized, and each dish offers pleasure to several senses: the eyes admire the serving, the taste buds enjoy a mixture of smells, flavours and textures…
As soon as the nose smells the palette of aromas, hands with cutlery freeze in the air: who would want to spoil this feeling?
Every dish is exceptional: fish, meat or vegetables of excellent quality are prepared in such a way that fully reveals and emphasizes their natural taste. Garnish complements the dish, and the sauce accentuates the taste.
Since we had fish as a main dish, we decided to start with light snacks of vegetables, cheese and seafood.
Ah, these descriptions in Italian!
All dishes names are first given in Italian and then in English, and, in principle, gourmet lovers travelers will not need a translation: burrata, carpaccio, tartar, zucchini, tempura…
The cost of snacks varies from € 8.50 (zucchini and asparagus tempura) to € 17.50 (mozzarella with cherry tomatoes and balsamic).
I am a bit confused with the variety and description of starters as I want to taste everything, so we take several starters to get a first idea of the Caprice cuisine.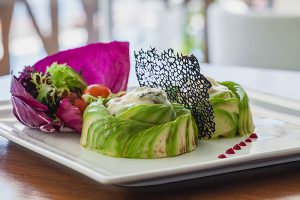 Amazing grilled octopus sided by a chickpea puree of an unusual creamy consistency with delicious caramelized onions (Polpo alla griglia con crema di ceci e cipolle caramellate, €12.50), slices of zucchini and fresh asparagus tempura, crispy outside and juicy inside, served with saffron yogurt (Zucchini ed asparagi tempura serviti con yogurt allo zafferano, € 8.50), fresh calamari sautéed in garlic butter and tartufo oil, served with smooth yellow lentil puree (Calamari saltati in padella con burro all'aglio e olio di tartufo con lenticchie gialle, € 9) – a breathtaking combination of tastes, smells and textures! Filo pastry cigars filled with fresh salmon and cream cheese on a bed of beetroot cream (Salmone e crema di formaggio fresco in pasta filo, con crema di barbabietola, € 12.50) – it is simply impossible to stop!
But we have to – there is still the main dish and dessert to come.
For our meal, on the advice of the restaurant manager Mr. Ellinas, we take the Venetian white Pinot Grigio Delle Venezie Igt – and it was a great choice as it paired perfectly with our light Italian meal.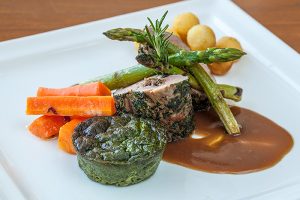 And now it is time for the main dish – Grilled fresh tuna with herbs, served with sweet potato cake and grilled asparagus (Τonno Fresco Alla Grigliα Con Erbe Servito Con Torta Di Patate Dolci Ed Asparagi, €29).
I ordered it "medium rare" – as this reveals tuna's best qualities: taste, aroma, juiciness, and a specific "chunky" texture. It tastes even better than it looks. A thick, "fleshy" and so juicy reddish tuna filet – it simply melts in your mouth, breaking up into tiny slices and dripping with juice, and oh, that aftertaste of the fragrant crisp of herbs…
I am writing this review a few days after that dinner, and even though I have visited a few good restaurants since then, the memory and feeling of the taste of this dish will remain with me for a long time.
It seems that I am so full that I will not be able to eat anything else for quite a long time, but who can resist a Caprice dessert?
Especially when it comes to a real authentic Tiramisu thoroughly prepared according to all the rules: tender savoyardi melt in your mouth, a subtle coffee touch underlines the taste, silky cream from the fresh mascarpone travels you directly to paradise, and sliced strawberries offer a special freshness…
It was an unforgettable gastronomic experience under the southern stars in a velvet sky and the sound of waves in the sophisticated hospitality and service of Londa Boutique Hotel.
I will definitely be back!
15% discount for Cyprus Inform discount cardholders