A Chinese restaurant with authentic Chinese cuisine, run by the chef Yip Wai Leong, who has been working for over 20 years in restaurants of leading hotels of the East (more details in our review).
The use of natural ingredients allows the restaurant to create unique dishes, as if they had been transferred here from the finest dinner tables of Beijing or Hong Kong.
Chi Lounge has been running for over two years,   and just to create the menu, which comprises of over 100 dishes, took a whole year.
This menu offers not only a wide choice of meat dishes, but also a good variety of fish and seafood. For something a little different you can try unique dishes taken from the diet of eastern monks.
The restaurant itself has an unmatched atmosphere of quiet refined luxury with marble, expensive wood furniture, a huge aquarium, candles, and an abundance of light.
The polite and attentive staff make it an ideal place for a formal dinner, a romantic meeting or a warm conversation with friends…
Review from Cyprus Inform
Confucius said that food is a source of primary happiness.And that's how I felt when I become a guest of the owner of one of the best Chinese restaurants on the island. This time Тоny, the owner of Uptown Square group of restaurants, ordered the dishes for our meal. And so we enjoyed Chinese cuisine under the expertise of a Master…
The design of the interior lacks the traditional red color, which is so often found in Chinese restaurants , instead it is replaced by an abundance of wood, marble and glass, many flowers and a luxurious fish tank are in the center of the room.
Starters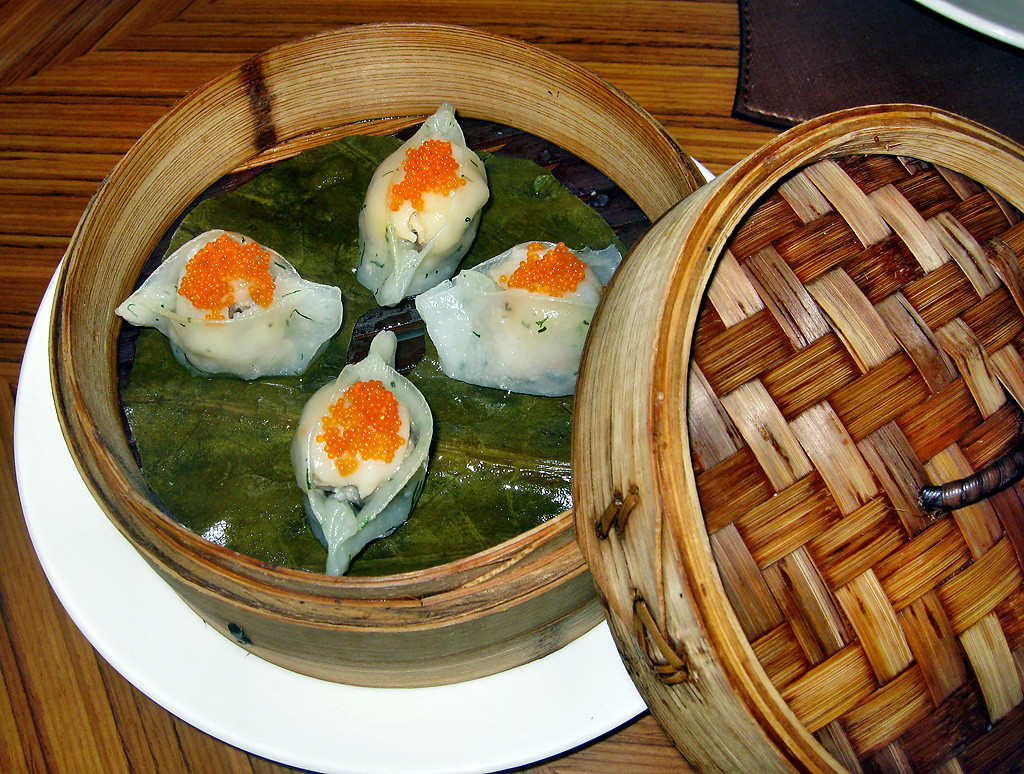 Our meal began with Dim Sums. In Chi Dim Sams are cooked by the chef, who has spent many years to master family secrets of this seemingly simple dish.
There are chicken Dim Sams (Chicken Slew Mal) a fairly thick stuffing made of chicken, shrimps and Chinese mushrooms.
Crab Dim Sams (Mint Alaskan King Crab) arrived in the next bamboo box , the stuffing was very tender, the taste of the crab was more distinct despite its many other ingredients. Apart from the crab, the stuffing contained shrimps, carrot and fresh mint.
An incredible dish followed , fried Dim Sams with beef and fois gras (Fois Gras & Beef tenderloin). I expected a heavy minced meat, but the stuffing literally melted in my mouth leaving a delicate aftertaste of goose. Apart from the meat and fois gras, the stuffing was complemented with celery, carrots, coriander and chives.
Prawn, Fresh Scallop & Pork such unusual combinations , but it was wonderful! Dim Sams made of lobster's tail completed this pelimeni craze. Dim Sams made of lobster's tail (Si Xi), which we tried on our last visit.
Tony states that the meal has barely started, and that now is the time for the hot appetizers.
Chew Yim Calamari, you can barely recognize squid in the hot dish, tеnder crisp morsels of the seafood are covered with spice, and sweet and sour vegetables compliment the dish.
Steamed king shrimp and scallop (Steamed Fresh Scallop & King Prawn) with black stump mushrooms and 'glass' noodles. When ordering this dish, you can choose the sauce – lemon chili (personally I like it better), or another made of black beans. The dish is served in a real shell , very Stylish!
And… a new masterpiece! A line of combat dragons has appeared on the table , this is how I imagine the next dish made of king shrimps.
Each shrimp is slightly fried in a tender batter and covered in sauce. The green ones are Wasabi Prawns , sauce with avocado, wasabi, mango and kiwi, the yellow ones are simply fantastic! Passion Fruit Prawns , sauce based on mayonnaise with passion fruit and kiwi.
Wine list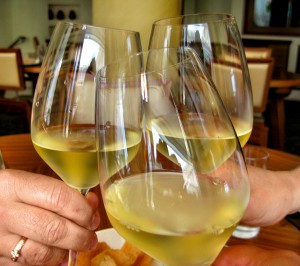 Now we will make a small pause before we embark on the hot dish. Now is the time to talk about wine, which is worth more than just a mention..
We drank one of the best Greek wines produced by wine maker Evangelous Gerovasiliu (do not be surprised, this is this simple Greek name). Evangelous creates his masterpieces from the fruit of the vine from the village of Epanomi, where he was born in 1951. The young man received his education in Thessalonica and later in France. It was there in Greece, in the heart of the wine country, that he paid attention to the dying off variety of grape Malagousia and literally saved it .
Wine Domaine Gerovassilliou, which decorated our table during this delightful meal, was produced from two grape varieties, 50% Assyrtiko and 50% of the saved Malagousia. The Assyrtiko variety is known to produce wonderful wines.
Main course
Well, the inexhaustible chef has already cooked a hot dish for us, which enthralled us with its taste, and also by the way it was served.
My favorite black codfish glazed in honey (Honey Glazed Black Cod) the sweet dressing suits the tasty fish perfectly.  We have barely had the time to enjoy the codfish presentation when something mysterious appeared on the table, a thick bundle of green leaves. They are real Lotus the fairy-tale flower, which symbolizes purity and eternity in Buddhism an escape from the hateful samsara,( a string of reincarnations).
The waiter carries out a surgical operation and rice with scallop, vegetables and shiitake mushrooms appear from under the thick leaves (Lotus Rice).
And a surprise again! The mystery is concealed in a quaint foil pack. These are mushrooms of 4 species, fried in a wok and dressed with oil of white truffles (4 Mushrooms). The combination of mushrooms hits your palate with its thick strips, tender сaps, quaint sauce and a barely perceptible аroma of white truffles.
The next dish looks simple enough but the smell is amazing! Lotus roots with shiitake mushrooms in magnificent sauce XO (Lotus Root and Kal-Lan).
Тоny says that the chef of Chi mastered the cooking of the sauce as a result of much practice over many years. The sauce is made of 16 ingredients, including the Parma ham, seafood, asparagus, water chestnut and dried sea scallops. It was the first time that I have tried lotus roots and they turned out to be very thick, crispy, but not hard.
And beef in pepper sauce (Black Pepper US Beef) crowns it all.   The meat is so tender and its pepper sauce is moderately hot, with a tantalizing aroma of freshly ground pepper.
Dessert after all this food was impossible, so we limited ourselves to a light choice of lemon sorbet , sweet and sour, and most of all refreshing.
Yes, the cuisine in Chi is amazing, but you come to the restaurant again and again not only for that, you come back time and time again for the friendly hospitality!
From Monday to Friday 12:00 -17:00 20% discount for Cyprus Inform discount card holders
Photo Gallery