The authentic Italian restaurant in Paphos
It is only open for dinner. The restaurant is located in​​ Paphos's tourist area, on the second floor and offers a beautiful view of the coastal city.
A romantic dinner at the "Colosseum" is no trivial matter; careful attention to detail is given- from expensive dishes to the antique statues in the clouds of a fragrant jasmine scent. To enjoy your meal, an extensive wine list with great wines completes the menu, which includes classic Italian cuisine and steaks.
Every Saturday at 19:00 live music can be enjoyed at the restaurant.
An interesting Set Menu for €13 is one of the options. You will be offered a choice of three appetizers, three main courses and desserts.
The "Colosseum" is a meat restaurant. Of course, there are seafood dishes to satisfy exacting taste, but the highlight of the restaurant, without a doubt, are the steaks. The chef and restaurant owner Nikos Charalambous is a real culinary virtuoso – he gives guests a real culinary experience, following the following philosophy of life: "If you want to look into my soul, try my food …"
 Kipr Inform Review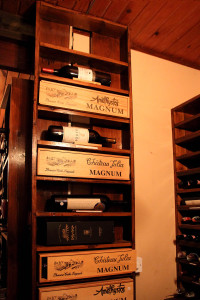 I'm always a picky critic when it comes to Italian restaurants. Yes, I love Italy, I'm crazy about Italian food. Visits to "Apennine Boots" – are the most coveted kind of travel for me. With a traditional distrust I crossed the threshold of the restaurant, which took me back many years.
With its solid sign ladder upstairs, the classic antique statues, the small fountain,everything is beautiful and restrained and surely nothing is  kitsch. The tables on the veranda are favoured by the sea breeze blowing: even without seeing the menu, I could not help relaxing.
The restaurant is full of Englishmen. "Albion" guests love the friendly chef Nikos and come at the "Colosseum" not only to eat, but also to share a word with him, getting a charge of his smile's vivacity.
Nikos is a Chef with experience: studied in England and traveled around the world, thus offering Italian dishes in their authentic style. A master's style, when it comes to Nikos..
The restaurant's menu is very concise – a good sign and the familiar mellifluous Italian names. We ordered dinner for two – different dishes to try more flavors.
Appetizers
Stuffed Mushrooms (Funghi Colosseo, € 7,25): large mushrooms stuffed with breaded shrimps and fried. The crisp and tender juicy mushroom pulp is in perfect harmony with the shrimp. This is a good start for our meal!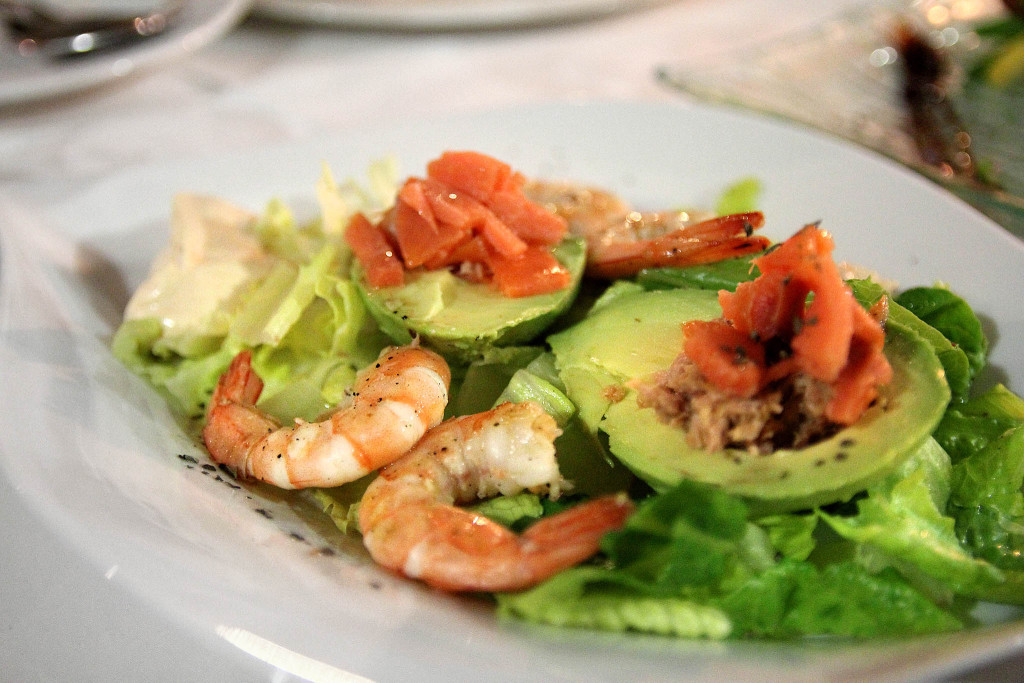 Another branded snack, Avocado Colosseo (€ 6,75): slices of avocado stuffed with tuna and smoked salmon. It is served with salad and prawns. In this dish there are several hidden secrets, tricks that cooks from different regions of the world use. Firstly, the shrimp.
This method is similar to the Peruvians' – the traditional ceviche: The seafood stands in a marinade based on lemon juice, and then quickly fried, keeping juiciness and tenderness.
The avocado with tuna – a Mexican theme, and all together create a light dish that can brighten up a hot summer day, or  become a beautiful prelude to a hearty meal. The ripe avocado with a creamy texture – a great "background flavor " for the tuna and the salty smoked salmon  I highly recommend trying this dish!
Our hot starter is Melanzane Parmigiana (€ 5,90) – eggplant baked with tomato sauce and parmesan. At Italian restaurants, I certainly order this dish. "Melanzane" by Nikos is ideal for those on a diet. The Georgian cuisine connoisseurs know the product name "badridzhani." In the "Colosseum" the usual eggplant can be found except for a characteristic peel. The rest has not a hint of bitterness, and its texture is similar to soft cream. And, of course, magical tomato sauce: sweet and sour, with the scent of herbs and spices.
This, too, was not without its secret: the eggplant was marinated with herbs, lemon juice and olive oil, then cooked in the oven until it was slightly roasted under the grill, acquiring its smoked flavor. Five-plus!
Pasta
Of course, you know that the pasta replaces first courses in Italia. I usually order the pasta with seafood, lasagna is not at all to my taste, but at the "Colosseum"  I decided to try the lasagna; and what scrutiny will there be!
The vegetable Lasagna (Vegetarian Lasagna, € 12.00) are truly amazing. Homemade pasta, tomato sauce, bechamel sauce, cheese, mushrooms and vegetables, mouth-watering  fragrant herbs. Even more captivated were the meat lasagna (Lasagna al Forno, € 12.00): juicy ground beef, tomato sauce, a little bechamel and parmesan. Again, five!
Wine
And let me tell you a few words about wine. There is an extensive wine cellar, which presents wines from different countries, in different price segments. Of course, the favorite is prosseco!
Under no circumstances must you try to start the meal with something else! Beautiful Italian classics: Brunello, Barbaresco, Bardolino… You understand that the map of Italy – is, in fact, the wine list!
There is a decent list with local wines, Tsangarides, for example. This time, we were "consoled" by the fruit of a vine from Australia: Coonawarra Shiraz (€ 22 for a bottle), a wonderful red wine.
Main course

For the main course, of course, it was steak. Steaks at the "Colosseum" are chosen from Irish beef Black Angus. It is believed that the Australian beef is softer, but the Irish is definitely more flavorful.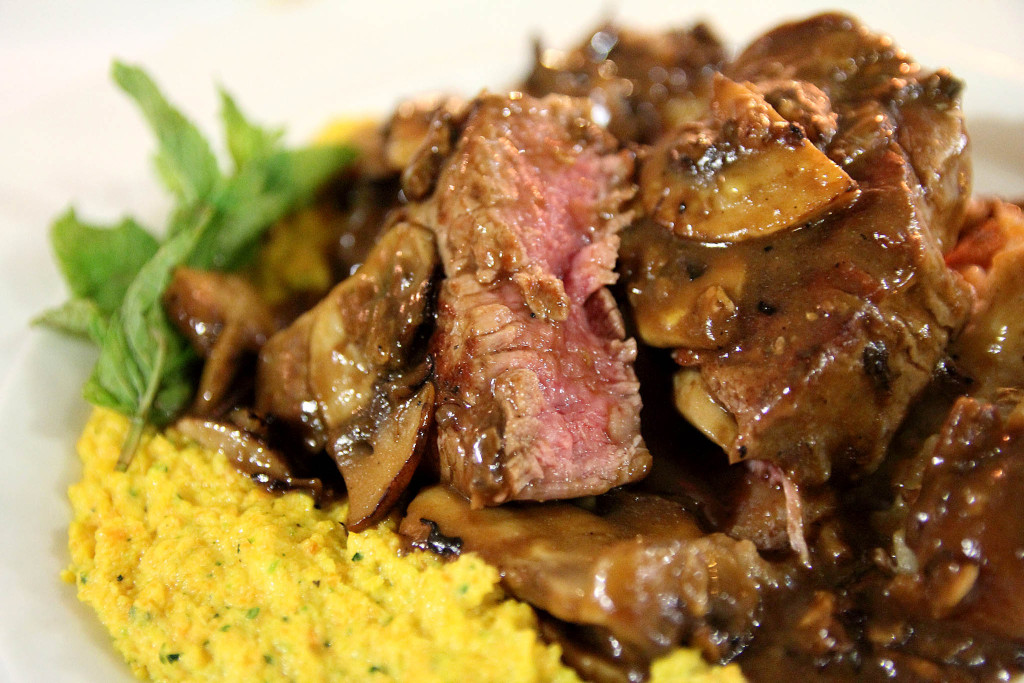 Our order was Steak Filetto al Barolo (€ 24). Magical juicy steak with Barolo wine sauce and wild mushrooms and herbs. Served with vegetable puree and potato croquettes.
The meat does not necessarily need to be cut with a knife, so soft it is! Perfect rare meat, pink on the inside but not raw. The steak disappears before our eyes, without creating gravity inside. The purée – sweet and fragrant – perfectly complements the dish.
Fans will appreciate the leg of lamb (Lamb Shank, € 12). The dish is cooked for 12 hours; as a result the meat should be viewed with caution, since it seems to be separated from the bone by itself! The thick meat sauce has the characteristic aroma of lamb and of the fine selection of herbs. In this dish there are  seven notes, from which this extraordinary culinary composition was born.
Dessert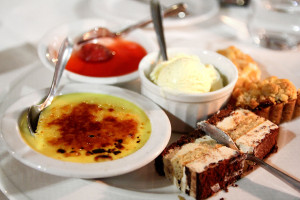 Of course, it is impossible to have a sweet dessert after such a meal at  the 'Colosseum' restaurant , but … I was in for it! Who said anything about being gluttonous?! In general, it is true, but in this case the reason is different. The chef said that after a heavy meal of meat it is absolutely necessary to treat your flavour receptors with a sweet dish. Well, you can not disobey a professional!
Try a traditional Italian dessert, Panna Cotta (€ 4,50) – not very sweet, creamy and delicate or Creme Brullee (€ 4) – with crispy caramel crust, or you can simply order the Italian ice cream.
Catering in Paphos
Many people prefer to celebrate events and anniversaries at home with family and friends. The restaurant's staff are capable in only a few hours, to turn your house into a branch of a first-class restaurant. To remember the celebration without having to deal with any problems, it is ideal to use the services of professionals: cooks and waiters -a  well-organized team, in other words, the "Colosseum."
Nikos' team can arrange any celebration. On request, they will deliver everything you need to organize the event: tables, chairs, dishes, and of course, food and drinks. Snacks will be prepared in the restaurant and hot cooked on the spot, making it a unique culinary 'trip'. This format is also convenient since after the party the restaurant staff will take away the dirty dishes, leaving a good mood and the enjoyment of good food.
Conclusion
Yes, tasting the main dishes, I can attest:  the"Colosseum" is an excellent restaurant, where it is necessary to order meat, especially  steaks. This is definitely a meat restaurant. And all of the items on the menu,are only a prelude to a meat feast.
The restaurant is a favourite among the English. The chef gives them all a surprisingly warm farewell, as a good friend. They do not come to the restaurant only for the superb food, but also because it is a friendly and hospitable house; they are sure to come back here. I suspect that soon the "Colosseum" will cease to be a quiet haven of British pensioners. We – the people of Paphos – many times past driving by this place. I am sure it is time to stop and take a bite!
20% discount for Cyprus Inform cardholders
Photo Gallery