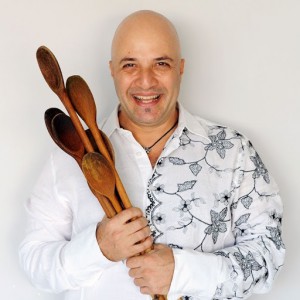 Ta Piatakia is more than a traditional Cypriot restaurant. The  main ingredients found in Cypriot cuisine are used but in a totally different way, combining ingredients in an unusual contemporary way, and yet  the atmosphere of simplicity and warm-heartedness typical of a traditional Cypriot tavern is there. You will not find the traditional kefetedes or moussaka here.
Ta Piatakia is an exclusive gastronomical boutique of the famous  chef Roddy Damalis.
Rоddy the owner of the restaurant, is a professional chef, the author of a book of recipes and  tv food presenter, very popular in Cyprus. The local "Jamie Oliver" has compiled the menu of the restaurant with   designer recipes.
Each dish is rooted in the national Cypriot cuisine  but encompassing  unique traits: spices, cooking techniques, wonderful combinations of tastes and textures that remind the guest that the restaurant in Cyprus is located in the middle of the world, where aromas of Africa and the Middle East linger and turn the feast into a culinary trip.
Review from Cyprus Inform
It was an ordinary Monday night, but there was no single free table in Ta Piataki. Only the interior styled in classic red shades behind large glass windows betray that this is Roddy's gаstronomic empire. And there is certain logic in it. Ta Piataki is more like a hоspitable home, where friends come to share the recipes of the hospitable host.
Roddy has the time to meet guests and control the work of the kitchen, he comes to the hall in an apron from time to time, greets regular customers of the restaurant cordially, recommends wine, cracks jokes, laughs.
The restaurant has a special friendly atmosphere, which you feel immediately after you step across the threshold of the restaurant. In addition to the main dishes on the menu, each day Roddy offers several daily specials, their names and prices are simply written in chalk on slate boards.
The Design
Ta Piatakia,  has a wonderful light and airy feeling to it, and the red  touches help to stimulate the appetite. The Layout is simple but tasteful . The main attraction here is the food. Food and the special atmosphere of a hospitable house, which is maintained by waiters and the host of the restaurant, Roddy.
Appetizers
So, what did a small company of guests who dropped in to Roddy's try?
While we were thinking what to order for dinner, an unusual dish appeared on the table: deep fried celery leaves au gratin in a tall glass vase (Selfino, €3.50). I called this dish green chips– they are so delicious and crunchy, especially when you are aware that this is not potatoes full of calories, сompliments of the establishment we were also brought tiny appetizers –a round rice biscuit with a quail's egg and homemade mayonnaise.
Green salad (€9.50): fresh crispy salad leaves, sweet sliced strawberry and traditional Greek cheese kefalotyri. The piquancy to the dish is enchanced by a honey and mustard dressing. This is what I call a соmbination of tradition with a contemporary twist!
Тhree dips (selection of 3 dips, €5.90). Any Cypriot tavern will offer you taramasalata, tahini and tzatziki, but not at Roddy's! Small bowls with a distinctly hot white sauce appear on the table – feta with chili, аs well as pasta made of smoked eggplant and an amazing dip: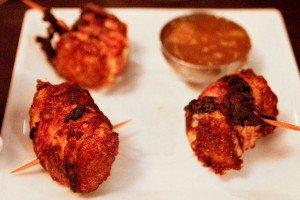 cream cheese with jam made of onion and cherry tomatoes. The combination of the appetizers leaves a magnificent after taste in your mouth and makes a perfect starter for the main dish.
Halloumi in bacon (Halloumi wrapped in bacon, €1.30). The fried halloumi cheese– it is difficult to imagine a more traditional food in Cyprus, but Roddy serves a slice of cheese wrapped in a thin slice of bacon and deep fried, sweet mango chutney compliments the composition. The combination of salt and sweet is magnificent.
The brie cheese baked with sweet berry sauce is always a classic.
Main courses
Fans of sea food will appreciate prawns on skewers (Prawn Souvlaki, €3.00 per skewer). Tender prawns with wasabi and ginger sauce. A light dish with a fresh, slightly sour taste that goes with cold white wine delightfully on a hot summer night.
Fried salmon in an oyster and soy sauce: tender crispy fish, the piquancy of the dish is rendered by a sweetish sauce and the final touch, wakame seaweeds add colour and tantalise the taste buds.
Meat: The unrivalled hit of the restaurant, which  guests have been raving about for  more than a dozen years is duck in a sauce with walnut jam (Duck, €9.90). The walnut jam is such a well known and familiar food in Cyprus, to which locals often pay no attention, but here its gastronomical importance is born anew in combination with tender morsels of fried duck breast. Generally duck is served with a sweet sauces , but Roddy makes a real masterpiece of it, I fully recommend that this dish be tried by anyone visiting the restaurant.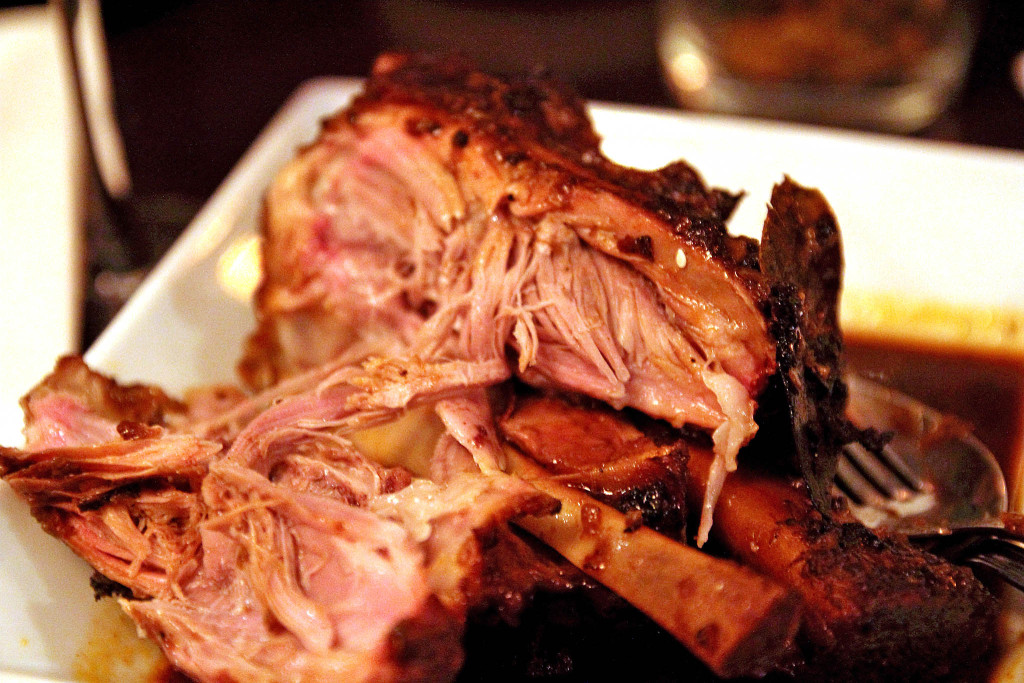 That evening the dish of the day was waiting for us – a baked pork shank (Pork Shank, 12.40). The meat is stewed and it literally falls off the bone, served in a meat sauce that is full of taste with an exquisite herb aroma. Slices of baked potatoes with lemon sauce and baked brussel- sprouts sprinkled with sesame were offered to us as a side dish.
By the way, Roddy has a splendid choice of wines, including the best examples of local wines, аs well as South African wines. Ask Roddy, he will always be happy to give you a piece of advice!
Photo Gallery