To Katoi is a charming rustic restaurant in Omodos village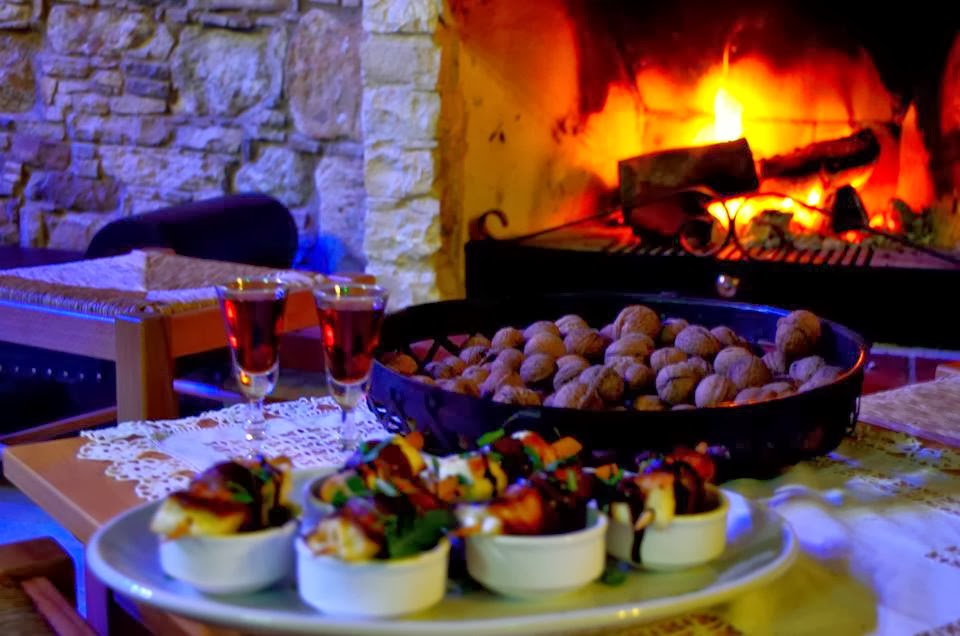 In the center of the picturesque mountain village Omodos – the place of pilgrimage for tourists and natives – this traditional Cypriot tavern is located.
The luxurious interior of it, with its medieval style, excellent service and great food from highly qualified chefs raise To Katoi to the level of high-class restaurants. Here you can have lunch or dinner, organize an event, invite friends or acquaintances, and together with them enjoy all the splendor of the classical Cypriot food.
Review on behalf of the 'Cyprus Inform'
In often cases, traditional Cypriot taverns do not often delight their visitors with high service and fine dining. Fortunately, To Katoi restaurant in Omodos village is a pleasant exception.
The facility is located in the heart of the ancient Cypriot village, a 5 minute- walk from the monastery of the Holy Cross.
Chef Panagiotis previously worked at the Four Seasons Hotel and the Inter Continental (Aphrodite Hills). He is a true professional, a master of culinary delights.
The Interior
The building where the restaurant is located belongs to the owners of the restaurant. It is a family property. Back in the Middle Ages, their ancestors Pambos and Medea lived here.
To Katoi is a story in stone. Touching its walls, it is possible to dream a little and envisage images of King Richard, the beautiful Berengaria or the cruel Turks. Here you can find the ancient 'stasidii' of the local monastery and items of peasant life on the walls. All this creates a special atmosphere, ideal for exploring the traditional Cypriot food.
The main room of the restaurant is called "The Medieval Room": a minimum of decorations on the walls, all solid and restrained at the same time, according to the general concept. Even the day shines its softy diffused light, reflecting on the stone walls. In winter you can get very comfortable next to a crackling fireplace.
The Cypriot meze
This time we tried the meat meze (€ 20). During weekends you can only have the meze at To Katoi restaurant. If you do not eat meat, Panagiotis will prepare you a fish meze instead, but in this case it is better to call and order in advance.
Be sure to try the local homemade wine. Shiraz (€ 8 per 0.5 liter and € 12 for 1 liter), which captivated me from the first sip. Stunning and amazingly soft, dense, with a rich aroma of red wine.
First, according to tradition, Greek salad is served with bread and pita; and order is strictly followed to make our experience as authentic as possible.
A salad of cauliflower with tahini and greens, and a terrific beet appetizer have become novelty for me. Sweet-sour dishes, which combine boiled beets, apple, raisins, a sour dressing, herbs and spices.
Further traditional dishes follow: orzo (a national type of pasta resembling large rice) with mushrooms and silky cream sauce, and zucchini with eggs.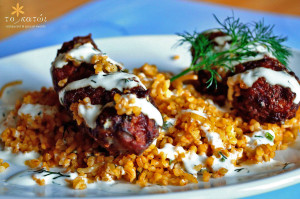 Moussaka is another surprise. Batch-turret pieces of carefully folded slices of eggplant with minced meat and sweet tomato sauce with cheese.
Hot dishes begin parading on our table. There are three kinds of meat on a large platter. Pork is marinated with Commandaria wine and grape syrup. It is served with confit cabbage. Tender meat with the finest layers of fat is presented. Sweet and sour pork with the scent of spiced sprouts – the perfect combination!
Tavas is next. Lamb baked with rice and vegetables. A divine dish, with all the ingredients impregnated with the juice of the meat and spices. The aroma of cumin is strongly present. Grilled chicken marinated with lemon and oregano was also served. As garnish – home baked potatoes.
And that's not all! For dessert, the hospitable owners serve baskets of fruit and toasty filo pastry filled with sweet cheese anari and honey. An incredibly tasty dish, which is not complete until the cup of the Cypriot coffee is finally offered.
The meal on weekdays
On weekdays To Katoi offers à la carte dishes: meat, seafood, including mountain trout, Cyprus classics, including kleftiko. It is better to book a table in advance and request what dishes you would like to enjoy.
Every Saturday evening there is live music at the restaurant: a gentle violin and a lyrical guitar…
Here everything is subordinated to the basic concept: simplicity. At To Katoi you feel a wonderful feeling of comfort and tranquility. Undoubtedly, this restaurant is deservedly considered to adorn one of the most picturesque villages in Cyprus.
10% discount for Cyprus Inform discount card holders
Photo Gallery