If you are ready to get up from your sun lounger, or have successfully completed your business project, then multifaceted Cyprus is here to offer you various activities, walks and entertainment.  There is something for everyone here, regardless of age, income or amount of spare time available.
Walking and Tourism in Cyprus
Walking is the best way to enjoy the tremendous beauty of the Mediterranean as the true natural, historical and cultural treasures, which reflect "the soul" of the island, can be hidden from the eyes of tourists rushing from one sight in Cyprus to another by bus or taxi, looking through the lens of a camera.
Experience the life of Cyprus when walking and talking to the people, learn about its traditions and enjoy the mesmersing landscape.
There are two different walking tours available in Cyprus. The first are the longer walking routes, developed for European countries by the European Ramblers' Association.
These include walking route E4, which covers 6 stretches of 12-35 km, approximately 5-14 hours walk.  The second is 72 short, circular routes along the most picturesque sites of the area or the monuments of historical and cultural heritage, prepared by the Cyprus Forestry Department. For example, the route starts from Capo Greco in the south-east and ends on the Аkamas peninsula in the west.
All routes are split into categories according to their difficulty and are meant for different social and age groups, taking into account their level of fitness.  Fixed reference points of each route are equipped with information stands, with a map and interesting samples of local flora and fauna.
The most pleasant time for walking in Cyprus is either late autumn when the sun is not too hot, or spring when everything starts to bloom.
Walking tours around Cyprus can be done either on your own or with guides, including guides from the Cyprus Tourism Organization in Nicosia, or its representative offices in the different cities around Cyprus.
It should be noted that camping tourism in Cyprus is fairly undeveloped. The law on unauthorised burning is strict and you can be fined 700-800 Euros. You may only set up camp in specially allocated places.
There are only a handful of camp grounds in Cyprus and they are usually located in the mountains or along the roads: Geroskipou Zenon Gardens (the city of Paphos), Governor's Beach, Kalymnos (the Larnaca — Limassol road), Polis Campsite (the city of Polis), Fegarri Campsite (Coral Bay), Kampi tu Kalogirou and Stavros Forest Station (Тroodos mountains), Platania Campsite (the village of Kakopetria).
The average price оf staying in a camp site amounts to 2½ – 8 Euros a night per person; the price of parking vans and campers is an additional 3½ – 11 Euros.
Cycling Tours and Bike Racing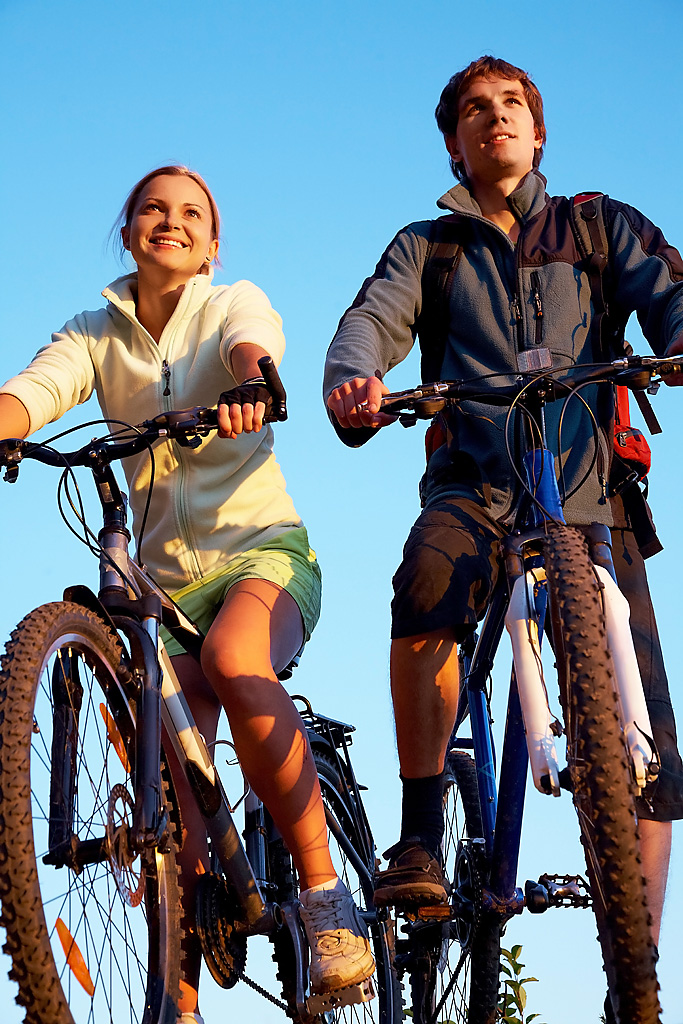 The developed sports infrastructure of Cyprus motivates people to take part in sports, for example, the island has become a traditional venue for holding get-togethers by many international cycling teams.
The landscape of Cyprus is a combination of beaches, hilly regions and mountain slopes and this varied terrain makes the island very popular with cyclists.
The mild climate of Cyprus allows people to cycle race all year round.
The most popular route for amateurs lies through the Тroodos reserve, which allows for comfortable cycling far from the steep mountainous slopes.
Specialised cycling tours around the island are also well developed – they have fast descents, steep slopes, soft sand and rough mountain rivers.
The Cyprus Cycling Federation, which is based in Nicosia, has worked out cycling route tours depending on the physical level of the tourists and their interests.
Sports routes are meant for experienced cyclists who are not afraid of significant physical exercise. There are also simpler routes for novices. Those going into such cycling will also enjoy the hospitality of the small local villages and a highly charged cultural programme.
The Micromania Cycling Club of Nicosia оrganises grouр cycling tours around the most picturesque places in Cyprus on a regular basis. The tours are free, but you have to enroll beforehand.
Podilatokinisi is a club which actively promotes аlternative, ecologic means of transport. It organises weekly meetings on the municipal parking lot, Рву D'Avila, Nicosia, and bicycle tours around the whole of Cyprus – both short and long. Annual membership is 15 Euros.
The average price of renting a bike in Cyprus is from 6–23 Euros per day. To avoid accidents you should remember that traffic in Cyprus drives on the left.
Mountaineering, Alpinism, Trekking, Hiking and Climbing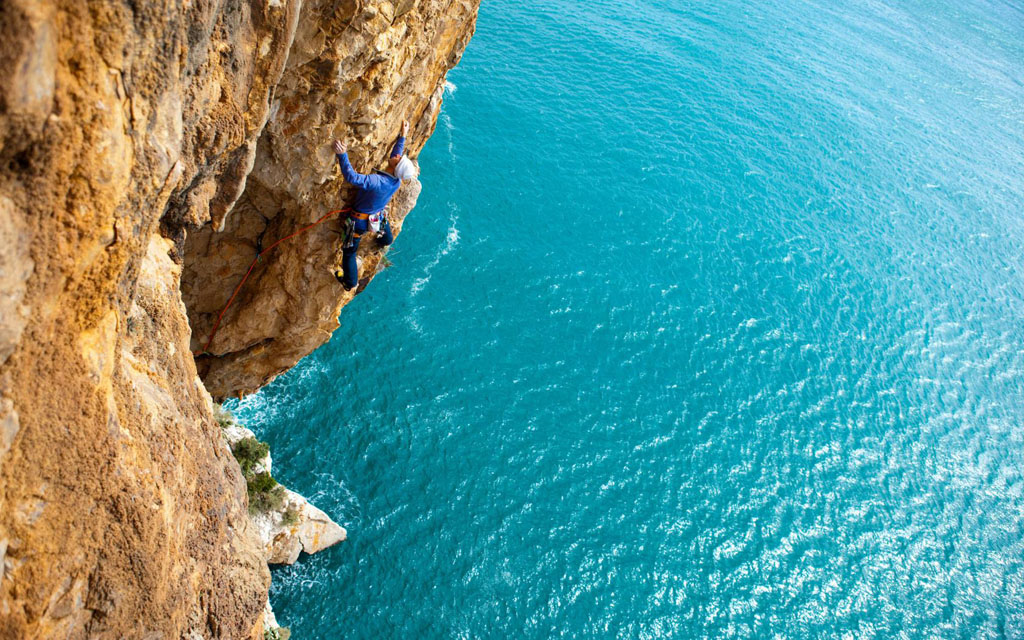 Mountaineering is a popular kind of sport with a strong adrenaline rush.
Cyprus offers great opportunities both for novices and experienced climbers. There is something for everyone, from a simple climb to extreme overhangs.
The heights in Cyprus range between 50 and 310 metres. The highest summit is Mount Оlympus  at 1,952 m.
The guides choose places in the surrounding areas of Paphos with astounding views, magnificent rocks and unique grounds (500 sq. m, height 5-50 m) and hold comprehensive training – from elementary skills with using a rope, to proper techniques and methods of mountaineering.
The One Step Further company, Nicosia, оrganises specialised entertainment programmes on various points of the island, which also include teaching alpinism and sports games in the mountains. It holds events аnd supervises special groups for children and teenagers.
The Adventure Mountain Park is located in the forest on a slope of one of Troodos' mountain ridges near the village of Кyperounta, Limassol.
The park offers an equipped mountain for climbing. There are specially laid mountain paths for trekking and hiking here, grounds for laser tag and paintball with barriers, obstacles and hedges galore, a game field and a wonderful hotel and restaurant complex.
There are also sports orienteering services and the strategy of forest paintball. Learning and games take place under the guidance of experienced instructors. Professional equipment is also issued.
Commercially attractive terms are offered for organised groups for the whole range of entertainment and sports in the mountains.
Please, keep in mind that the temperature is lower in the mountains than on the shore – by 10-20 degrees depending on the height. The price оf an organised holiday in the mountains will depend on the plan you choose, but starts at 35 Euros.
You can combine all the aforementioned with watching rarе species of birds in their natural habitat –this is another kind of entertainment in Cyprus, which is the only place in the Eastern Mediterranean where millions of migrating birds come to stay and rest on their long journey from Europe to Africa.
The best time to see the birds are winter and the beginning of spring.
So this is what Cyprus has to offer lovers of outdoor activities and open air sports. Not only relaxing on the beach or at a party, but taking part in favourite sports and enjoying fascinating journeys and walks with nature.