The idea of ​​creating the shop, which would sell high quality and low priced cosmetics and perfumery in Cyprus, came to the owners in 2010. So they opened the first beauty shop Perfect U.
The company's management selected producers who meet the above criteria. Ten companies have been selected which produce such world famous brands such as Eveline, Ingrid Cosmetics and others.
In early 2013, the company opened its first Perfect U store in the hypermarket A & G Kleima in Larnaca, which customers loved from the first days of its existence. In anticipation of future success, the owners opened a cosmetics shop in the second Kleima hypermarket in Nicosia. In late 2013 they founded the third and independent  cosmetics shop in Limassol with the brand of Perfect U.
Perfect U shops offer a wide range of cosmetics for facial and body care, decorative cosmetics, perfumes and a wide range of accessories. Due to the established relations with suppliers, the management of these cosmetics stores have the possibility to offer customers high quality products at low prices.
Special offer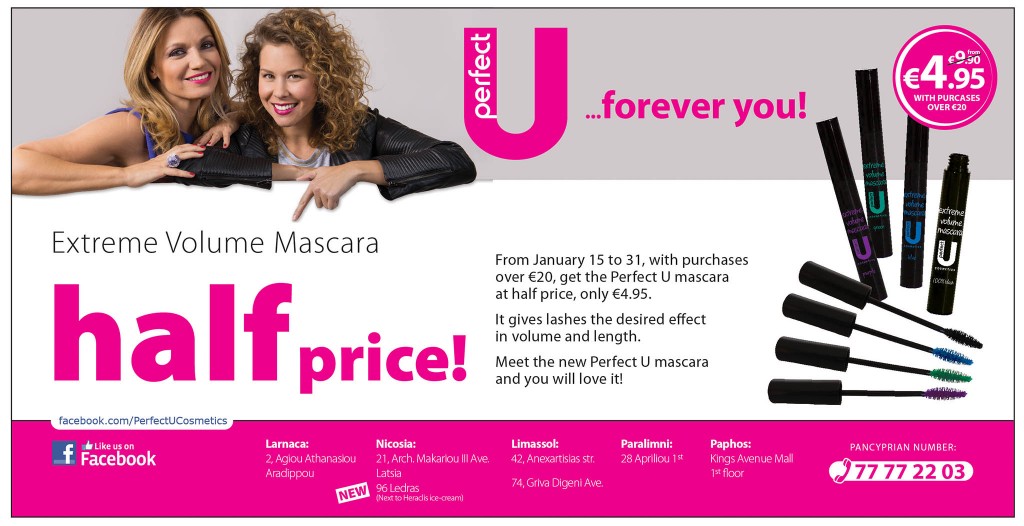 Photo Gallery