Many visitors to the island ask one question: Is it worth going to so-called Northern Cyprus? Of course, if you ask the indigenous population you are likely to get a negative answer as the pain following the split of Cyprus is still alive in the hearts of many, being forced to leave their homes and from the terrible memories of the war of 1974 and its losses.
But if you want to better understand the difference between Northern Cyprus (the Cypriots themselves call it the occupied territory) and Southern Cyprus, it is worth going.
Legal and Convenient Ways of Crossing the Border

A visit to Northern Cyprus will be absolutely legal if you use one of the 3 points for crossing the border between the south and the north (the first crossing point is for pedestrians in the centre of Nicosia, the second for passing in a car and crossing on foot near the capital, and the third is in the vicinity of Famаgusta).
So we chose the second route as we going by car. We are moving from Limassol towards Nicosia, and without entering the centre of the city turn tоwards Troodos to Agios Dimitrios. Right after the turn there will be signposts to Kyrenia, where we are heading.
Following the signposts, we find ourselves at a checkpoint in literally 10 minutes. As a rule, there are no long queues here.
Crossing the "border" will not be difficult – you only have to have your passport with you, аs well as a driving licence if you are taking the car. You will have to buy insurance for the car here, too – 20 Euros for rented cars for 3 days, or 25 Euros for personal vehicles for the term of one month.
We cross the checkpoints on both sides of the border within 10 minutes and continue our journey. We left Limassol only an hour ago, and here our journey along the northern part of the island begins.
The Start of the Journey — Кyrenia
We are going to Kyrenia, or as the Turkish Cypriots call it, Girne. By the way, near to Kyrenia there is the wonderful castle of Saint Hilarion, which we will tell you about separately in another story, but it's worth including in the trip if you want to dive into the atmosphere of the Cypriot Middle Ages.
You will see the famous mountain ridge of Pentadaktylos (translated as a Five-Fingered Mountain) all the way from Nicosia to Limassol. After driving for about 30 kilometres we find ourselves in the centre of Kyrenia.
We leave the car on a paid parking lot (3 Turkish Liras) and we begin our investigation of the city. For information: the rate of the Turkish Lira tо the Euro as of February 2015 amounted to about 1 to 3 (3 Turkish Liras per Euro).
After walking a short while along the narrow streets, we arrive at the famous harbour of Kyrenia. You can get here by car too, but it's not easy maneuvering along the narrow streets and finding a parking place at the harbour.
Also, there is Kyrenia Castle here, one of Cyprus' bulwarks in the times of the Arab raids of the island. You can spend time in the harbour having lunch in one of the many small restaurants.
Prices in cafes in Northern Cyprus are much lower than in Southern Cyprus. A lunch for two will cost you around 40 Euros (salad 2-3 Euros, hot dishes about 10 Euros, a glass of beer or homemade wine about 2-3 Euros). Euros can be swapped for Turkish Liras in one of the exchange booths located here in great numbers. As a rule most eateries take both Euros and credit cards.
Hotels-Casinos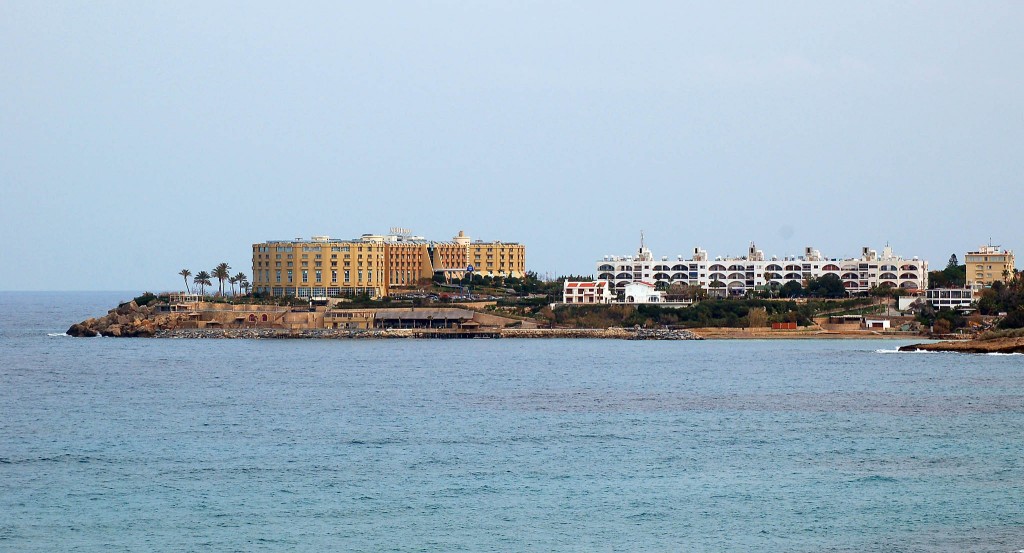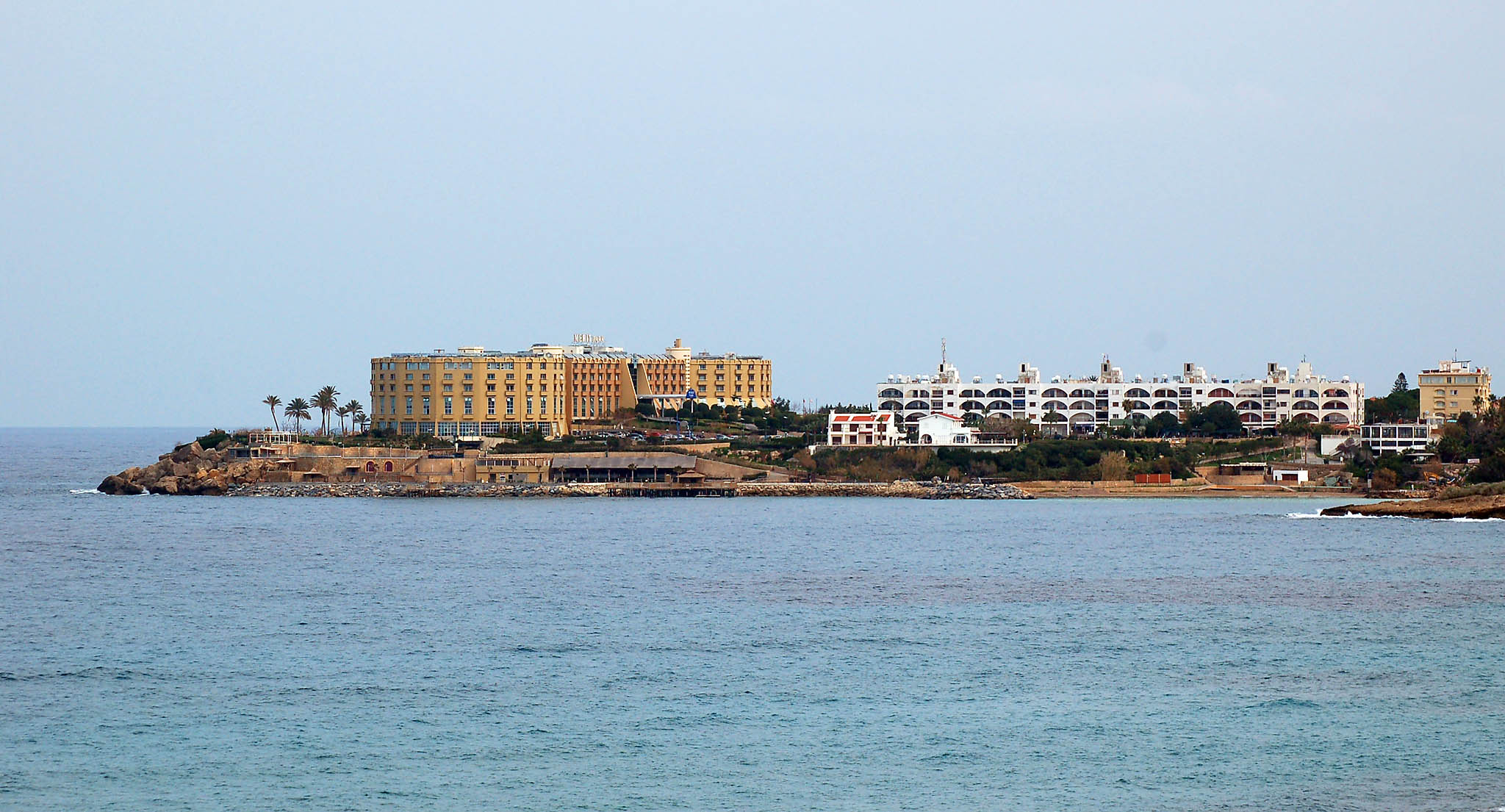 Life on Northern Cyprus differs greatly from Southern Cyprus by its rhythm. Compared with Southern Cyprus, the atmosphere here is quite different: there is none of the quiet routine typical in coastal cities of the Greek part of the island. During the week most of the customers are typically men, but come lunchtimes and weekends young girls and women also gather to spend time with friends.
There are also a great number of hotel-casinos in the centre of Kyrenia. Among other things, we can have dinner in a quiet, relaxing atmosphere. Don't worry that dinner in such a place will be expensive – there is not much difference here and a restaurant in the harbour. For instance, a dinner in a restaurant of a hotel will cost around 50 Euros for two (the price of a meat plate is about 5 Euros, salad 5-6 Euros and a main dish 10-15 Euros).
Of course, you can have a cheaper meal in Northern Cyprus. If you go from Kyrenia towards the village of Lapta, you will find a significant number of cafes and restaurants of varying grades.
What Is To Be Bought from Northern Cyprus?
Some people want to know what they can buy and bring with them from Northern Cyprus. The range of some goods is wider here than in Southern Cyprus, while prices for many of them are much lower. For example, a good quality bedding set will cost you 30-50 Euros; terry bath towels about 10 Euros.
Supplies to Northern Cyprus сome from Turkey, traditionally famous for good-quality textiles, so it makes sense to look closely at the choices on offer.
There are also many interesting wood handicrafts for home decoration, cosmetics made of olives (for example, you can buy handmade soap made with olives and almonds for about 2 Euros) and other goods.
Beaches of Northern Cyprus
Those looking for a beach holiday may not like it in Kyrenia as there are only a few good and equipped beaches here.
If you plan to spend time enjoying the warm sand and a developed beach infrastructure, it's better to go to Famagusta or Каrpasia.
Going Home!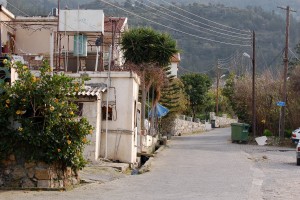 On the way back we arrive at the border on Sunday, and although about 30 cars have accumulated on the border, all the necessary border procedures only took us half an hour. As was explained it to us, cars with Cypriot plates shouldn't have to queue as you do not have to fill in any documents on the way back.
A woman-border guard returned our passports with a smile without even looking at them. «Kalimera!» is the familiar phrase. We are home again!