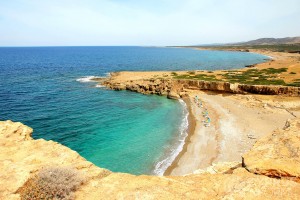 It depends, of course, on your personal preferences.
There are white sandy coastal shores; there are pebbly beaches and ones with exotic black volcanic sand. Some people prefer a relaxing beach holiday, while others are looking for exciting entertainment on the water or a DJ and music.
Cyprus is an excellent place where you can choose a beach to suit your needs.
The basic things that everyone is looking for are cleanliness and a convenient means of transport, the rest is personal taste.
All Cypriot beaches are about the same regarding cleanliness and services provided. Most of the beaches in Cyprus have been awarded the Blue Flag, signifying unprecedented purity of water and excellent beaches.
It may also be a surprise to learn that all the beaches in Cyprus, without exception, are free of charge by law.
However, from all the beautiful beaches it is possible to select the best one, and we've studied the reviews of the most well known to help you.
Ayia Napa. Nissi and Makronissos Beaches
Two different beaches but as they are close we kept them together in this article.
The main thing that attracts visitors from all over the island are the bays with their white sand and bright turquoise waters. These beaches look like they're straight out of the brochure. Gently sloping beaches and shallow water that warms up quickly and stays warm throughout the season.
Younger adults prefer Nissi Beach where from the morning until late at night there is music, competitions and parties, and on an island near the coast, you can rent almost any kind of water sports equipment.
Although only two minutes walk from Nissi Beach, Macronissos Beach is famous for its completely different atmosphere – calm and quiet, and ideal for families with small children. The sand here is white, and the water is as clear as on Nissi Beach. Children are happy to build sandcastles and collect beautiful shells.
Which of these beautiful beaches suits you better you can decide for yourself, but why settle for one if you can choose both?
Both these beaches are close to the hotel, which is a significant advantage, and right behind them are the four-star Nissi Beach Resort, the three-star Nissi Park, the five-star Adams Beach Hotel and Vassos Nissi Plage Hotel.
Paphos. Coral Bay Beach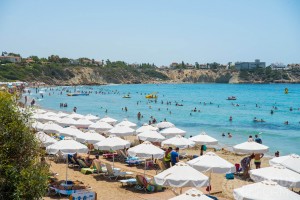 It's no surprise that Coral Bay is attractive for both visitors and residents of Paphos – here, in a sheltered bay, are all the conditions for a comfortable beach holiday.
The water is clean and warm, the beach is perfectly equipped and covered with soft sand, unlike many in Paphos which tend to be rocky. And for those people who love collecting seashells, you will not leave empty-handed. A very comfortable infrastructure surrounds the beach, with cafes, restaurants and shops.
Near the beach, there are several excellent hotels to suit every taste and wallet: the five-star Coral Bay Hotel and Resort and Sentido Thalassa Coral Bay, as well as four-star Panareti Coral Bay Resort and the comfortable Corallia Beach Hotel Apartments.
Limassol. Lady's Mile Beach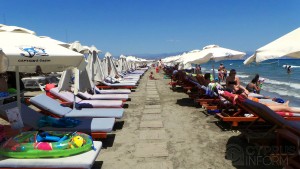 The length and unique beauty of Lady's Mile Beach makes it a favourite vacation spot for both locals and visitors.
The entire beach measures exactly seven kilometres, and part is arranged with sun beds and umbrellas and children's playgrounds. Also, unique for Cyprus, water entertainment, which is free for visitors. There are also toilets, showers and restaurants, and places within walking distance to rent scooters and other sports equipment for water recreation.
The rest of the beach is unoccupied, so you can choose an empty spot and enjoy the solitude and silence. The beach is wide, sandy and full of beautiful shells.
In August and September, the dunes in Lady's Mile Beach are covered with white sand lilies (also called sea daffodils) – unique flowers with a delicate aroma. An unforgettable sight!
| | | | | | |
| --- | --- | --- | --- | --- | --- |
| The Beach | The length | Covering | The depth | Infrastructure | Entertainment |
| Nissi beach | 2 km | Fine, white sand. | Long, gently sloping beach into the sea. | Superb infrastructure: in addition to sun beds, umbrellas, toilets, showers, etc., there is sports equipment rental and a beach volleyball area. | Competitions, live music, sports activities, parties and discos. |
| Macronissos Beach | 500 m | Fine, white sand. | Beach slopes smoothly into the sea. | Well-developed infrastructure with loungers, umbrellas, showers, toilets, changing rooms, etc. | Quiet beach vacation, skiing, "banana" rides. |
| Coral Bay | 1 km | The beach – small pebbles. | Beach slopes gently into the sea. | Excellent infrastructure, which includes all the necessary elements. | All kinds of beach holidays. |
| Lady's Mile | 7 km | Sand. | A long, gradual sloping beach, into the sea. | In addition to the excellent infrastructure, all along the beach you can find equipment for hire, water slides and many other attractions that are not available on any other beach in Cyprus. | Surfing, water scooters, inflatable slides, platforms and trampolines located directly in the sea. |