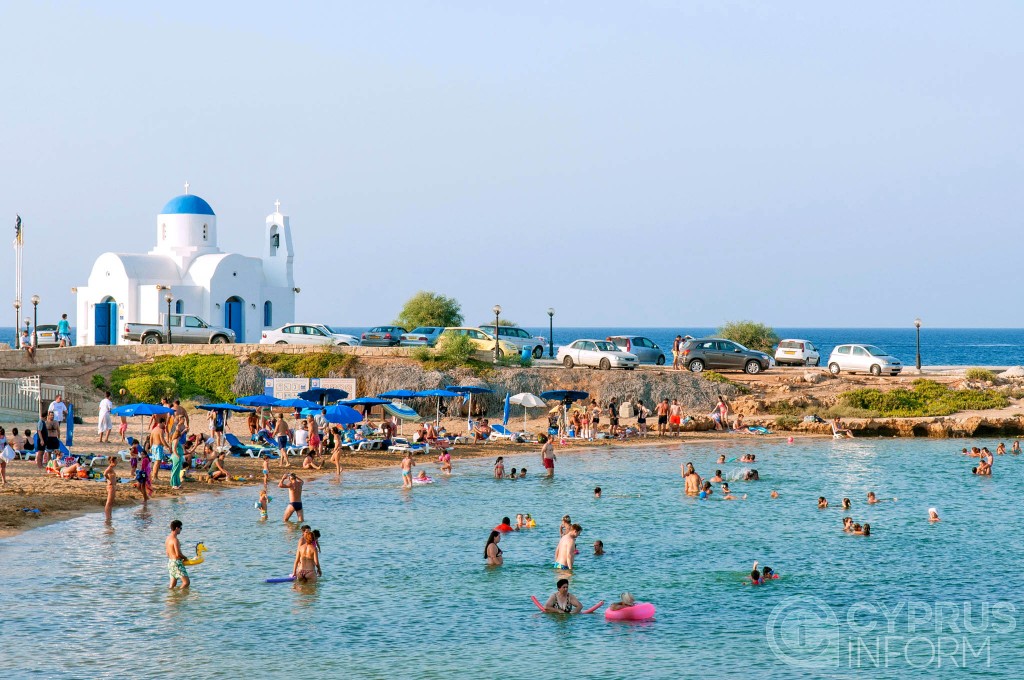 Protaras is a popular holiday spot for Cypriots. The resort is a little bit crowded but with excellent clean, sandy beaches, and clear water quickly warmed up by the sun. Numerous natural coves prevent the formation of large waves, which means you can relax with nature and enjoy a swim.
From May to October the weather throughout Cyprus is beautiful, and although in May and June the water is still fresh, July, August and especially September and October have the best weather for a beach holiday: quiet, warm and sunny.
The water is best in the early autumn when it's the warmest and the beaches are less crowded.
There are several hotels you can stay in situated right on the seafront.
If you enjoy a vibrant nightlife and want to rent a car or buggy (the most popular and inexpensive form of transport in this region of Cyprus), it's better to stay in a hotel in Ayia Napa. It's very close, so a trip to Protaras and Cavo Greco won't take long and will give you enough time to admire the quaint local scenery.
Sandy beaches
The best sandy beaches in Cyprus are in Protaras. Blue Flags are on all of the beaches, indicating a developed infrastructure and cleanliness of the water and sand.
There is a lot of exciting entertainment as well as the usual beach holiday fun.
| | | | |
| --- | --- | --- | --- |
| Beach Name | The length | Landscape and coverage | Entertainment |
| Fig Tree Bay | 500 m | Soft, white, gently sloping sand. | A full range of water sports, except for diving. Excellent infrastructure. |
| Mouzoura Beach | 100 m | Sand and rocks. The depth increases sharply. | A great place for diving and snorkelling. |
| Louma Beach | 400 m | Sand and gravel. A gradual increase in depth. | From riding on a catamaran to paragliding. |
| Green Bay Beach | 150 m | Sand and stones. Gradual increase in depth. | Secluded beach for relaxing. |
| Scoutari Beach | 50 m | Rocks and sand. Interesting underwater topography. | A perfect place for snorkelling. There are several excellent tavernas nearby. |
| Konnos Beach | 150 m | Sand and gravel. Depth increases smoothly. | Jet-Skis, water skiing, best for vacation with children. |
| Pernera Beach | 200 m | Sandy beach. The depth increases sharply. | Famous dive centre and several well known restaurants are there. |
| Agia Thekla Beach | 200 m | Sand and stones. Depth increases smoothly. | A lot of water activities and excellent infrastructure. The ancient and beautiful chapel located nearby. |
| Agia Triada Beach | 100 m | Sand and gravel. Depth increases smoothly. | Used as a harbour for small boats. Boating. |
Remember, all the beaches in Cyprus are free, but you will pay around €2 – €2.50 for umbrellas and sun loungers.
Sea caves in Protaras (Cavo Greco)
Besides the beaches, tourists love Protaras' majestic "marine palaces" – a chain of beautiful caves and grottos stretching along the coast of the natural national park "Cavo Greco".
Either from the shore or on board one of the many boats that sail here, you can enjoy a breathtaking view of the grand stone monuments, framed by crystal clear turquoise waters.
Having admired the beauty of the nature reserve, go diving or just snorkel and admire the colourful fish.
You can also enjoy fishing, and there is no licence is required to fish from the shore in Cyprus.
You can also take advantage of the landscape to take beautiful photos. There is the snow-white chapel of Agia Anargyroi, the natural stone bridge hanging over the cliffs and sea, and miraculous stone sculptures along the coast.
Advice
If your goal is to go snorkelling and explore the caves and grottos, it's better to come in the morning. If you want to take photos then the evening is preferable, closer to sunset when the light is best.
Think carefully about the clothes and, of course, shoes to protect your feet from sharp rocks. Bring a hat, sunglasses and cream, as well as drinking water.