Unlike most of the beaches in Cyprus, which are covered with dark volcanic sand, Nissi Beach positively sparkles like a snow-white jewel. The sand here is almost white and the water, as it says in the brochures, is bright, clear and turquoise.
Nissi Beach Entertainment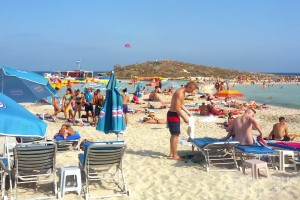 Nissi Beach is a heavenly place for those who prefer active relaxation on the beach. It's always crowded, with loud music playing, and there are many options for leisure activities.
There is a small island nearby, connected to the beach by a narrow strip of sand which is only exposed at low tide. It's thanks to this island that the beach got its name («νησί» Nisi in Greek means "island"). Here you can rent a variety of sport equipment, and for those who like an adrenaline rush, there is a chance to dive into the sea from the cliffs.
The best time to visit Nissi Beach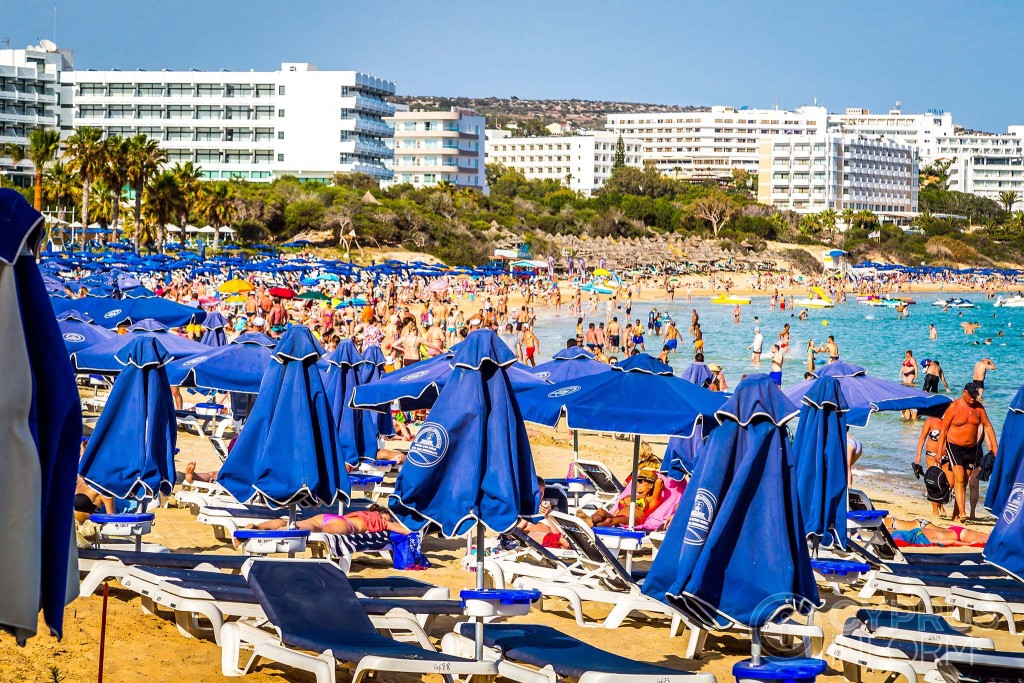 This is difficult to answer as it's good all season long – from May to October. In the spring, when the water is just beginning to warm up, it's not so crowded, and you can enjoy sunbathing and swimming in relative peace.
A little later, in June and July, the water becomes warmer and so there are more people. Basically it's the younger tourists who come to Ayia Napa to 'hang out' in the nightclubs, which is why the resort is called "Cyprus Ibiza".
There are many answers to the question of when the weather and water are at their best. Some people like a combination of the warm May sun and cool water; some prefer to wait until June when the water temperature rises above +25C°, and the air temperature is close to +30C°.
There are others still who prefer both the water and the air temperature to be very warm – that would be in July, August and September.
Whatever your preferences, bear in mind that the water temperature in the Mediterranean doesn't drop below +18C° even in the winter, which is a perfect temperature for diving and snorkelling.
It should be noted that there is a small drawback on Nissi Beach in that, during July and August, the coastal water algae begin to multiply. The waters, however, are constantly cleaned with a special netting, so this is unlikely to spoil your vacation.
What interesting things can be found on the beach?
In season, foam parties are held right on the beach, usually starting in the morning.
Almost daily, various well-known DJs entertain the visitors on the beach.
You can participate in fun contests.
You can join a variety of beach games on selected areas.
Water sports enthusiasts can find all the necessary sports equipment.
When (if) you get tired of spending time on the beach, you will find many places nearby that are definitely worth visiting. To do this it will be necessary to either rent a car or book a taxi. Ayia Napa 'guests' famously charge around on buggies, which can be rented quite cheaply virtually everywhere.
What to see and what to visit in the vicinity of Nissi Beach
The Sea Caves or "Sea Palaces" are located at Cape Greco. The majestic natural formations are part of the Cavo Greco Reserve;
The old monastery, which is located in the centre of Ayia Napa, and the church of Panagia (Panagia Church);
The newly opened Sculpture Park.
Luna Park, Ayia Napa.
Where to stay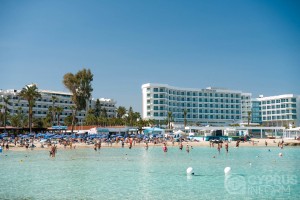 There are several excellent hotels not far from Nissi Beach, which cater to almost any taste and budget:
Nissi Beach Resort 4* — excellent service, beautifully arranged area with a well-kept park;
Nissi Park 3* — hotel with good service and good infrastructure;
Adams Beach Hotel 5* — beautiful hotel, Deluxe Wing provides accommodation for adults only;
Vassos Nissi Plage Hotel 5* — luxury ambience and atmosphere.