It's no surprise that people come to Cyprus not only to see the many attractions and enjoy the Mediterranean landscape and cuisine but also to soak up the beaches.
A massive volcanic eruption formed this island which is why its beaches of Cyprus are covered with dark volcanic sand and pebbles for the most part, but among this are real gems – fragments of coastline with crystal clear turquoise water and white sand. If you're coming to Cyprus to swim and sunbathe you will not find a better place than a white beach framed by green.
All the beaches listed in this article have carried the Blue Flag for several years, a European distinction awarded for clean water and spotless, well-equipped beaches.
Tourists may be pleasantly surprised to learn that access to any beach in Cyprus is free. According to the laws of Cyprus the coastline, being seven meters wide, belongs to the people, and therefore nobody has the right to close off access to the sea, even if the beach is adjacent to an elegant five-star hotel.
Nissi Beach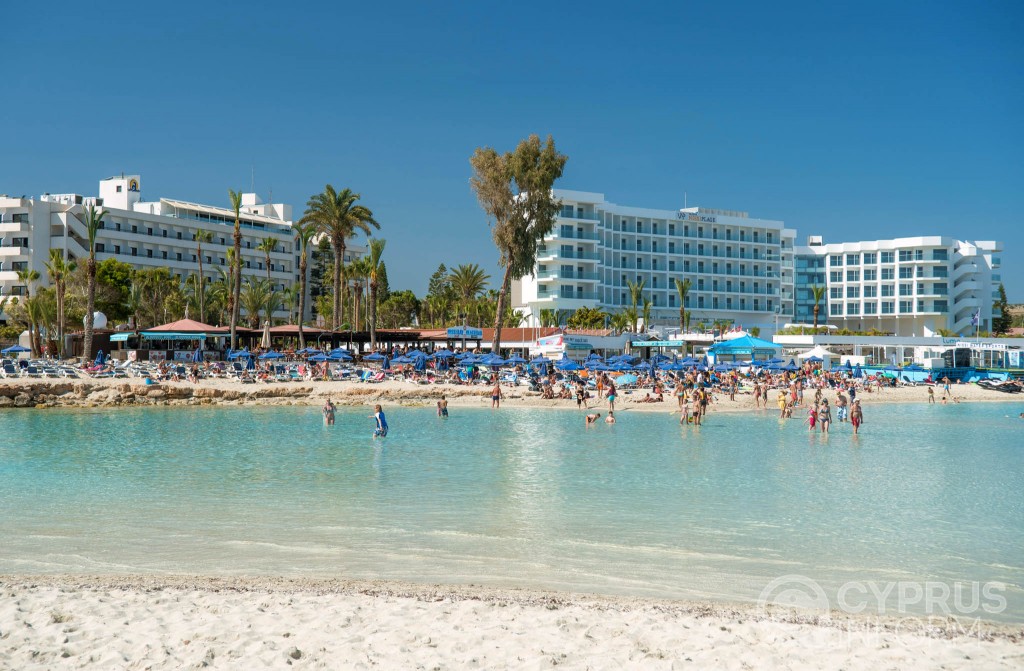 Spacious and comfortable Nissi Beach in Ayia Napa rightly tops the list of best beaches in Cyprus.
Firstly, Nissi is ideal for a beach holiday, with its calm, turquoise, warm water, white sand and gently sloping beaches (especially important when you are with children).
The beach is well-equipped: loungers, umbrellas, changing cabins, WC's, showers – you'll find everything you need. Nissi is famous not only for its sand and sea but also for entertainment – it's all around here.
The small archipelago connects the beach with the island from which Nissi got its name. Here you can rent equipment for the beach or sport.
And from the morning until late at night the music, themed parties and various competitions are held on the beach. You will simply have no time to get bored!
So, on Nissi beach you will find::
Water sports equipment;
furnished and fenced areas for beach games;
musical entertainment;
active entertainment and beach competitions;
theme parties;
umbrellas, sun beds, showers and toilets;
cafes and bars.
Makronissos Beach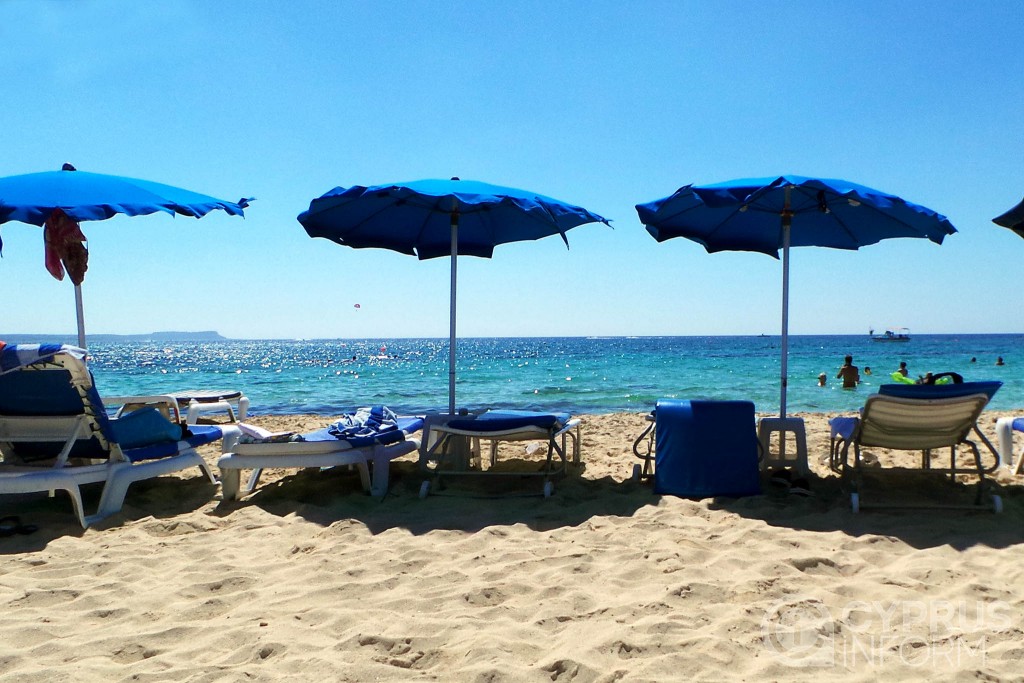 White Makronissos Beach is much quieter than Nissi but no less attractive: the same white sand, clear azure water and similar infrastructure and equipment rental. And these are two beaches very close to each other.
The only thing missing is the crowd of young people which is why this beach is the best for those who wish to relax and seek peace and quiet.
Makronissos is perfect for a holiday with a baby: gently sloping beaches, clean, warm water and a lot of space to play in the sand – it's better than you can even imagine!
On Makronissos Beach you will find:
relaxation;
sports equipment rental;
sunbeds and umbrellas for hire;
showers, toilets and changing rooms;
bars and restaurants.
Fig Tree Bay Beach
ig Tree Bay Beach in Protaras is one of the best beaches in Cyprus. There is white sand, gently sloping beaches and the opportunity to go water and jet skiing.
The Fig Tree Bay offers you:
easy entry into the water;
a sheltered bay;
umbrellas, deck chairs, showers and changing cabins;
sports entertainment on the water.
Coral Bay Beach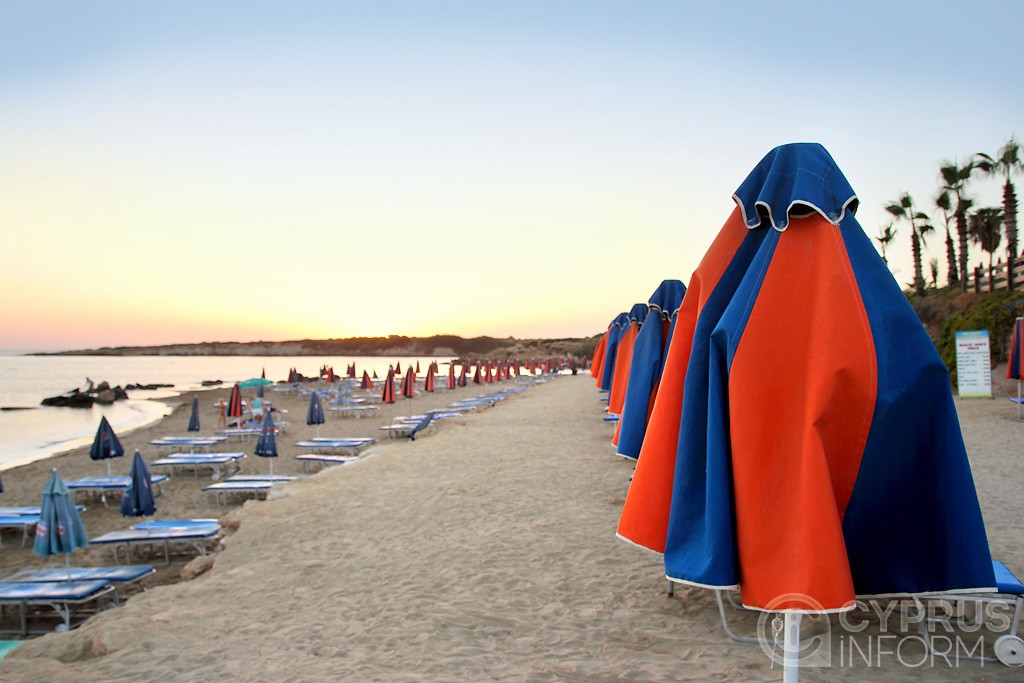 Coral Bay Beach is near Coral Bay in Paphos and not surprisingly is a favourite resting place for locals and visitors.
The bay is enclosed on both sides by rocks, and the sun quickly warms the calm waters. The beach is well-equipped with sun loungers, umbrellas, a place for changing clothes and showers and toilets.
Comfortable hotels and good restaurants, including traditional taverns, are situated close to the beach.
At Coral Bay you will find:
convenient infrastructure;
sunbeds and umbrellas;
cafes and restaurants to suit all tastes;
souvenir shops and fashionable boutiques nearby.
Paramali Beach
Located near Limassol, this sandy beach is spacious and secluded and is framed by citrus orchards.
Here you will not find any facilities or equipment which is why it's not well known among tourists.
It is a paradise for windsurfers and kiters: the beach is not covered with rocks and does not have breakwaters, but there are great winds and waves, making these sports possible anytime.
So, on Paramali Beach:
excellent wind and waves for water sports with your equipment;
perfectly clean sand and water;
the opportunity to relax in the privacy of a "wild" beach.