Governor's Beach. Historical insight
Many would agree that the name "Governor's beach" is not giving a clear idea about the place.
To understand how this name was introduced and adopted, we must look into the history of the area. During the British rule, this beautiful white rock beach was chosen by high-ranking British officials as a perfect place for recreational activities. A remote location of the beach, as well as picturesque white chalk cliffs with fine gray sand, probably reminded them of Dover coast back home.
Even though the summer residence of the British governor was not exactly at the Governor's Beach, but in the neighbouring Maroni town, it was exactly this name that was used the most for the popular beach and holiday spot in the eastern part of Limassol.
The first president of Cyprus, Makarios III, also enjoyed visiting the home of the former colonizer, which is now closed and awaiting further government decision. After the death of the Archbishop, the cottage is still being looked after, but it is not being used.
Location of Governor's Beach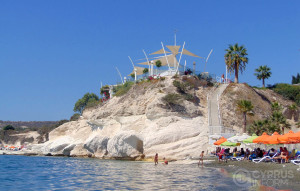 Despite the obvious proximity to Limassol, Governor's beach area falls under the administration of Larnaca district. Long time expats, who used to regard this area as part of Limassol, quite often are feeling confused about this territorial division. We must admit that this is not the only confusion locals are facing.
There is also a reason for the fish tavern located on the top of a dazzling white cliff to be called "Kalymnos".
In the late 19th and early 20th century this bay was popular among professional sponge divers, who moved to Cyprus from the Greek island Kalymnos and were using the bay for ship berthing. Later, this traditional craft in the waters of Dodecanese archipelago was discontinued, because of the excessive natural sea-sponge exploitation and further destruction of sponge fields due to the infections.
Of course, there were some locals residents, who have been nurturing the idea of renaming the Governor's Beach into more "ideologically sustained" Kalymnos Beach.
However, from the historical point of view, present use of the name "Governor's Beach" adopted by British officials staying here starting from the19th century 70s is absolutely justified.

White rocks of Governor's Beach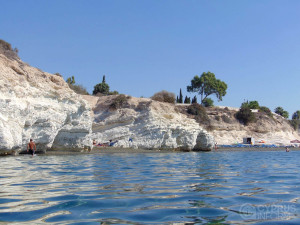 Due to the favourable location in the middle of the sickle-shaped bay formed by the picturesque white cliffs with numerous grottoes, Governor's Beach is one of the most popular tourist spots. Apart from the beautiful coastline, this place also captures attention of locals and tourists with its clean sandy beach and emerald water, which has put it among the best attractions on the island of Aphrodite.
Just over the bay with a beautiful sea view, the oldest Cyprus camping site is located. Here, apart from budget camping spots, locals and expats are keeping their motorhomes and campervans, which are being used as summer homes and are so much appreciated by Cypriots, as well as Russians.