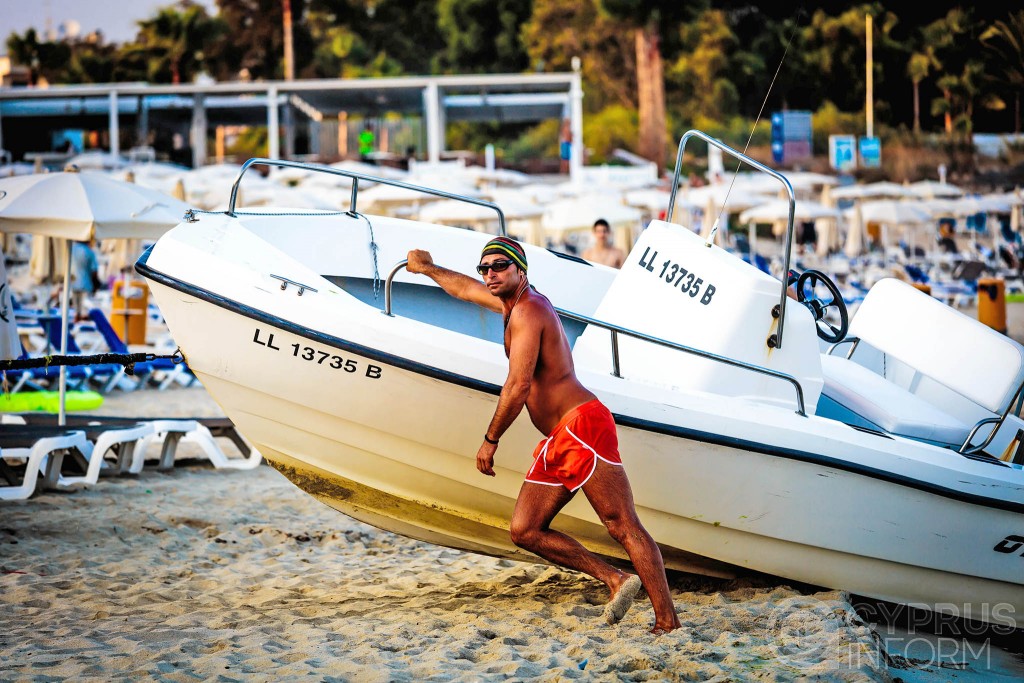 The beaches of Ayia Napa are considered to be the best in Cyprus.
In contrast to the rocky beaches of Paphos and Limassol, and dark sandy beaches of Larnaca, the Ayia Napa coast can perhaps be compared to the Maldives with its fine, light, almost white sand, and a long sloping entrance to the sea without a single pebble.
And the water itself, on a white background, looks like a luxurious crystal on a white silk pillow. It sparkles and shimmers under the eternal Cyprus sunshine, all shades of blue and turquoise.
Luxurious beaches of Ayia Napa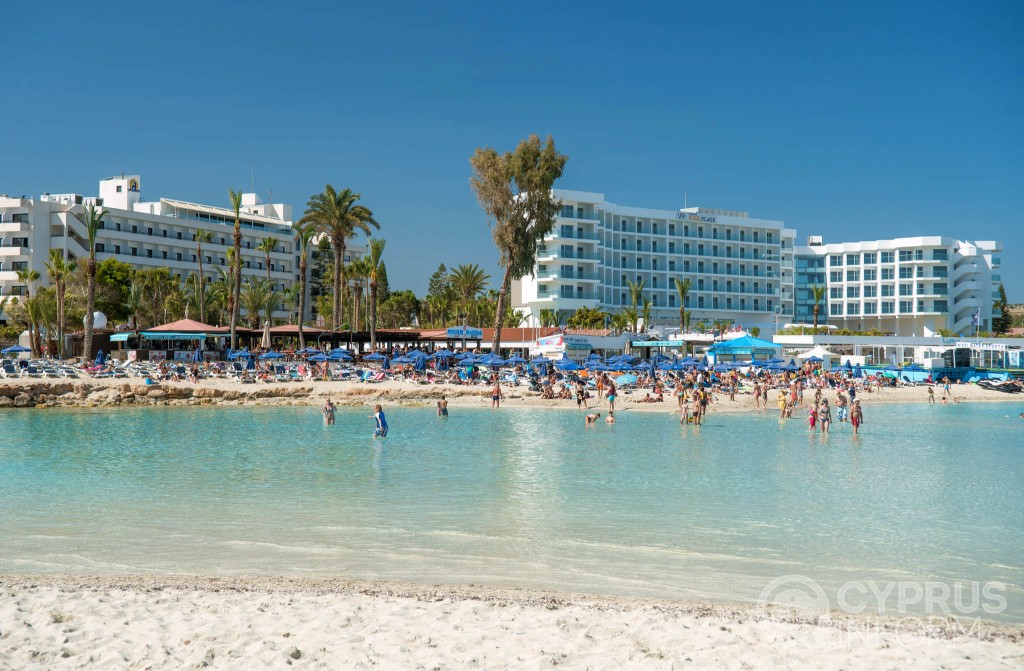 The beautiful beaches in Ayia Napa are completely free, as everywhere in Cyprus the coastal strip of 7 metres wide legally belongs to the people of Cyprus. You will, however, be charged for the use of umbrellas and sunbeds.
Those who want to explore the depths of the sea, snorkelling or diving, should come to the coast of Ayia Napa and Protaras.
There are also ideal conditions for a holiday with small children (Lanta and Protaras Beaches). Parents will appreciate the fact that Ayia Napa's beaches have each received a "Blue Flag" over the years for the developed infrastructure and cleanliness of the water and sand.
Moreover, Ayia Napa attracts young people, so there are parties and DJs playing right next to the water (the beaches of Nissi Beach and Adams Beach).
Beaches in Ayia Napa
| | | | | |
| --- | --- | --- | --- | --- |
| Name of the beach | The length | Landscape and coverage | Entertainment | Hotels nearby |
| Nissi Beach | 500 m | White, soft sand, a long sloping entrance into the water. In July and August there is an accumulation of algae. | A variety of sports, water and beach activities, including cliff diving. Well-developed infrastructure (restaurants, bars, cafes, sunbeds and umbrellas, internet access, changing cabins, showers, toilets). | Nissi Beach Resort 4 *, Nissi Park 3 *, Adams Beach Hotel 5 * (Deluxe Wing provides accommodation for adults only), Vassos Nissi Plage Hotel 5 *, Atlantica Aeneas Resort & Spa 5 *. |
| Makronissos Beach | 500 m | Light thin layer of sand. | Catamaran, snorkelling, water skiing and so on. Good infrastructure. | Asterias Beach Hotel 4*, Dome Beach Hotel & Resort 4*. |
| Adams Beach | 300 m | Soft white sand. There are small rocky formations. Sloping entrance into the water. | Jet skiing, snorkelling. Good infrastructure (sun beds and umbrellas, internet access available, several bars and cafes, changing rooms, shower and toilet). | Adams Beach Hotel 5* (Deluxe Wing provides accommodation for adults only). |
| Landa Beach or Golden Bay | 150 m | White sand, turquoise water is clear with no seaweed. | Not too crowded, suitable for families with children. Excellent location, convenient parking. | Yianoulla Beach Hotel 3 *, Olympic Bay 5 * (for adults only). |
| Micri Landa Beach | 50 m | Fine white sand, clear water. | Small secluded beach. | Yianoulla Beach Hotel 3*, So White Boutique Suites 5*. |
When are the weather and water the best?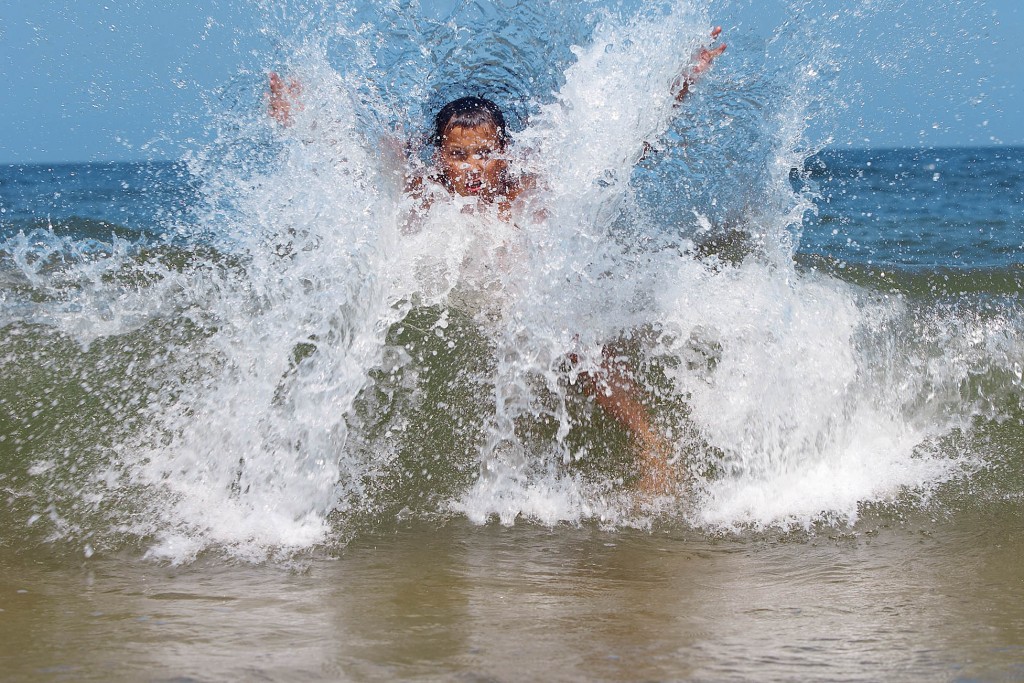 On the coast of Ayia Napa, as elsewhere, the most comfortable time is during the season i.e. from May to October.
The shallow water warms up very quickly and reaches a temperature comparable with the air, so you can begin swimming in May.
The winds come in September, which is great for windsurfing and kite surfing, but if you are on the beach, this may bother you as the beaches are in a natural bay as a rule.
For parents with children, it's better to arrive in May and June, while the party-goers choose to come in July and August. Lone travellers looking for peace and quiet can come in September and October when students and parents with children are beginning to leaving.
What to see in Ayia Napa?
Even the most wonderful beach vacation can get boring, and we recommend that you visit some of the interesting sights Ayia Napa has to offer.
In the city centre of Ayia Napa is the ancient monastery, which looks more like a stone fortress. You can enter the monastery from Seferis Square, named after the famous Greek poet, Nobel laureate Giorgos Seferis, where he wrote his most famous poem.
Museum of the Sea (Thalassa Museum) holds several centuries of the history of Cyprus, not only the sea.
In Ayia Napa Harbour is the pirate ship, Black Pearl, which sails at 11:30 am and returns by 16:00. Guests can expect an exciting entertainment programme.
Close to Makronissos Beach are graves dating from the Hellenistic and Roman periods. You can go there straight from the beach, following the sign "Ancient Cemetery of Makronissos".