Cyprus is famous for its favourable tax system and, in particular, its favourable tax system for pensioners and foreign citizens. This makes it very attractive for investment and business. Additionally the island is located at the crossroads of two continents and has a mild climate all year 'round. All these features, plus an extensive network of double taxation agreements, are pretty attractive to business people wanting to invest in Cyprus.
For those who have decided to invest in Cyprus and are looking for a qualified financial and business consulting firm, P. Kalopetrides & Company offer the best tax solutions and security of investments in Cyprus.
P. Kalopetrides & Co's history
P. Kalopetrides & Co., founded in 1962, is a progressively growing firm of Accountants-Auditors-Business Advisers. Affiliates of the company are represented in all major cities of the island: its head offices are in Nicosia (Lefkosia), and its regional offices are in Limassol (Lemesos) and Paphos (Pafos).
Over 50 years of experience and strong values, as well as an innovative approach and professionalism, guarantee the success of your investments.
P. Kalopetrides & Co's mission
The main goal of the firm is to help their clients succeed in whichever markets they operate – local or global.
P. Kalopetrides & Co. & Associated Firms aim to provide excellent service for complete client satisfaction.
Financial and business consulting services in Cyprus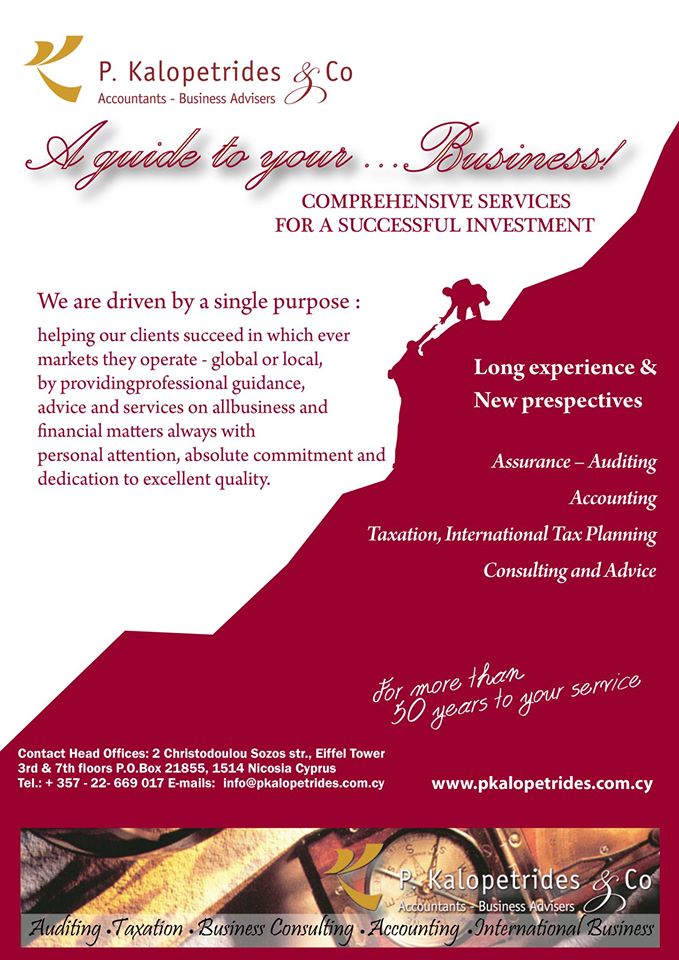 P. Kalopetrides & Co. provides comprehensive services for successful investment and business ventures in such areas as:
Assurance & Auditing;
Taxation & International Tax Planning;
Corporate & Trust;
Financial and Business Consulting;
Management & Human Resource Consulting;
Management Information Systems (MIS) Consulting;
Property Investment & Advice.
Guaranteed success
The highly experienced and qualified Partners and personnel, the extensive network of international associates as members of Ars Legis (a highly reputable international association of lawyers, patent attorneys, auditors and tax consultants), make it possible for the firm to offer professional guidance, advice and services to the clients on all business and financial matters.
Professional staff are not only auditors, but are available to be business advisers and problem solvers for the benefit of the clients.