Cyprus is a place you will certainly fall in love with, and believe me it will give you much more in return, which is why so many visitors wish their stay on the island to be as long as possible.
Although different from its Far Eastern namesake, it is sometimes described as the "Russian Island". Perhaps their love of beauty accounts for why there are so many Russians in Cyprus.
Here is a home-away-from home, where the Russian language is spoken, traditional Russian cuisine is served in the restaurants, specialised stores sell your favourite, well known products, and you can feel totally at ease thanks to the many Russian cultural activities, social networks and, of course, Russian Radio; But first things first.
Russian products in Cyprus
Although, of course, there are a variety of delicious Cypriot delicacies, it's quite normal to crave dumplings, or buckwheat with sausage. Even in 40° heat, who doesn't dream about a Kvass? Well all of this can be found in Cyprus! Read more about the Russian product shops here.
Movies in Russian
Once the basic needs are met, it's time to think about 'spiritual food'. Thanks to the Russian diaspora you can now watch movies in Russian on the island! Being able to go to the cinema with the whole family is great for those with mixed Russian / Cypriot families, and a wonderful opportunity for young and single people to interact with each other.
Learn more about the premiers in Russian on our Facebook page!
Concerts in Cyprus
Here on the island it's also possible to get acquainted with modern Russian music, in all its diversity, with "Russian Nights in Cyprus"! Concerts by well known, popular Russian singers are held with enviable regularity.
Just this year we had on the Cyprus stage:
RU-net
The Russian-speaking community in Cyprus is actively represented on the Internet, especially on social networking sites where, in the Russian-speaking internet space, you can find friends and learn many interesting and helpful things.
News and entertainment video reports, created on the basis of the Russian Radio Cyprus information service, can be found:
on the Cyprus Inform website;
оn the Russian Radio Cyprus website;
on Youtube;

on our official pages in social networks.
Russian Radio in Cyprus
If you want to know the Cypriot news or upcoming events on the island, if you are interested in the "hottest spots" for relaxing or having a tasty meal, then you should tune in to Russian Radio!
You will not only find the answers to all your questions, but you can also sit back, relax, and feel part of this large Russian-speaking family in Cyprus:)
News
Russian radio helps the Russian-speaking resident of the island keep abreast of current events. You will hear the daily "News" from Olga Xinari on events in Cyprus, Greece, the former Soviet Union countries, and world news, as well as Andrei Vysokov's "Summary News" programme.
Notices
A special selection of the main events in Cyprus from Maxim Okulov will keep you informed of upcoming concerts, exhibitions, festivals, theatre premiers, night life and much, much more. Russian Radio will help make your life both colourful and interesting!
Cyprus Guides
Do you want to get legal advice from the comfort of your home or car? Just tune into Russian Radio! Cypriot citizenship, labour law, consumer protection – you will get advice on all these and other legal issues in the "Guides Consultant" with Maxim Okulov.
Another interesting guide is Olga Xinari! She will help in the world of health and beauty in Cyprus. After all, taking care of your own health and body is the most important topic for anyone who wants to live a long and happy life. Olga will share personal experiences and talk about the latest techniques and tools to remain young and beautiful!
Delicious radio shows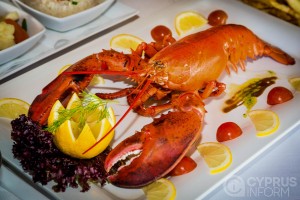 For lovers of the good life and travelling! "Restaurant Guide" and "Culinary Voyage" by Maxim Okulov and Olga Xinari are aired on Russian Radio especially for you!
Tune in and take a journey through the culinary and wine centres of the world, as well as learn about the best restaurants on the island, interesting menus, unique wine and delicious food.
Music
In addition to useful information, Russian radio plays hits from around the world – from romantic and electronic, 80's and 90's and, of course, the 'hot' hits in the charts at the moment.
You can always listen to wonderful music and your native language no matter where you are, because Russian Radio is available in all the major tourist cities on the island:
Limassol – 103,1 FM;
Paphos – 100,3 FM;
Larnaca – 102,1 FM;
Polis – 100,5 FM.
Listen to Russian Radio to learn about all the important up-coming events! Tune into the good vibes with us!