It's no secret that outdoor food is always delicious and conversation flows more easily. So in Cyprus, with the sea and the mountains part of the landscape, creating amazing food and exciting dishes is a fine art.
Here on the island the people know how to enjoy their food; it doesn't matter whether it's at home in a cosy courtyard, or in a traditional Cypriot taverna, the main thing is to get together with family or friends and share the gastronomic pleasures.
Especially for gourmet travelers, Cyprus Inform has prepared a fascinating guide on traditional Cypriot cuisine. You will discover new and exciting taste sensations, so sit back, relax and enjoy these luxurious and exquisite flavours.
Let's start with the appetizers…
1, 2, 3 … Go! Taramosalata, tzadziki and tahini…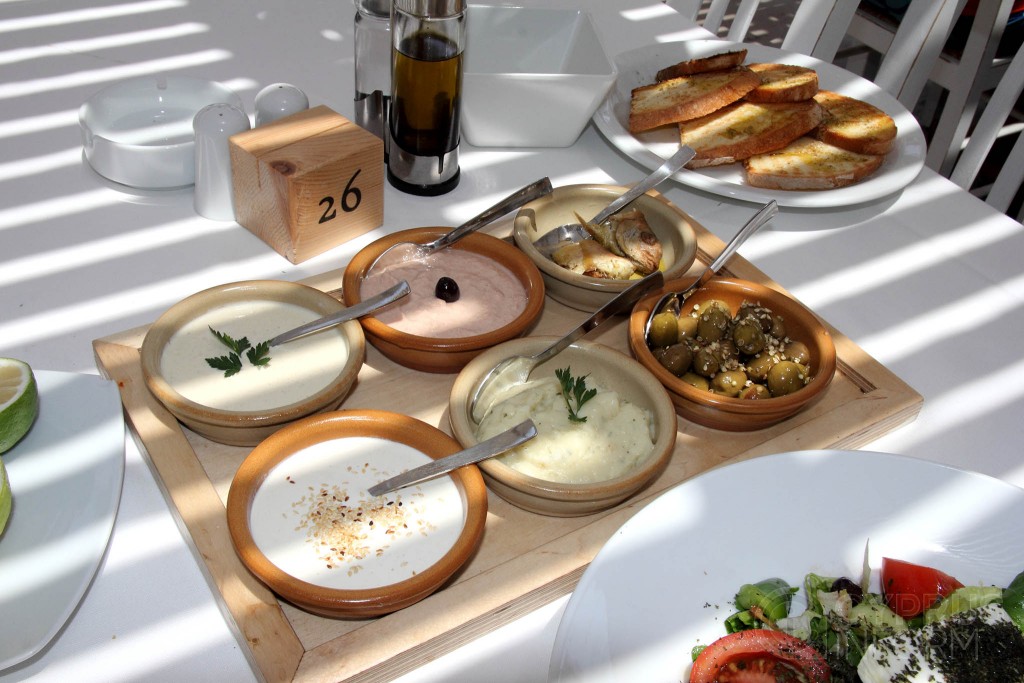 These delicious refreshing dips are normally served at the beginning of the meal, with a soft bun or hot pita bread and slightly salted butter. They can be used as a sauce for the main course, as a salad, or a snack.
Pale pink and creamy taramosalata is, in fact, smoked cod roe mixed with olive oil, lemon juice, and a starchy base of bread or potatoes. Slightly tart tzadziki is thick yoghurt with fresh cucumber, garlic, spices, herbs, mint and a few drops of lemon juice. It's an ideal choice for those who prefer fresh, sharp sauces.
Tahini Sauce – Health and Beauty!
This is a unique sauce made from sesame paste, seasoned and flavoured with garlic and lemon juice. This is a simple snack at first glance, but is in fact a storehouse of minerals and essential fatty acids, which improve the function of the heart, brain, liver and kidneys. As a nice bonus, tahini is also good for the skin, hair and your figure!
Take note!
Tahini is absolutely delicious when combined with meat or seafood.
Main traditional Cypriot dishes
Now that your appetite has been whetted, and there are exciting aromas drifting out of the kitchen, you are ready for the main course…
4. Souvla or souvlaki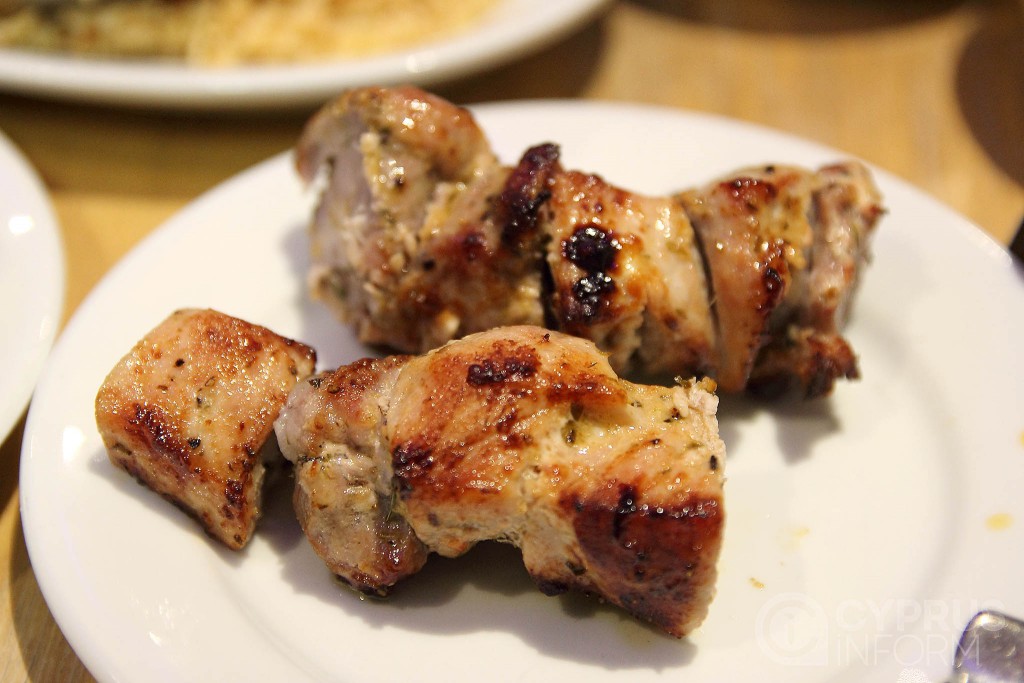 Probably every nation has its version of kebab. In Greek it's 'souvla' or 'souvlaki' and is very different from its counterparts around the world.
Souvla and souvlaki are basically the same dish, the only difference is in the size of the pieces of meat. Souvla has large chunks and souvlaki (aki being a diminutive suffix in Greek), has smaller pieces.
Original recipe
There is no common recipe for Souvla even in Cyprus; some prefer to marinate the pieces in Greek yoghurt just before cooking, and some don't use it at all; you can use pork, chicken or lamb – it's a personal choice, but there are also general rules.
Unlike the traditional marinade for kebabs these are cooked on the fire, so are 'dry'. Add lemon juice before serving and play with flavours by adding your favourite sauces. A perfect complement to souvla is a rustic salad with vegetables and grilled halloumi.
5. Halloumi
This cheese, which appeared in Cyprus in the middle of the 16th century, is made from sheep and goats milk. It is classed as a hard cheese, but is slightly crispy outside and soft inside, so halloumi is really incomparable.
Interestingly…
Halloumi is a traditional Cypriot product, competing in popularity only with the Cypriot wine, Commandaria, and 7 years ago was registered as a Cypriot trademark product.
6. Kleftiko
The birth of the traditional dish 'kleftiko', roast lamb, refers to the period of the liberation struggle against the Ottoman Empire, and the name comes from the word "thief" (the word "kleptomania" and "kleftiko" are related).
It is not surprising because, according to legend, the recipe was borne from an attempt to hide stolen lamb. Kleftiko recipe can be found here.
7. Moussaka
Moussaka recipes vary, and its cooking secrets are often passed down from generation to generation, but the same ingredients are used: minced meat, vegetables and béchamel sauce.
The main thing is to layer the dish: aubergine and tomatoes roasted with garlic, then beef and onions, potatoes and mushrooms (optional); sprinkle with grated cheese and pour the bechamel sauce over the top. There is also a vegetarian Moussaka.
8. Macaronia sto fourno or "pastitsio" (pasta in the oven)
Pastisio is a bit like Moussaka, thanks to the mince, béchamel sauce and the layering of the ingredients. Properly cooked pastisio is a satisfying traditional Cypriot dish; try it and you'll love it forever!
9. Fish meze
I don't know about you, but I never refuse seafood. If you were born by the sea, like me, Cyprus and the traditional Cypriot tavernas, will make you feel right at home.
Gentle barbouni, fleshy white fillets of Tsipuria, refreshing marinated octopus and delicious mussels, crispy deep-fried squid, and juicy prawns – this is the fish meze. I could go on, but no words can adequately describe the rich hues and the unique tastes and aromas.
Tips
When ordering a meze remember that the portion for two (minimum order) is enough to feed four fairly hungry adults, so feel free to bring along your friends.
10. P.S. For the sweet tooth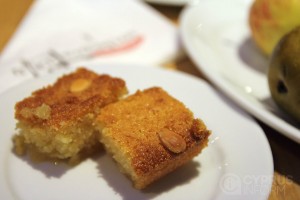 A Cypriot dessert can easily be a dish on its own, but you can certainly enjoy it even after a hearty lunch or dinner, if you still crave a llittle something sweet.
History always leaves an imprint on the culture and the cuisine is no exception, so for dessert in Cyprus you also have the British cheesecake, the traditional Asian sweets, halva and baklava (or "honey nests"), Cyprus Delights and sudzukos (churchkhelas), and original rice pudding with cinnamon, rizogalo.
But I suggest you taste the seasonal fruits – strawberries, figs, peaches, oranges, watermelon, melon and grapes. Do not deprive yourself of this sweet temptation!