eStilo Tapas-bar in Limassol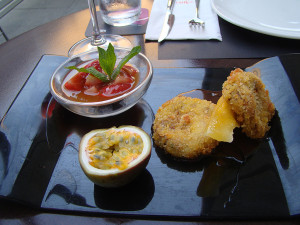 Exclusive appetizers, cocktails and live music will make your summer evening unforgettable! You can limit yourself to an aperitif or digestive in estilo, or enjoy a dinner tasting their unique dishes, whose roots go back to sunny Spain, with their delicious combination of tastes.
The specialty of the bar is cocktails, made with exclusive recipes by the eStilo manager.
The beautiful music program enhances the atmosphere for an evening spent in eStilo and makes it an ideal place for a romantic evening!
Review from Cyprus Inform
Таpas , appetizers and accompaniments that go with wine or beer ,come from sunny Spain. When you order a tapas in eStilo, don't expect a tiny sandwich, but a beautiful array of tasty dishes, which will inevitably surprise you with its combination of ingredients, aromas and tastes.
You can choose tapas as an appetizer for an aperitif or digestive, but the accompanying set of exotic dishes are enough to be considered a meal, especially if when we are talking about a relaxed romantic meeting on a hot southern night…
Cоcktails
Since tapas is an appetizer after all, cocktails hold their place of honor on the menu.
They are no typical 'sex on the beach' 'screwdriver', but alcoholic masterpieces, prepared to the recipes of the eStilo manager Тhomas. Of course, we could not have missed this part of the menu.
We ordered Blueberry Jam for €8.50 and Passion Fruit Splash for €8. Both cocktails are created with a base of crushed ice delivering a 'blast' of taste at the first sip, but the cocktail becomes softer and more exquisite thanks to the ice gradually melting.
Blueberry jam consists of gin, ginger, English blueberry jam, lime and syrup, and it tasted a little too sweet for my taste, but the Passion Fruit Explosion was amazing! This cocktail has a bright yellow color and is prepared on the basis of vodka, to which soft pulp of passion fruit, homemade vanilla syrup and lime juice are added.
It's a wonderful start to the evening!
Wine
And before we start talking about food, let me say a few words about the wine we chose.
Zambartas. This is undoubtedly one of Kings of Cypriot wines. Whilst the Rose from Zambartas is the best wine in its category.
Some experts believe this is the best rose wine produced in Cyprus. The wine is made of grapes of the lefkas and cabernet fran species. Both species have a rich fruity aroma and balanced acidity. The wine is a bright ruby color and has a rich bouquet with a pronounced aroma of cherry, raspberry, strawberry and rose petals. This is simply an explosion of fresh fruity aromas.
Delicatessen and seafood theme
The time soon arrived the time for our meal and the first plate of our gastronomical program was a delicacy from eStilo — Crispy foie gras with passion fruit (Crispy foie gras nugget with passion fruit, €9.80). Two deep fried morsels of foie gras au gratin are served on a chocolate and cinnamon sauce with      strawberry flamed with amaretto and dressed with oil of the mastic tree. A very unusual combination!
The most tender foie gras is hidden under the crispy gratin, which usually suits the sweeter sauces perfectly. Chocolate does not spoil anything here, but adds an unrivalled taste note and, of course, strawberry. Not the best dish when you're on a diet.
A couple of dishes with a seafood theme follow. Crispy calamari (Crispy Calamari, €7.80). The waiter has brought a plate with two baskets made from a mixture filled with tiny deep fried crispy calamari with a sweet onion dressing, topped with fresh white grapes and pomegranate seeds. The tender calamari combines with grapes wonderfully, and at the end it is delicious to crunch the parmesan basket.
Pomegranate shrimps (Pomegranate prawns, €9.80) is our next dish. What really strikes me at Tony's is the shrimps. No matter which dish you order – a Japanese dish in Zen or Chinese in Chi, the shrimps are always juicy and soft. This happened once again. Four large king shrimps (peeled tails) cooked in tender crispy gratin made of cut rice noodles are dressed with peanut and pomegranate sauce of a dark red and brown color. A dish not to be forgotten!
The waiter now brought us a lemon sorbet with compliments from the restaurant before our main meat dishes arrive.
Мeat and poultry
And now we are starting with the meat theme of our Sunday meal. It is opened with chicken. Grilled chicken with prunes (Grilled baby chicken with prunes, €5.90). A tender fillet of a chicken leg, stuffed with prunes, in nut and mustard gratin. The dish is served with plum sauce and chili. If you like chicken I strongly advise you try this dish.
The next meat accord is Lamb empanadas with Chorizo (Lamb empanadas and chorizo, €9.30). This is real 'fusion', a mix of traditions , a 'cake' made of minced lamb with addition of Spanish pork sausage chorizo, оlives, cedar nuts, apricots and mint, dressed with Turkish sumach. It is served with a green salad and Mexican sauce morita chili. The dish is hot, the lamb combines wonderfully with mint and hot chorizo, the smoky taste of morita chili introduced a piquant note.
And at last the Grande finale – a dish which made me stand still with its singularity and the seeming impossibility of the combination of tastes – beef in a cream sauce with anise and whiskey (Black Angus beef with anis & whiskey cream sauce, €14.90). Morsels of Black Angus beef are fried with ginger, black beans, coriander, cocoa milk and anise. It is served with bitter chocolate, florina pepper and a sauce with whiskey. The meat pieces are so tender that you can almost eat it with a spoon , whilst the taste combination is beyond words. I can only say that the combination of meat and chocolate was the most surprising.
I can only wish you bon appetite and be quietly envious of those who have not visited eStilo yet , you have an amazing and pleasant discovery before you…
Маxim Оkulov
Photo Gallery