Red Café is a cosy Italian restaurant in Molos on the central promenade of Limassol.
The restaurant is close to the sea, so the panoramic windows offer amazing views. The menu includes Italian dishes such as pasta, pizza (cooked in a natural wood-burning oven) and a wide variety of desserts. Most of the wines on offer are also Italian.
There is a playground adjacent to the restaurant and a large municipal parking area. Breakfast is served daily from 09:30 to 11:00.
Cyprus Inform review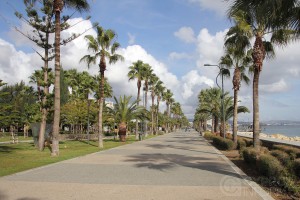 My familiarity with the Red Café has become a social event for me — I found a new favourite restaurant in Limassol. Everything is perfect, even the location.
The Red Café sits by the waterfront of Molos, near the Limassol Marina. The restaurant is just 10 metres away from the sea so you can sit at a table by the panoramic window, forget everything else and just take in the view. However, not only the appearance and location attracted me to this place.
Design
Entering, you immediately realise this is a genuine Italian restaurant: large wooden furniture, comfortable seating, natural materials and the unique aroma of a wood-fired oven — it's like you've come to visit close friends. This place is well lit and well-ventilated thanks to the huge panoramic windows and great lighting system.
Wine card
Italian wines form the basis of the wine list and represent all the major wine regions of Italy. However, you will also find wines from other countries, both old and new world. Wines from Greece and, of course, local Cypriot wines are also offered.
Beer
Here, you can enjoy German beer, brewed in Bavaria according to original recipes. Six varieties are on the menu, and my personal favourite was 'wild wheat' which has a dark, rich colour and a pronounced malt flavour.
Menu
Red Café's menu is quite concise, but Italian food is presented here in all its splendour. Mike is the Restaurant Manager — a Chef by profession and Italian by nationality. I think that says it all.
Mike put together a team of skilled chefs. Many products are delivered from Italy to Cyprus specifically for the Red Café, for example, the dough for the pizza and tomato for a real Italian tomato sauce.
Pizza
And I'll start with pizza. On the menu, you will find 12 kinds of popular Italian dishes. Pizza in the Red Café is prepared in an authentic wood-burning oven, and it felt right! The dish is toasted brown and has a fantastic flavour. Here they make an authentic pizza — thin crispy dough and delicious topping.
Primavera (€12) – Pizza with grilled vegetables, green peppers, aubergine and courgette. Grana Padano cheese and fresh basil complement the range of flavours.
Frutti di mare (€15) — Pizza with seafood: blanched seafood, mozzarella cheese, a little garlic, oregano and fresh parsley.
But my favourite pizza in the Red Café has become the Al Pacino. The top is covered with mozzarella cheese and ricotta and then baked in the oven, then the thinnest slices of prosciutto and fresh arugula are laid on top. The combination of light bitter greens, smoked dried meat and butter taste great!
Main dishes
For the main course, we recommend a Beef Fillet Supreme Tenderloin steak (€20), made from New Zealand grass-fed beef, the quality and safety of which is guaranteed by the verified supplier. Even if you don't like your meat rare, don't order it well done as you will spoil all the impressions of this steak. I would recommend medium or medium rare. The chef cooked mine perfectly. The meat was tender and surprisingly delicate, with light notes of garlic and rosemary and was accompanied by al dente grilled vegetables.
Fish lovers can try the seafood risotto. It's the classic dish — al dente rice, creamy sauce and tender seafood — langoustine, squid, octopus and the unique aroma of parmesan.
And, finally, a traditional Italian cannoli dessert — crisp, filled with sweet ricotta cream cheese and chocolate chips with spicy notes of lemon zest making this a refreshing desert.
Breakfasts
Red Café serves breakfast daily from 09:30 to 11:00. For €7 you can order an omelette, scrambled or fried egg, or Eggs Benedict with a beverage of your choice — coffee, freshly squeezed orange juice or water.
My favourite, Eggs Benedict, are perfectly prepared: delicate creamed spinach on toast with a poached egg on top and a creamy sauce. The dish goes well with the fresh salad and is a great start to the day!
Seasonal dishes and special offers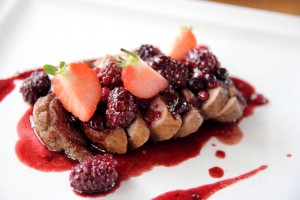 Pay attention to special offers on every day of the week. For example, on Mondays, you can sign up for Red Café's Instagram page – #redcafelimassol, and get a 10% discount on the total bill. On Wednesdays from 16:00 to 20:00, you can enjoy 10% discount on the entire wine list.
There are also seasonal dishes. I was able to try a Christmas Offer — breast of duck with berry sauce. A real taste of Christmas with this classic combination of tender meat and sweet and sour sauce.
Conclusion
The Red Café is a great new restaurant on the Limassol map. In just a few months the restaurant has managed to create an extensive range of permanent customers, among which is the author of this article. And that says a lot!
The Red Café is an authentic Italian restaurant by the sea, in the centre of the promenade in Molos which I heartily recommend.
Maxim Okulov
Photo Gallery