Аuthentic Japanese restaurant in Cyprus
Zen is an exclusive place for special occasions (although it does not require a special dress code). It has a distinctive atmosphere all of its own, relaxed and quiet in the restaurant, tasteful and beautiful with everything carefully thought out down to the smallest detail. There is delicious seafood with seasonings and unique sauces, plus a wonderful wine list.
Zen is very popular and a table should be booked beforehand.
Review from Cyprus Inform
The design of the premises reflects its idea: glass, dark wooden furniture, an ikebana at the entrance. This is a place where the experts in food come to dine!
Reserved yet welcoming staff lead us to our table and in seconds we are presented with menus, and in our native language – the Russian was impeccable.
Wine list
We begin with the wine list and started with a bottle of Assyrtiko, from the Greek island of Santorini (€29.30). It is a dry wine with a rich golden colour and an exquisite hint of cherry. The first glass is eagerly consumed, time now for snacks.
Starters
It is also worth mentioning that the sports bar, Chesters and the Chinese restaurant Chi (belonging to the same owner of Zen) are also nearby, so you could, if you wished, start your meal with Chinese meat dumplings.
Mouth-watering Dim Sums have arrived in wooden Chinese steamers. Two per person – a Tom Yam with shrimps and scallops (€9.20 per 4, although you can order as many or as few as you wish) and Sixi with lobster and royal crab (€14.50 per 4). Dim Sums are served with two types of sauce, which compliment the taste of the dish wonderfully.
Japanese menu dishes followed. A bottle of Assyrtiko was quickly consumed, and we then moved on to a modern Cypriot classic, Vlasidis Xinisteri (€20.90) – a light white wine with a distinctive fruity taste.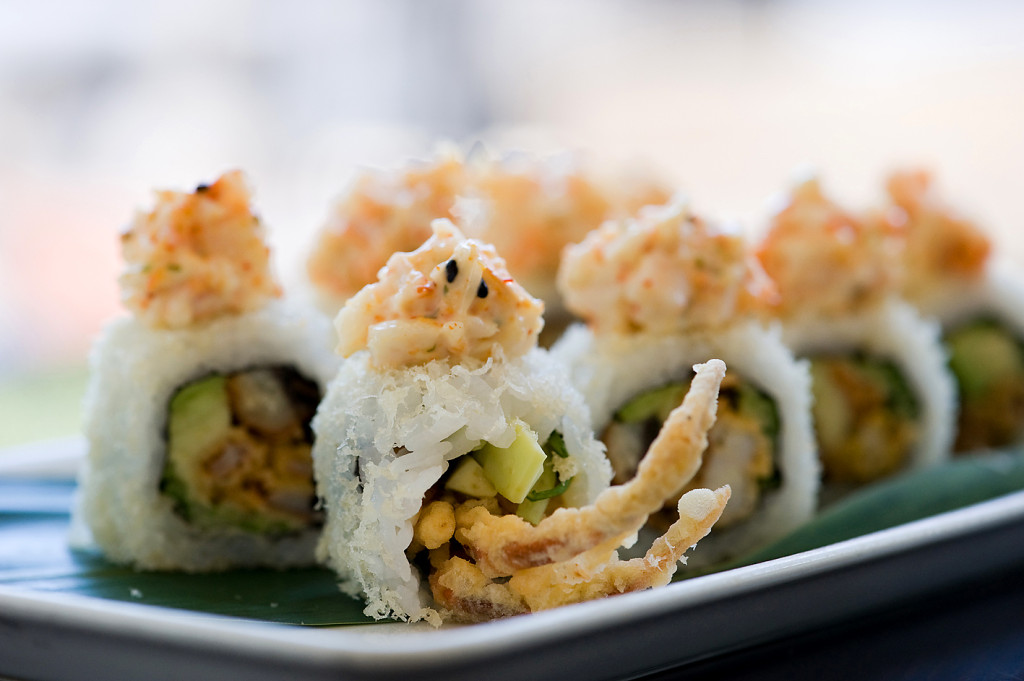 Traditional Japanese rolls and sashimi come first:
Royal Daikon roll (€15.40 per 6) is a royal crab and avocado with daikon and a flavourful tomato sauce.
Chutoro (€13.00) is sashimi made of blue fin – the rich belly part of the fish – tender morsels melt in the mouth.
Then makimono Unagi Maki (small rolls with eel, 6 for €10.00) arrived, and the last snack, a recipe designed by the local chef, Toro with red chili (€11.80) – thin slices of rolled grilled tuna fish belly with coriander, lemon and soy sauce, topped with a thin slice of hot chili.
Main course
Even after consuming more than enough for a late dinner, we couldn't help but order two dishes of fried rice with seafood (€6.70 per serving) and a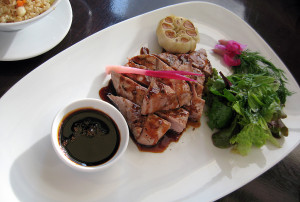 Toro steak with teriyaki balsamic sauce (€26.00), cooked wonderfully here.
Desert
Take a lemon sorbet or 50 ml of zivania, a local spirit made of grape (similar to grappa) for dessert, is an ideal digestive.
No matter whether you go for a quiet meal or go on a very busy Friday night, it's always good at Zen.
Zen Room оrganizes wonderful sushi-seminars, we've just described how we attended one of them.
Discount for Cyprus Inform cardholders – 20% on working days from 12:00  until 17:00
Awards
TripAdvisor Certificate of Excellence 2013
Photo Gallery