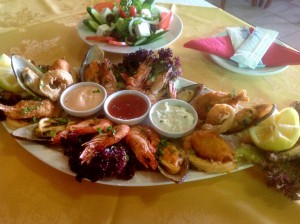 You will be entitled to a free bottle of wine when you order a meze at an Apple Restaurant and present your Cyprus Inform discount card!
The Apple Restaurant is located in Ayia Napa, near the famous Nissi Beach.
The restaurant offers a wide range of both international and Cypriot cuosine.  It provides special offers, a good selection of Cypriot wines, a children's menu, a children's playroom and free Wi-Fi.
Traditional Cypriot dishes are:
Traditional Cypriot meze;
Moussaka;
Lamb Kleftiko;
Stifado;
Apheliya;
Keftedes;
Sheftalya;
Dolmades;
Souvlaki etc.
Russian dishes:
Borscht;
Shchi (soup);
Okroshka;
Dumplings etc.

Seafood:
Fish meze;
Fresh Cyprus fish;
Assorted seafood etc.
European cuisine:
Pizza;
Pasta;
Vegetarian and meat dishes.
 Photo Gallery