Pepperoni Pizza restaurant is the oldest network of Italian pizzerias on the island. The first restaurant was opened in 1981. Today this network consists of two pizzerias – one in Limassol and one in Paphos. Here one can find pizza and bread baked in wood-fired oven.
Besides pizza, there are several types of pasta, salads, appetizers and main dishes, including meat and seafood in the menu.
You can either dine atPepperoni Pizza restaurant, where you will encounter very friendly staff; you can have a take away meal option or order delivery to your home or office.
The restaurant can organize different parties, including events for children: there is a playground for the enjoyment of young visitors.
Review on behalf of the Cyprus Inform
Pepperoni Pizza restaurant has been cooking Italian food for more than 30 years. Sitting in the dining room, you can see the chef virtuoso rolling pizza dough; simple, fresh ingredients which are the base of popular Italian food come to life in the hands of professionals and the cooking process turns into a real show! And, of course, a large wood-burning stove with coals animates the interior and allows you to see how real pizza is cooked, with the right amount of heat and the light scent of smoke.
Inside the bistro the ambience is delightful for all purposes and audiences: you can spend an evening with your family or dine in a cheerful company of friends. Children will definitely appreciate the meals from the local chefs as well.
Menu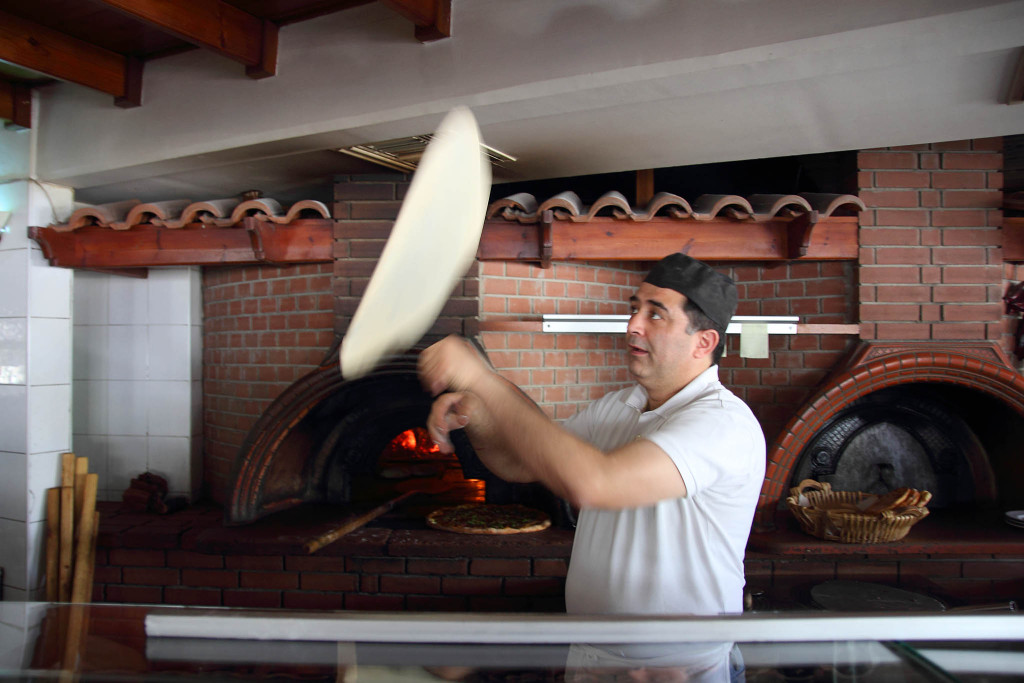 The menu is quite diverse. Not only can you order pizza, but also salads, traditional Italian appetizers, pasta or main dishes with meat and seafood. Fresh ingredients and the skill of the chefs attract numerous customers into Pepperoni Pizza restaurant.
I highly recommend the Crepes (pancakes) with spinach and cheese sauce (€ 7,10),the bruschetta with tomatoes, onions, basil and olive oil (€ 5,50) or with mozzarella, sun-dried tomatoes and pesto sauce (€ 6,50).
From an interesting selection of salads you can choose, for example, grilled vegetables (€ 10,30) or a salad with shrimp and avocado (€ 12,90).
Never forgetting about the pasta fans, these are amongst their top preferences: penne with salmon and broccoli (€ 12,90) or pasta with seafood (€ 15,50).
Who has ever dined without the appropriate wine? The quite extensive wine list, which includes local wines from Cyprus, for example, white dry Alina , wines from Vasilikon winery and others, is meticulous as it should be in any respectful culinary establishment, and in addition, one can also choose from Italian wines.
Now let me take you on the gustatory journey I have been to at Pepperoni Pizza restaurant in Limassol!
For Starters

A must: feta with tomatoes (€ 6,60) which is the Cypriot version of the famous Italian Caprese: fresh tomatoes, feta cheese, olive oil and oregano. Salted, quite nice soft cheese combined with tomatoes, the additional taste for the dish is given by the high quality olive oil and oregano. Worth trying!
Bruschetta is an Italian classic. I tried two options. Bruschetta with mozzarella, sun-dried tomatoes and pesto sauce (€ 6,50): toasted bread with a crispy crust, warm melted cheese and flavorful sun-dried tomatoes. Great combination!
For those who prefer a less high-calorie appetizer, the second option is more suitable. Bruschetta with tomato, onion, basil and olive oil (€ 5,50): finely chopped onion, fresh tomatoes and crispy bread, lighter but not less tastier!
Salad with shrimp and avocado: fresh lettuce, grilled prawns, avocado dressed with balsamic vinegar (€ 12,90).
Pizza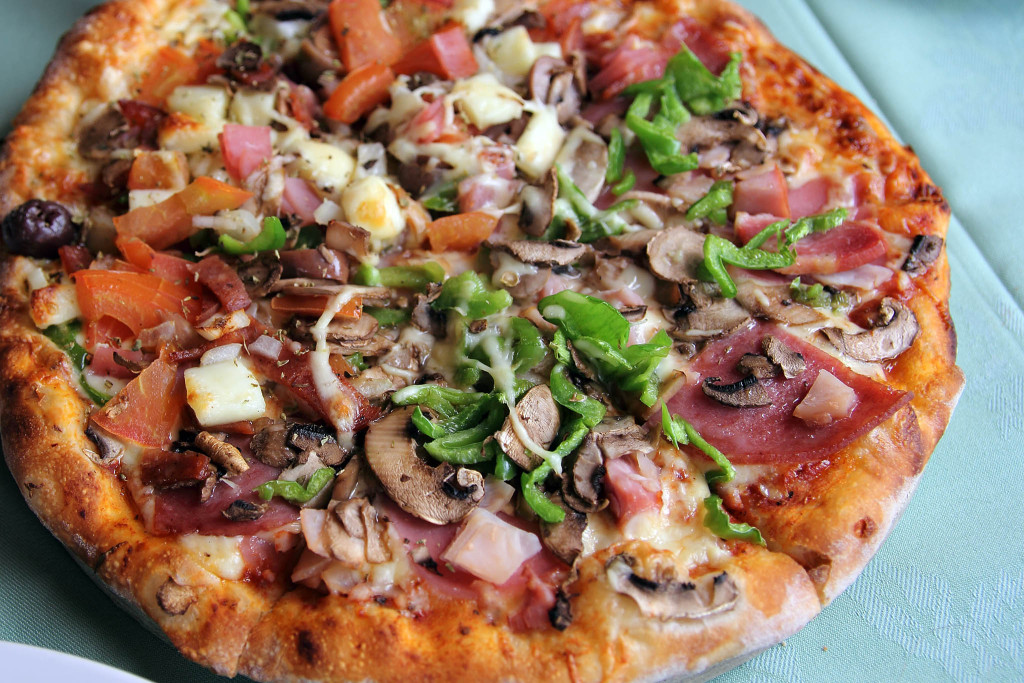 I tried both of the branded versions. Pepperoni Special (€ 9,60; € 15,80; € 24,80 – depending on the size): salami, ham, bacon, mushrooms, sweet green pepper, and, Super Crazy Pepperoni (€ 10,30; € 16,50; € 27,60 – depending on the size): ham, mushrooms, pepperoni, halloumi, green pepper, onion, olives, tomato, oregano. Five words for this: Thin delicate dough with crispy crust..! Some people leave crust untouched, but for me it's the most delicious part of pizza, of course, if it is properly cooked.
There is no doubt about this at Pepperoni Pizza restaurant – the chef knows his job. You can smell the aroma of spices of the tomato sauce (natural, not from a ready-made one), taste the delicate stringy melted cheese and experience the magical combination of textures and flavors: with the smoked bacon note, the wet saltiness of olives, the mouth-watering mushroom and crunchy fresh pepper flavor. I envy those who are not on a diet!
Main course

Getting a bit more serious, next on the list of this delicious adventure comes penne with salmon and broccoli (€ 12,90). Pasta is cooked as it should be, until al dente. Light, not too heavy cream sauce, lightly boiled broccoli with all its freshness reserved, and properly cooked salmon: juicy fish easily separated into layers, showing its tender pink flesh … In other words, of high culinary level!
In conclusion
I wholeheartedly recommend Pepperoni Pizza restaurant to pizza lovers and fans of simple but great Italian cuisine in general. You can easily organize a family lunch here and treat children to their favorite meals, or spend time with a cheerful company enjoying a glass of good wine. In any case, it is a great idea as long as you have it here!
And for those of you who do not really like pizza or follow a specific diet, you can easily find dishes to pamper yourself from the menu!
Discount for Cyprus Inform cardholders – 10%
Photo Gallery