Comprehensive, private Russian school, with in-depth study of the English and Greek languages
For many people living either permanently or temporarily in Cyprus, the issue of their children's education is very important.
Where should you enroll your child so that he not only feels comfortable in his new country, and receives a good and diverse basic education allowing him to continue in universities in Russia and Europe, but that also allows him to hold on to his roots, the love and respect of his language and literature, and retain his Russian traditions and culture?
The private Russian secondary school MORFOSIS, which is fully registered and licenced by the Republic of Cyprus and Ministry of Education, and which began operating on the 5th September 2014, meets all of these requirements.
Senior Secondary Certificate of Education in Cyprus
Thanks to highly qualified teachers, an individual approach to each student, and interesting optional courses, the Russian school in Cyprus quickly became popular amongst the local population.
Although the school has been operating since 1st September 2013, the first graduation took place as early as June 2014.
Graduates of the year 2014
Students of the 9th and 11th grades received their secondary school diplomas.
Graduates of the 11th grade, after successful graduation examinations taken at a school under the Russian Federation Embassy in Nicosia (the best Uniform State Exam: Russian 95 points, mathematics 73 points), received а full secondary education of the Russian Federation certificate, including one with honours.
Graduates of the year 2015
1 gold medal – certificate with distinction, receiving 100% of the grant to the University of Nicosia;
1 silver medal – certificate with distinction, receiving 100% of the grant to the European University of Cyprus;
2 students received 50% grant to the University of Nicosia.
Graduates of the year 2016
66% of students received 100% grants in universities in Cyprus.
Graduates of the year 2017
most graduates entered universities in Cyprus with 70% of grants.
Russian school in Cyprus
The school has bright, spacious rooms, a large auditorium which hosts many interesting events, and outdoor interactive lessons devoted to the Day of Knowledge, Teacher's Day, Fall, New Year, Christmas, Carnival, 8th March, Easter, Victory Day, the Last Call, Prom, and many others.
Also the school's students take part in international festivals and competitions (Russian-Cypriot festival show, Galaxy of Talents, International Distance Contest on mathematics, children's festival Creative Kids), which occupy the top places, and excursions.
The school is working on training programmes of the Russian Federation Ministry of Education and Science, with intensive study of English and Greek languages.
Currently the number of students in each class (0-11 grade) does not exceed 12, so the teacher has time to give each student individual attention during the lessons.
If necessary, the school can consult a speech therapist, a psychologist and a medical worker. School Hours c 08:00 to 13:35 (the main class) and 13:35 to 19:30 (additional education).
After School group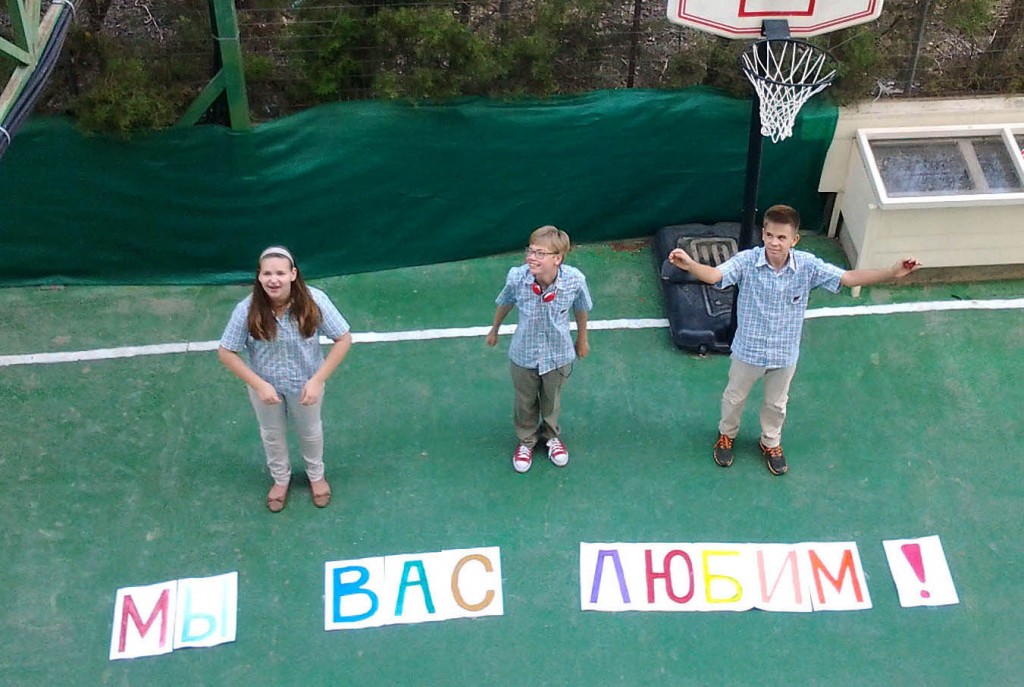 After basic training, there is an extension available from 13:30 – 1830. This is a great opportunity for working parents to organize the leisure time of their child, regardless of the place of basic training.
In addition to assisting in the preparation of homework, the programme extended-day groups include a hot lunch, an afternoon snack, extra classes (origami and fine arts).
The cost of primary school includes breakfast and seasonal fruits.
For an extra price you can enjoy a hot school lunch (Russian-Cypriot and European home cooking), and transport if necessary.
Additional education
Sports clubs operate at the school: mini-football, chess, aerobics fitness, which includes 3 courses (aerobics, hip-hop aerobics, step aerobics), aesthetic gymnastics (team sport), volleyball.
Anyone, regardless of age and qualifications, can attend language courses at the MORFOSIS school:
Russian as a foreign language;
English (Cambridge-training and taking GCSE and IELTS exams);
Greek;
French;
Chinese (Mandarin dialect);
Armenian;
Arabic;
Turkish.
Our teachers are qualified native speakers. There are also Russian-speaking teachers who graduated from the Lomonosov State University. Anyone, regardless of age and qualifications, can attend additional classes in all subjects at the Russian secondary school, and preparatory classes run by highly qualified, experienced teachers, with a long employment history.
Group and individual classes are also possible.
The school also has a well-equipped аrt studio, which welcomes anyone interested in painting and the applied arts of Russia and other countries. Children and adults can learn the art of origami there. A Universal Artist project has been ongoing since October 2014 (vocals, choreography, dramatics, and catwalk).  In November 2014 the school, in cooperation with the show group Zvyozdy, participated in the Galaxy of Talents festival in Monte Caputo (Limassol). It also took part in a seminar in ecology and met with Kazakhstan's first spaceman, Таlgat Мusabayev.
Summer camp
In the summer period from 6st of June 2017 to 5th of August 2017, a summer camp operates 5 days a week at school. Groups of the camps are formed according to 2 key directions:
A Wellness Summer Camp (1 hour English lesson, daily).
A camp for intensive English learning (all levels)  age 6-17.
Transport and a set menu are additional. Within the framework of all programmes, Saturday excursions will take place. The school has Facebook page and website www.morfosisschool.com
Welcome to MORFOSIS! Knowledge is power, power is MORFOSIS!
Licence
Licence №7.18.06.52
Education and Culture Ministry of the Cyprus Republic
Photo Gallery