A private English school in Paphos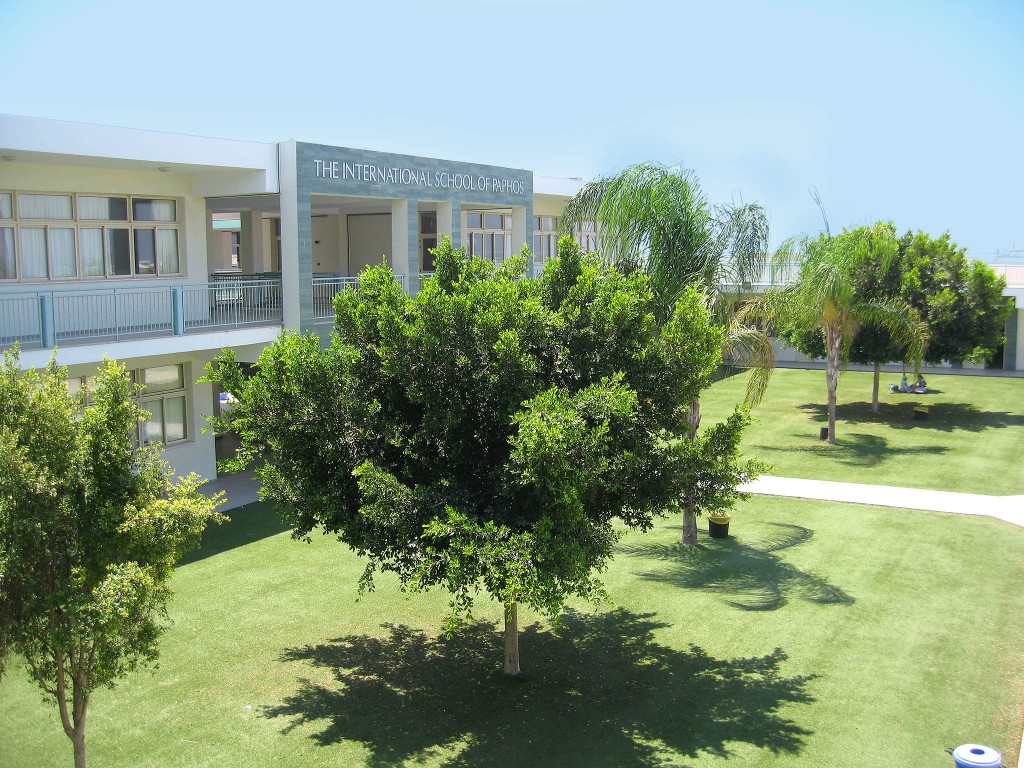 The International School of Paphos (ISOP) has been providing quality educational services since 1987.  It caters for children from the age of 2½ (Kindergarten) all the way up to 18 (A Levels).  In addition to Cypriot students, we accept students from all over the world.
The International School of Paphos is recognised both nationally and internationally. It is registered with and regularly inspected by the Cyprus Ministry of Education and Culture. It is also an approved centre for two of the largest UK examination boards, CIE (Cambridge International Examinations) and Edexcel, as well as for Ellinomatheia examinations (Greek language proficiency) from the Aristotelion University of Thessaloniki, Greece.
In addition to IGCSE, AS and A Level qualifications, which reflect a globally established standard of education, the school's graduates receive a School-Leaving Certificate (Apolytirion) that is recognised in Cyprus, the United Kingdom and across Europe. The school is also a centre for the European Computer Driving Licence (ECDL), recognised by the Cyprus Computer Society and CEPIS (Council of European Professional Informatics Societies), as well as for LAMDA (Drama and Public Speaking examinations).
A modern, wonderfully equipped school creates ideal conditions for comprehensive education in Cyprus, which includes mental, creative and physical development of children.
International teaching personnel, including English teachers, is the basis for the incomparable traditions of a classic English school, which brings children up in the spirit of freedom, self-discipline, flexibility and personal responsibility.
An international school with English traditions
The importance of the 'right' school cannot be understood until your own children start their education. Besides the quality of education, (which can be evaluated by the success of the school's graduates) it is also important that your child enjoys the experience as much as possible.  After looking at and rejecting several schools, I came across English private School in Cyprus which seemed an ideal secondary school for my daughters.
The first thing I noticed when I visited the The International School of Paphos (ISOP) was the children playing on the grass, as this was not allowed at the school I attended in Russia.  Nor were the teachers yelling at the children as was the norm at my school.  The teachers conduct themselves with good manners and politeness whilst still managing to enforce the rules.  Uniform is obligatory in the school colours of white, grey and maroon.
On the foundations of tradition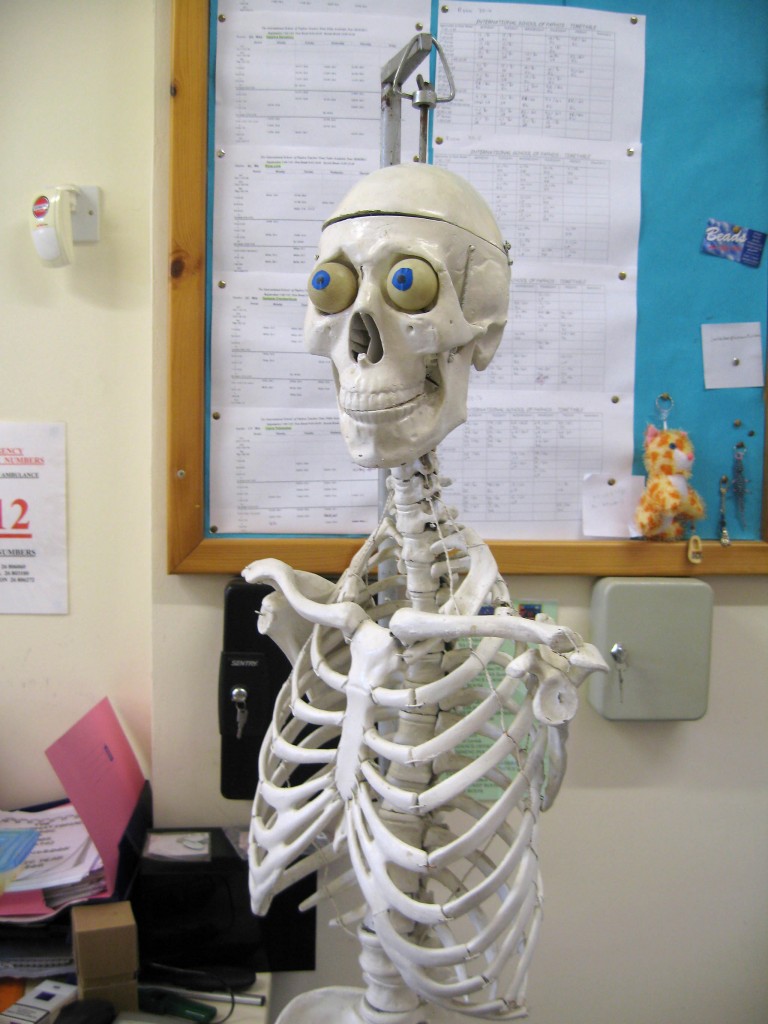 A small Greek private school building, located opposite the church of Apostolou Pavlou and Varnava, was the base for The International School of Paphos, founded by the British in 1987.
"The organisers saw that an English school for children of different nationalities, who came from various countries and lived in Paphos, was necessary here," said the Managing Director of the school, Mrs. Aristi Andriotis. "And by 2000 the old building became too small for the school's requirements.
ISOP founders decided to build a new complex and buy land on the outskirts of the town. This was not done because the land was cheaper here than in the centre, this was because the location is convenient for many parents, who live mainly in private houses in the suburbs of Paphos."
It was several years until the new school complex opened in 2006. "The new building allowed us to increase the number of students significantly," the director explained. "In 1999, when I joined the ISOP, 160 children went here and today over 650 students attend the school — from Kindergarten to Year 13'.
School Facilities
The current, state-of-the-art facilities were purpose-built in 2006. They were designed and constructed by Aristo Developers. Their goal was to have a comfortable, safe, accessible and aesthetically pleasing building with well-resourced, specialised teaching and recreation areas.
The new complex of buildings is located on 3 hectares of land. There is a purpose-built Kindergarten complex, well-lit and spacious classrooms with air conditioning and central heating, computers, projectors and interactive whiteboards, four computer suites, five science laboratories, multi-purpose sports hall and performance centre, indoor heated swimming pool with facilities for spectators, astroturf football pitch, running track and athletics facilities with provision for spectators, outdoor basketball, volleyball and tennis courts, spacious art facility with internal gallery, well-equipped music room, media room for presentations and screenings, Drama Studio and Theatre, multi-purpose room for physical and creative activities, covered and open play areas for all age groups, elevators and ramps providing wheelchair access, library, bookshop, cafeteria, sick bay.
Teaching personnel
Most teachers at the school are British, who have been educated and gained experience in the UK. There are also Cypriots in ISOP, who received their higher education in Great Britain. The school works in accordance with the national English curriculum.
"We have a wonderful international team, which reflects the name of the school," explains Mrs Aristi.
"The Head of the School is Dr Litsa Olympiou, who lived in England since she was 14 and was educated there and the Head of the Primary School is Mrs Elena Kotsovos."
From Kindergarten to University
The International School of Paphos includes Kindergarten, Primary School, Secondary School, Private Institute and Summer School.
The Kindergarten is open from 07:30 until 14:00 and takes children from ages 2 ½ till 5 years old.
The Primary School starts at 07:40 and finishes at 13:00.  At this stage new students are admitted after an interview and Mathematics and English tests.
Knowledge of the English language is desirable, but its level is more important the older the child is. It is good if the child has at least basic vocabulary as this will help him join the educational process quickly.
The school does offer the option of additional classes, including studies with private teachers, if necessary. My daughter joined the second grade at the age of 6 with no English at all, but as English is the language spoken during the school day, it only took about six months until she was totally comfortable speaking both Russian and English.
There is a cafeteria but teachers advise parents to give small children a lunchbox with maybe a sandwich, a bun and some fruit. A water bottle or a small thermos with tea is given separately. This is sufficient for snacks during two long breaks.
Of course, small children are not left without supervision during the breaks.  At 7 years of age they are allowed freedom of movement around the school, but until that time there is a separate playground and a teacher on duty.
The Primary School teaches English, Reading, Mathematics and the Arts – Music, Drawing, etc, although basic natural History and Sciences, the Greek language, Geography, History are there on the curriculum.
Love for reading and books is raised from the first day at school. Children receive new books each week starting with the first grade. They are small age-appropriate works, which children have to read and write a review containing the title of the book, its author, and the publishing house as well as a short summary, a description of their favourite character, the scene they liked best, and they should also evaluate pictures and make a general assessment.
This is what is called critical attitude and is exceptionally important in their future adult life.
Choice of specialisation
In Year 10 the children choose their further type of education where they will decide on the list of subjects to be studied in the future.
When moving from Year 9 to Year 10 a student will choose 8 subjects which he will study for two years, and later in Year 12 and Year 13, 3 or 4 subjects are left. This is a strong recommendation of universities: it is much better to have a good knowledge of 3 subjects (which is sufficient to join University), than a modest knowledge of 5 or 6.
The administration of the school, which understands how important and sometimes difficult this process can be, starts preparations beforehand.
A programme of career support starts in Year 9, a Career's Advisor talks to each child personally to determine the areas of interest. It is too early to talk about a job or a University, but the student may have favourite subjects, or ones which they feel they may be more successful in.
"And, of course, the consultant talks not only with the student, but also with the parents," says Mrs. Аristi, "because parents sometimes have their own understanding of the child and in an ideal world, all sides should agree. This year we started the programme earlier, in Year 8, on the basis of the subject of citizenship. Teachers talk about the student's place in society and try to urge him to think on the subject."
At the end of Year 9 students take tests on core subjects. Moreover, consultants from leading British universities, the American embassy and other organisations come to the school to talk to children and meet with their parents – this is all meant to help the students.
"Education is not just teaching some knowledge to a child, this is not just plugging away over books and classes in laboratories," Mrs Aristi continues. "For us education of children also means out of school activities, to which we pay most serious attention. This is necessary for the students' proper development.  This is what universities pay attention to when admitting students."
After-school classes
A variety of after-school clubs are on offer:  Drama, Chess, Scrabble, Choir, Badminton, Basketball, Football, Greek Dancing, Cheerleading, Cooking exist at school. Debating, Art, Singing & other contests are organised. Students perform plays on the stage of Paphos' theatre.  Locals and guests of the city come to see the theatricals. Amateur school performances are staged for Christmas in the school theatre, and start with Kindergarten!
The student's public work, their social activities, are also important: help the elderly, the sick, fund raising to help drug addicts. The ISOP holds Cake Bakes – a fun event where senior students, together with their parents, bake pastries, small cakes and pies and sell them for €1 or less, and a report is prepared at the end to show how much money was raised and where it was sent.  Of course, all this is absolutely voluntary.
Days without school uniform are very popular, when each student may come to school in their favourite clothes but paying a fee of €2. This money also goes to charity.
The students take part in school trips around Cyprus. Small groups of Secondary school children also go on school trips abroad: France, Germany, Greece and Еgypt, but the focus is on local culture and traditions. The school organises bus trips to snow-capped mountain peaks, to military bases, to a botanical garden or an archaeological dig.
Graduation certificate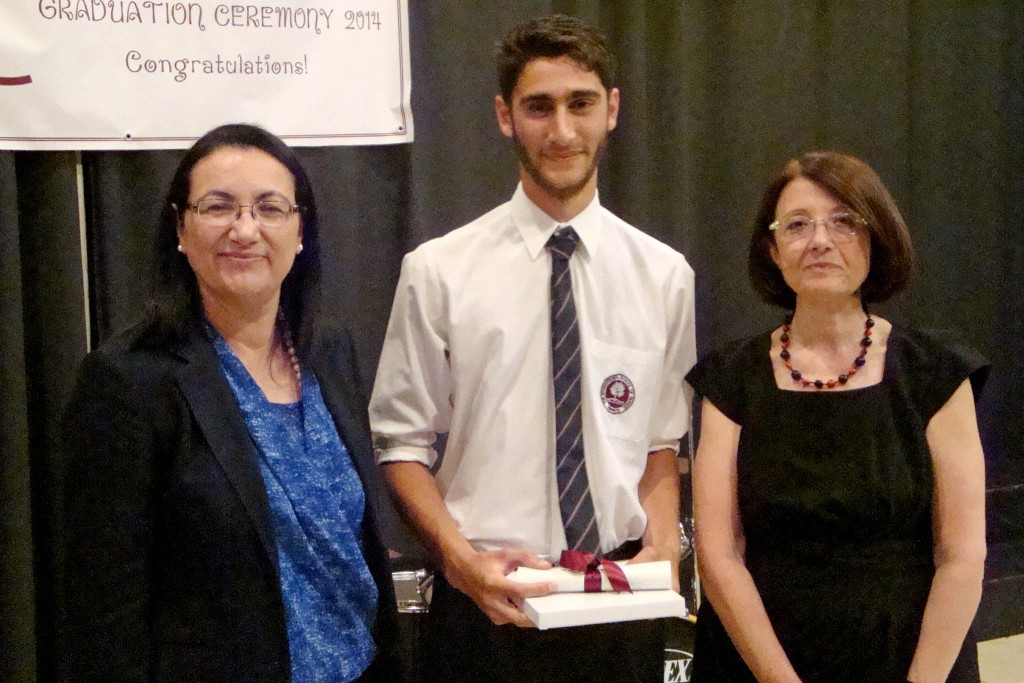 ISOP is accredited with the Cypriot Ministry of Education and Culture. It is also affiliated with well known British standards Edexcel and CIE (Cambridge International Examinations).
Senior students take examinations at school which will allow them to be admitted to any university in the world. Some leading universities, like Oxford, Cambridge and Imperial also require an interview, but in most cases a graduate is admitted long-distance, based only on the results of the exams.  The pupils are also awarded a school-leaving certificate, 'Apolytirion'.
"We are really proud of our students," says Mrs. Arisiti. "Мany of our graduates were admitted to Cambridge and Oxford — to high profile faculties of law, economics, medicine and engineering.
Our students receive the highest exam marks under Edexel and CIE standards among Cyprus' private schools. Alas, they now are scattered all around the world: Britain, Canada, United States, Аustralia, Europe and Russia etc,, but how happy we are to see them again, when after some years they come to Cyprus for a holiday, or get married and come here, to SCHOOL to say hello!"
English Summer School in Cyprus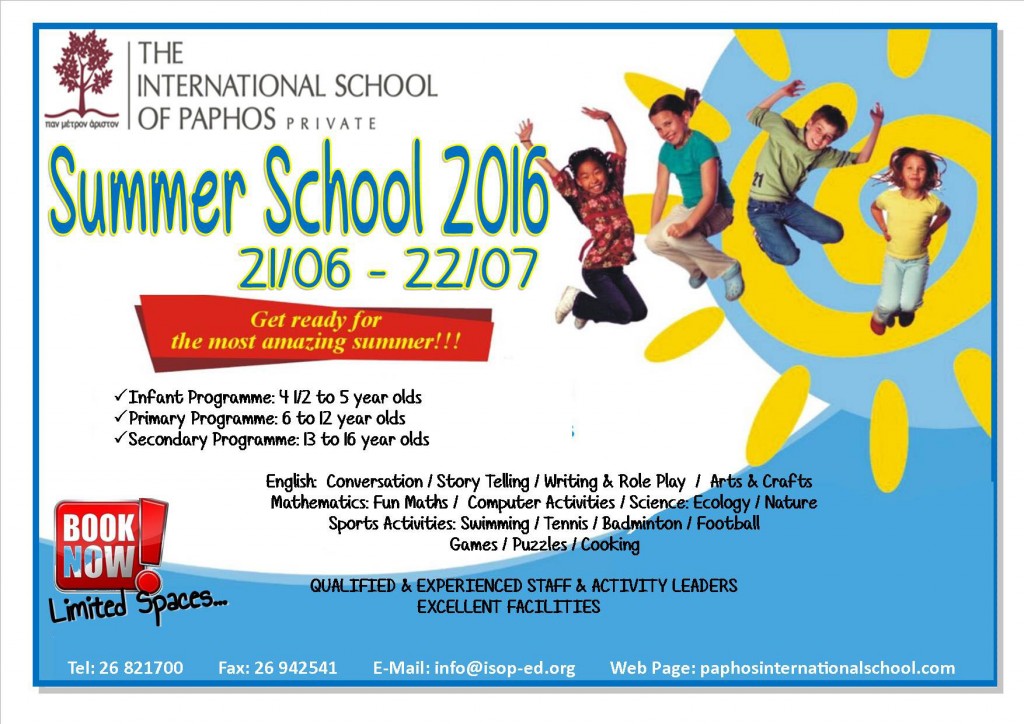 Fifth Annual Children's Festival at The International School of Paphos
On Sunday, 15th May 2016, The Paphos Children's Festival, which is organised by the Cyprus-Russian Association of Paphos, was held at The International School of Paphos (ISOP) for the fifth time. Many schools, art schools and dance studios from Paphos, Limassol, Larnaca and Nicosia took part.
The theme of this year's festival was 'Friendship'. The participants presented about 600 different works of art: drawings, paintings, works in clay or wood, 3D pieces and art using recycled materials. The power of the children's imagination, their technique and their skill in delivering their ideas amazed the visitors. As every year, the event also included a literature competition as well as musical and dance performances.
The festival programme commenced with a speech by Mrs Anastasia Yianni, president of the Cyprus-Russian Association. Mr. Fedonas Fedonos, the mayor of Paphos, who was among the guests of honour, delivered an address thanking the Association for organising the festival and contributing to the cultural scene of Paphos.
The speeches were followed by a Gala Concert. Choirs and dance groups from all over Cyprus performed in front of an audience of parents, teachers and friends.
The festival concluded with prizes being awarded to the best young artists and authors. The two separate juries were formed by local artists and by language teachers from the International School of Paphos, who judged the contributions to the Literature Contests in English and Greek.
Children's smiles, proud parents and everyone's appreciation and joy showed that, once more, the event was a full success.
Dr. Litsa Olympiou, Head of ISOP, said: "The International School of Paphos is delighted to support and host the Children's Festival of Art, which allows the children to demonstrate their creative skills and achievements."
We would like to thank all the participating teachers, ISOP's management and staff and all the members of the Cyprus-Russian Association who helped in the preparation and running of the festival.
Photo Gallery