Skourouvinos – a traditional Cypriot tavern in Limassol
The eatery is located in a picturesque village street in Ayios Athanasios (Limassol). Skourouvinos is a family business managed by Yannos and his Russian spouse in his parents' house built in 1890. Everything here has a touch of antiquity.
The tavern has an interesting design: traditional Cypriot furniture, ancient everyday items, a real fireplace and village kitchenware.
Skourouvinos serves traditional Cypriot treats – a wonderful meat meze, which lasts for several hours while being  served small portions of various meat dishes. This is an excellent way of getting acquainted with the Cypriot cuisine. The owner of the restaurant is a professional chef therefore food in Skourouvinos is perfect, which, in combination with the cosy atmosphere and live music that plays every day creates an ideal environment for a sumptuous dinner in a company of good friends.
The restaurant has been awarded with three prestigious аwards from TimeOut.
Review on behalf of Cyprus Inform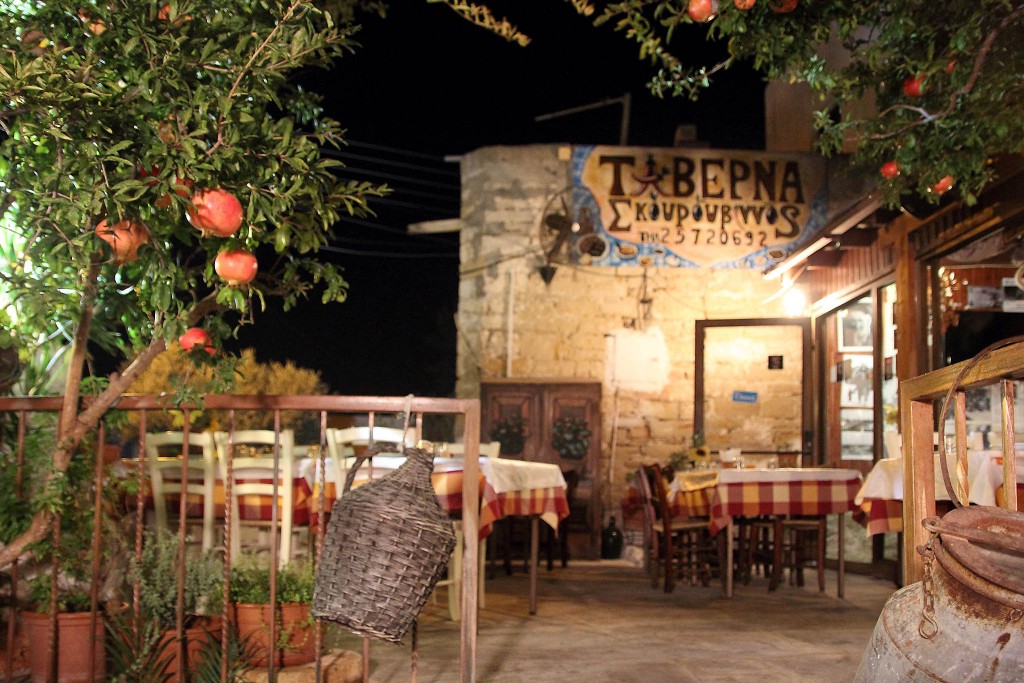 You are unlikely to miss Skourouvinos by chance. The eatery is located in an inconspicuous street Аgnos Аphanasios. A façade decorated with designs and a picturesque veranda buried in a verdure of pomegranate trees catches your eye immediately.
The proper lighting creates a wonderful feeling of cosiness inside. You feel at home in the tarvern, as if visiting hospitable friends. The pictures that decorate the wall feature celebrities who have visited the tavern. They include famous football players, Cypriot presidents, city mayors. Yannos' spouse paints pictures, which also adorn the interior of the eatery.
The name of the tavern is also conspicuous. Skourouvinos means 'joker' in Greek. It was the nickname of the grandfather of the owner and chef of the eatery, Yannos. And it is always fun here! Musicians offer customers who come to visit Yannos every night, many types of music from traditional Greek music to Russian "Katyusha". The show  is definitely worth seeing!
Menu
Skourouvinos is a traditional Cypriot tavern and the main item of the menu here is the Cypriot meat meze (€17 per person). And this is not just a dish, not just food.
Meze is a style of life, and an embodiment of festival, when the irritating Cypriot 'siga-siga' becomes so desirable… Each tavern has its own unique set of dishes for meze, and suspense is always there until the last dish is served.
Skourouvinos is no exclusion. The owner succeeded in surprising me with the dishes, which I've tried here for the first time. But I'll tell you about them later.
Kleftiko is served every Friday. If you've never tried this dish, you must visit Skourouvinos. Large morsels of veal are stewed for several hours in a special oven on a low fire, absorbing the fragrance of herbs.
Many food products used here are grown or produced at the family's farming plot of land in Kellaki: fruit, vegetables, pot herbs, eggs. All these combined with Yannos' professionalism produce dishes that are as tasty as home-made cooking.
Wine
The restaurant offers a wide range of wines by the bottle: local Greek, Cypriot wines, wines of the New and Old Worlds.
And, of course, do not miss the wonderful home-made red wine, which is produced in one of the local villages. It is always served in a stylish little aluminium decanter, resembling a Russian solder's mug.
The home-made wine holds a mystery, which I cannot crack. It is only drunk wonderfully in a restaurant, but once you bring the wine home, the glass holds something that tastes flat. I've stopped taking wine home recently, I only enjoy it within the walls of local eateries…
The Meze
So, we are sitting down to try the meze. The festival starts! Light snacks on the house: hiromeri, cheese, black olives, grilled vegetables appear on the table. The first sip of wine, the first gustatory feeling: dry-cured beef soaked in wine is in perfect harmony with the home-made wine.
Which Cypriot meal can do without a village salad? Fresh pot herbs, tomatoes, cucumbers, olives and soft, not salty feta are in a large bowl.
Fried pita, hot bread, sour-sweet pickled beetroot, local green olives and traditional dips: soft, not salty tzatziki and tahini (a paste based on sesame seeds) accompany the salad. Pickled vegetables are served on a separate dish – robust, with a clear vinegar taste, going ideally with a glass of zivania, a local grape vodka.
A dish that I've never tried before – small snails – appear on the table. The deli is to be taken out with a toothpick; it resembles sunflower seeds for a gourmand.
Luntza (boiled and smoked loin) with traditional grilled Cypriot cheese hallumi are two Cypriot classics. A very correct combination.
And now again, it is the time for surprises. Eggplant and hallumi – pieces of the same size are speared on a wooden fork, rolled in bread crumbs and deep fried. This is… magnificent! The combination of simple food and their taste: unrecognizable from the first bite of the eggplant, not hot, a bit sweet and tender with a creamy texture of hallumi.
I've never tried the next dish too. Small deep fried balls made of carrots, cheese, pumpkin and fresh mint. Yes, of course, again deep fried! But what did you hope for when going to a Cypriot tavern?! A crispy skin and soft cheese and vegetable mince with a refreshing mint fragrance underneath.
Yannos brings a dish of slightly stewed tender spinach with eggs. Yes, your body will be grateful to you!
We've barely had time for some rest and the aphelia appears on the table. Cypriot classics. Pork stewed in wine with cinnamon and coriander seeds. A very soft, juice dish.
There is no free space on the table by this time, and plates full of food mount in two layers. The ampleness is a feast for the eyes!
The next dish is traditional Cypriot macaroni with cheese and boiled meat of a sheep's head. Yes, everything here is used! Generally speaking, sheep heads in Cyprus are a local deli. Meat with a distinct smell of veal, which can easily be split into fibers.
Next follow the grilled dishes: side of pork, pork kebab, lukanika (a local smoked pork sausage soaked in wine), chicken wings and chicken liver, seasoned with fresh thyme and rosemary, which grow right here, on the veranda in a voluminous clay amphorae. Yes, chicken liver is difficult to cook, it gets overly dry very easily. But Yannos met the challenge wonderfully – the liver is soft and juicy.
Pork ribs pickled in carob syrup was a feast. Tender pork with a distinct sweet note of pickles. My favourite combination.
Sheftalies, small seasoned grilled patties made of minced pork are worth a whole paragraph. This is no pre packed food from a supermarket: tender, juicy, smelling of fresh herbs. I would come to Skourouvinos again only to eat sheftalies.
Dessert – Cypriot fruit, traditional Cypriot sweets and anari with honey, nuts and carob syrup – comes on top of all. You think that you cannot eat anything else, but the dessert magically disappears from the plate with a cup of Cypriot coffee and a glass of ice cold zivania.
Instead of conclusion
It was a long meal. We've tried an amazing number of food and  combinations for one dinner. It is the meze, a unique invention of the Eastern countries that gives you such a chance. The Cypriot version seems the most hospitable and it should be tried in the right place.
The tavern Skourouvinos, of course, is one of them. I can recommend it with all my heart.
Maxim Okulov
Photo Gallery