Where is Larnaca Airport?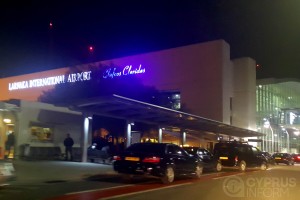 Larnaca Airport is the leading, and largest, international airport of the Republic of Cyprus and is situated in the west of the city, just 5.5 km from the Finikoudes seafront in the city centre. The IATA airport code for Larnaca is LCA (Larnaca).
Larnaca Airport takes most flights arriving in Cyprus and is the nearest airport to the popular resorts of Ayia Napa, Protaras, Limassol and Nicosia.
Larnaca's airport terminals
The first terminal at Larnaca Airport was built in 1975 after the closure of Nicosia airport due to the military conflict in 1974. A modern two-storey complex of the new Larnaca airport terminal was opened in November 2009.
The new terminal includes all the current technological requirements including 16 boarding bridges, 48 passenger gates, 67 check-in desks and eight stalls for self-registration. The new Larnaca airport terminal can serve up to 7.5 million people a year.
The old Larnaca airport building has been converted into a VIP-terminal, serving official international visits of delegations and private aircraft.
Larnaca Airport Services
There are all the modern airport services available at Larnaca Airport – airlines, banks, medical centre, VIP-hall, car rentals and customs and tax-free return point. There are restaurants and cafés, and passengers can purchase goods and peruse the duty-free stores.
Currency exchange;
Wi-Fi;
tax free terminal;
Duty Free;
souvenir shops;
porter;
luggage wrapping;
luggage storage;
car rentals;
public transport;
storage of transport cases for bicycles;
transportation of animals;
electronic gate for boarding passes;
Express Lane;
Express spa.
Larnaca Airport's Information service
For the convenience of passengers, Larnaca Airport's official website has a schedule of flights, as well as services for online check-in and parking reservations.
How to get to Larnaca Airport
Taxi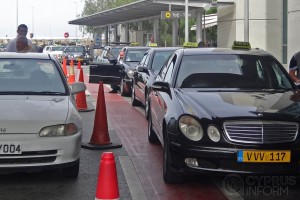 The taxi service at Larnaca airport is on the lower level by the exit. A rough guide on how to go from Larnaca Airport by taxi, and the cost of travel:
Taxis to Limassol – €50-€70, 35-40 minutes.
Taxis to Paphos – from €100, 1 hour and 20 minutes.
Taxis to Nicosia – €50-€60, 30 minutes.
Taxis to Ayia Napa and Protaras – €50-€70, 30-40 minutes.
Buses
To Limassol and Nicosia – express bus.
To Paphos airport – express bus.
To Larnaca – №№407, 409, 418, 419, 425, 229 buses.
Before Ayia Napa and Protaras – by busses №№407, 409, 418, 419, 425, 429 to Larnaca, then change to bus №711 or Intercity Larnaca – Famagusta
Routes and timetable of intercity and urban buses HERE.
Car
Larnaca Airport has several car parks (not free of charge), designed for short-term and long-term parking.
Taxi
Travel & Express taxi goes directly to Limassol, Nicosia and Ayia Napa. Passengers are transported to and from their hotel etc. by mini-bus.